Tracy Family Crest, Coat of Arms and Name History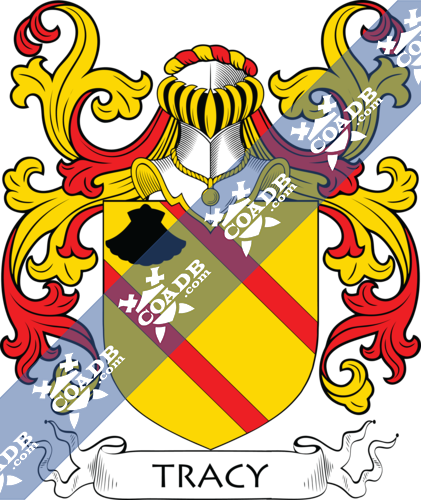 Tracy Coat of Arms Gallery
Don't know which Coat of Arms is yours?
We can do a genealogical research. Find out the exact history of your family!
Learn More
This surname is of local origin, meaning "of Traci-Boccage" or "of Tracy-sur-Mer in Calvados", in the arrondissement of Caen in France. Another author claims it's from Oise, France. The Norman family name migrated to England with William the Conqueror to Branstaple and the several parishes and manors bear this name: Woolcome-Tracy, Bovey-Tracy, Minet-Tracy, and Bradford-Tracy. In Kent, the surname is spelled Tresse.  The Celtic word Treasach, a form of O'Treasaigh comes from the word treas, meaning battle. It originates from the Latin-Greek word Thrasius or Greek thyrasys, meaning courageous or bold. One author claims the surname Tracey is from Trazeignes, a location name if Flanders.
Famed genealogist Bernard Burke wrote "the Norma thus designated on the Roll [of Battle Abbey], derived his name from the town of Traci, in his native Duchy. His descendant became Lord of Barnstaple in Devon, and enjoyed high repute in that country"
Early notables bearing this surname include Henry de Tracy of Devon, Richard de Tracy of Devon, and William de Tracy of Sussex, who were all listed in the Hundred Rolls of 1273 AD. A Henry Tracy was recorded in Somerset during the reign of Edward III in Kirby's Quest. Another early notable was Oliver de Traci recorded in the Pipe Rolls of Devon in 1166 AD. Early marriages involving this surname include Catharine M. Tracy, of Utica, NY, who married John-Edward Lyon and had four children: Catharine, James, Gardiner, and Annie.
In his book Patronymica Britannica, a Dictionary of Family names in the United Kingdom, by Mark Antony Lower, he states "The male line failed at an early period, but the heiress married John de Sudley, whose son William adopted the maternal surname. This personage has by some genealogists been considered one of the four assassins of Thomas-a-Becket, though others stoutly deny it, and assert that there were other William de Tracys living contemporaneously with him. Whoever the assassin was, a curse was said to attach to him and to his seed forever, namely, that wherever he or they went, by land or sea, the wind should blow in a direction opposite to that of their course. Hence the well-known traditional couplet".
In a book titled "A Genealogical History of Irish families", the author states the following in regard to this family: "The Tracy family is descended from Milesius, King of Spain, through the line of his son Beber. The founder of (he family was Cormac, King of Minister, A.D. 483, son of Aongus, King of Munster, AD 450), descended from Olliol Ollum, first absolute King of  Munster A.D. 177. The ancient name was Traiseach and signifies "Warrior." The possessions of the sept were located in (he present Counties of Limerick. Clare, and Tipperary. The Tracys were also Chiefs of Ui-Bairrche, a territory comprising the barony of Slievemargy, in the Queen's County." Another author claims the Irish spelling is Treacy.
Here are several individuals bearing who were granted arms: 1) Tracey-Elliot, H. E. [Tracey to], of Plymouth, co. Devon, 1893, 2) Tracy, Thomas Charles, [Viscount and] Baron Tracy, of Rathcoole, co. Dublin, Ireland, 1789, 3) Tracy to Leigh, (Henry), Viscount and Baron TracY, of Rathcoole, co. Dublin, Ireland, [2 Feb.] 1793, 4) Tracy after IIanbury, Charles. Escutcheon of pretence, quarterly, 10 Dec. 1798,5) Tracy to Leigh, Thomas Charles (minor), 1806 6) Tracy (Hanbury-), late Leigh, Thomas Charles (1st Baron Sudeley), [1839], 7) Tracy (Hanbury-), [Charles Henry], Baron Sudeley [12 July 1838], of Toddington, co. Glouc. Supporters, 1839, and 7) Tract, late Charteris, Susan, Dowager LadY Elcho, of Stanway, co. Glouc, 1818.
Blazons & Genealogy Notes
1) (Toddington, co. Gloucester; descended from John de Studeley, Lord of Studeley and Toddington, 1140, who m. Grace, dau. and heir of Henry de Traci, Lord of Barnstaple, and had two sons: Ralph de Studeley; and William de Traci, who assumed the name of his maternal ancestors). (Stanway, co. Gloucester, bart., extinct 1677; descended from Richard Tracy, second son of Sir William TRACY, Knt., of Toddington, and brother of William Tracy, the great-grandfather of the first Viscount Tracy). (Mile End, со. Middlesex; allowed at Visit. Middlesex, 1663, to Paul Tracy, son of Paul Tracy, the second son of Sir Paul Tracy, second bart. of Stanway). Or, an escallop in the chief point sa. betw. two bendlets gu.
2) (Viscount Tracy, of Ratheoole, dormant since 1797; Sir John Tracy, Knt., of Toddington, was so created 1642; Henry, eighth Viscount Tracy, of Rathcoole, d. 1797, leaving an only dau. Hon. Henrietta Susan Tracy, m. Charles Hanbury, Esq., created, 1838, Baron Sudeley, of Toddington. He assumed by royal licence, 1798, the additional surname of Tracy. The viscounty is claimed by Benjamin Wheatley Tracy, an officcr in the Royal Navy, who grounds his claim on descent from Hon. Robert Tracy, Justice of the King's Bench temp. George II., younger son of Robert, second Viscount Tracy). Same Arms. Crest—On a chapeau gu. turned up erm. an escallop sa. betw. two wings or. Supporters—Two falcons ppr. beaked and belled or. Motto—Memoria pii aeterna.
3) (Hanbury-Tracy, Baron Sudeley; Charles Hanbury, third son of John Hanbury, Esq., of Pontypool Park, co. Monmouth, m. 1708, Hon. Henrietta Susan Tracy, only dau. and heir of Henry, eighth Viscount Tracy, ofRathcoole, and assumed the surname of Tracy. lie was created, 1838, Baron Sudeley). Quarterly, 1st and 4th, same Arms, for Tracy; 2nd and 3rd, or, a bend engr. vert plain cotised sa., for Hanbury. Crests—1st, Tracy: On a chapeau gu. turned up erm. an escallop sa. betw. two wings or; 2nd, Hanbury: Out of a mural crown sa. a demi lion ramp. or, holding in the paws a battle axe sa. headed gold. Supporters—Two falcons, wings elevated ppr. beaked and belled or. Motto—Memoria pii aeterna.
4) (co. Cornwall). Or, a lion pass. betw. two cotises sa.
5) (Barnstaple, co. Devon). Or, a lion pass. sa. betw. two bends gemel gu.
6) (co. Worcester). Or, two bends gu.
7) Or, two bends gu. on a canton ar. five escallops sa.
8) Ar. on a chev. (another, a chief) sa. three fleurs-de-Iis or.
9) (or Tresse). Or, two bendlets betw. nine escallops gu. three, three, and three.