Trollop Family Crest, Coat of Arms and Name History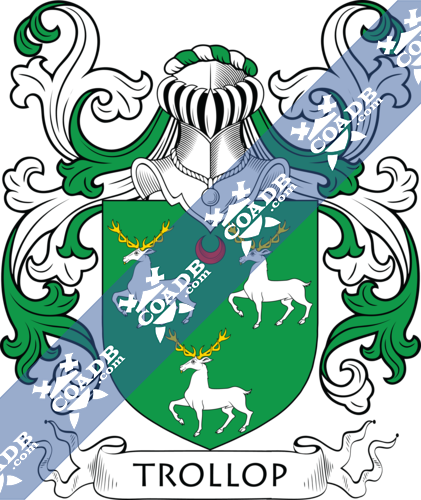 Trollop Coat of Arms Gallery
Don't know which Coat of Arms is yours?
We can do a genealogical research. Find out the exact history of your family!
Learn More
This is a locational surname meaning "of Trollop". The ancient family of Trollop traces its pedigree back to John Trowlope or Trolope who lived in Thornlaw in county Durham who received the Manor of Morden before 1390 AD through his marriage with his marriage to the daughter of Thomas Lumley. Another John Trollope obtained lands at Seaton and Hartepool, and married Margaret Lumley, the daughter and heiress of Roger Lumley, who was the fourth son of Thomas Lumley and Elizabeth Plantagenet (the illegitimate daughter of Edward IV). The senior line of the family, which included Captain Sir Andrew Trowlop or Trolop who fought at the Battle of Wakefield, ended up becoming impoverished due to its associated with the Catholic Gentry of the North during the uprising of 1569. The second branch, that of Bourne in county Lincoln, was established by John Trollope, a younger son of the Thornlaw family, who was succeeded by his son William Trollope, who married Alice Sharpe and purchased the Manor of Casewick.
In his book Patronymica Britannica, a Dictionary of Family names in the United Kingdom, by Mark Antony Lower, he notes the following regarding this last name: "A name of uncertain derivation. A long-standing tradition in the family makes it Trois Loups, in consequence of some marvellous exploit performed by an early progenitor against the wolves which then infested Lincolnshire; but as the name has been spelt Trowlop, Trolop, and Trolhope), I have little doubt of its belonging to the local class, although the place from which it was assumed has been forgotten."
One author notes this is a personal name Trolle from (Danish?). Others believe it originates from the Old Norse word troll (meaning an imp or super natural being) and the Old English word hop, meaning enclosed valley. Another source claims its derived from a place name: Troughburn, Northumberland.
Early notables include William de Trollop in 1383 AD recoded in the Prior of Holy Island, John Trollop in 1401 (recorded in the History and Antiquities of the County Palatine of Durham), and Roger de Trowlupp (died in 1692 AD). Another early notable was John Andrew Trolope (1427-1461) from Thornlaw, Durham. Early recorded marriages include John Trollop to Sarah Munvell in St. George's Hanover Square in London in 1744 AD.
Early American notables include John Trollop (Virginia 1642).
Individuals with the surname Trollope that were granted arms include 1) Barou Kestevex [15 April 1868, The Rt. Hon. Sir John Trollope, Bart.], of co. Line. Supporters, [1868], 2) Adm. Sir Henry, G.C.B. [1831]. Supporters, [29 Sept. 1831], and 3) Fooud-Boaves, Barnard, of co. York and Devon, [1861].
Blazons & Genealogy Notes
1) (city of Durham; confirmed 27 July, 1630). Quarterly, 1st and 4th, vert three bucks pass. ar. armed or, for Trollop; 2nd, ar. an eagle displ. sa. armed and beaked gu., for Harpins; 3rd, or, on a bend sa. three crosses crosslet ar., for Hawicks, a crescent gu. for diff. Crest—A buck pass. ar. armed or. Motto—Audio sed taceo.
2) (Thornley, co. Durham). Vert three bucks pass. ar. attired or, a crescent for diff.
3) (co. Northumberland). Vert three bucks in full course or.
4) (co. York). Lozengy or and gu. a border of the second bezantee.
5) (Baron Kesteven). Vert three stags courant ar. attired or, a border of the second. Crest—On a mount vert a stag courant ar. attired or, holding in the mouth an oak leaf ppr. Supporters—On either side a stag ar. ducally gorged and attired or, holding in the mouth an oak leaf ppr. Motto—Audio sed taceo.