Tyndall Family Crest, Coat of Arms and Name History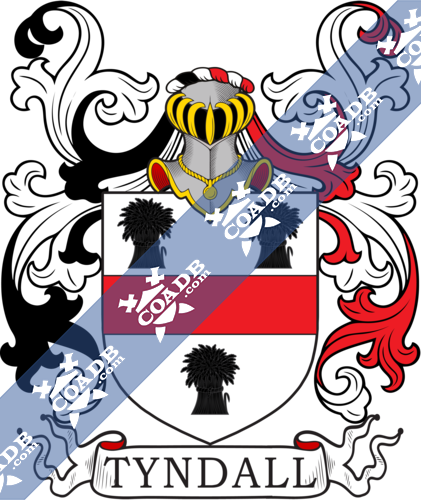 Tyndall Coat of Arms Gallery
Don't know which Coat of Arms is yours?
We can do a genealogical research. Find out the exact history of your family!
Learn More
This interesting surname is of Anglo-Saxon origin and is a locational name for someone who resided in the valley of the river Tyne, or from Tindall, a place in Cumberland, which is situated on a tributary of the South Tyne.  This river, anciently called "Tina", derives its name from the British root "ti-" to flow. ("British" in this case refers to the extinct Celtic language of the ancient Britons).  The second element is the Olde English pre 7th Century "dael" a valley.  During the Middle Ages when migration for the purpose of job-seeking was becoming more common people often took their former village name as a means of recognition, thus resulting in a wide dispersal of the name. The surname first noted in the latter half of the 12th Century. More common variations are: Dtyndall, Tuyndall, Tyindall, Tyndaill, Tyndal, Tindall, Tendall, Tyndale, Tyndell, Tundall
The surname Tyndall first found in Northumberland, where Tindale is an extensive ward or district which includes the Dale of Tyne. The very first recording spelling of the family was shown to be that of Adam de Tindal, dated about 1165, in the "Pipe Rolls of Northumberland".  It was during the time of King Henry II who was known to be the "The Builder of Churches", dated 1154 – 1189.
Individuals with the surname Tyndall landed in the United States in the 17th century. Some of the people with the name Tyndall who arrived in the United States in the 17th century included Robert Tyndall, who settled in Virginia in 1606.
Blazons & Genealogy Notes
Argent a fess gules between three garbs sable.