Van Cortlandt Family Crest, Coat of Arms, and Name History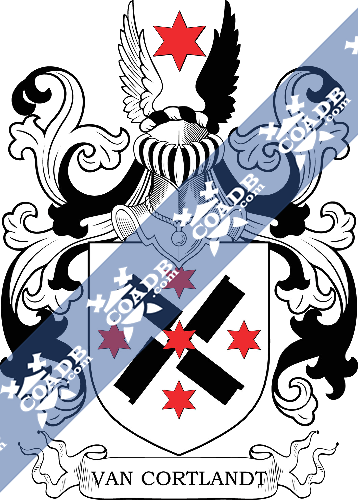 Van Cortlandt Coat of Arms Gallery
Don't know which Coat of Arms is yours?
We can do a genealogical research. Find out the exact history of your family!
Learn More
America Hereldica
Stephanus van Cortlandt came over from the Netherlands, and obtained, in 1697, the grant of the Manor of Cortlandt, New York. It is claimed by several authors (Bolton, etc.), that the family is issued from the Dukes of Courlande, in Eastern Europe; but the arms are absolutely different, and we do not hear that the family itself asserts such pretensions. They are simply of good Dutch blood. Source: America Hereldica.
The Beginnings of the Van Cortlandt Family in America
Captain Olof Stevense Van Cortlandt who was born in Wijk dij Durrstede in the Dutch Republic. His father and mother arrived in New Amsterdam in 1637. Olof Stevense Van Cortland began as a soldier and a bookkeeper but soon rose to high office with the colonial service of the Dutch West India Company. Olof died in 1684. His mother Anna (Annetje) Turnhout Loockermans Van Cortlandt was born March 17, 1618, and she may have been the person who began the tradition of Santa Claus here in America. Olof and Anna had four children Stephanus Van Cortlandt (1643-1700), Jacobus Van Cortlandt (1658-1739), Maria Van Cortlandt, and Catherine Van Cortlandt.  Their son Stephanus became the first American born Mayor of New York City.
Stephanus Van Cortlandt
Stephanus Van Cortlandt (1643-1700) who was the 10th & 17th Mayor of New York City. In 1668 he was appointed ensign of one of the militia companies of New York City and in 1677 he became the first mayor of New York City that had been born in America. He married Gertruj Van Schuyler the daughter of Philip Pieterse Schuyler and the sister of Pieter Schuyler a colonial governor of New York and Mayor of Albany. They lived at the "Waterside" on the present line of Pearl street, near Broad where he was a merchant. They had four children Margaretta Van Cortlandt who married Judge Samuel Bayard, Anne Van Cortlandt who married Stephen DeLancey, Elizabeth Van Cortlandt who married Rev. William Skinner, and Philip Van Cortlandt who married Catherine de Peyster. Philip & Catherine had 6 children Stephen (1714-1756), Abraham (1713-1745), Philip (1715-1745), John (1718-1747), Pierre (1721-1814), and Catherine (1725-1735).
There are many descendants of the Van Cortlandt family.  A few of the more famous descendants include James DeLancey (1703-1760) who became New York Governor, Lt. General William Skinner an American Revolutionary Loyalist, Brig. Gen. Cortlandt Skinner (1727-1799 an American Revolutionary Loyalist, and Pierre Van Cortlandt (1721-1814) the 1st Lieutenant Governor of New York.
To receive a complete surname meaning report by PDF you can order our SURNAME MEANING PACKAGE for $129.   This report is great to share with family and friends.  It includes everything you see above plus any other information we can find on the specified surname.  It does take approximately 10 to 15 days for us to complete this custom report.
To receive a direct lineage & coat of arms search for your specific line(s) you can order one of our GENEALOGY PACKAGES ranging in price from $249 to $999.   All research is completed by a professional genealogist with over 30 years' experience.  All reports and coat of arms files are sent by email in PDF and JPG format.
Blazons & Genealogy Notes
1) A Star, Gules, Between Two Wings Displayed; The Dexter, Argent; The Sinister, Sable.  Motto:  Virtus sibi munus. Virtue its own reward.