Livingston Family Crest, Coat of Arms and Name History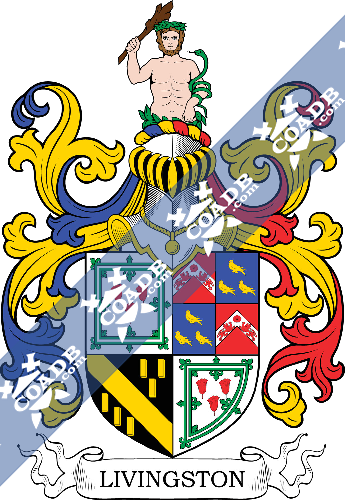 Livingston Coat of Arms Gallery
Don't know which Coat of Arms is yours?
We can do a genealogical research. Find out the exact history of your family!
Learn More
This section has not been fully completed as of yet.  Here is a short history of one of the Livingston families.
The Scottish surname Livingstone is of territorial origin, being derived, from the lands, now parish, of Livingston in West Lothian. The place name comes from "Leving-tun", meaning "Leving's homestead". In general, a local name was either assumed by an individual from the patrimonial estate, if he held land, or was bestowed by others on those whose place of residence or birth it was and who had subsequently moved. A Saxon named Leving or Leuing appears to have settled in Scotland under David I and he possessed a grant of the above mentioned lands, which he called Levingestun.
Sir Bernard Burke, in his Gen. History Extinct Peerages, etc., gives a special notice to the American Livingstons, whose pedigree goes clearly back to the Scotch Livingstones, Earls of Linlithgow and Earls of Calendar.  The direct ancestor of the New York Livingstons was the Rev. John Livingston(e) who was born in Scotland in 1603.  He was the son William Livingstone a minister of Stirlingshire, Scotland and was descended from the fifth Lord of Livingstone, and his mother Agnes Livingstone of the house of Dunipace.  He was exiled to Holland on account of his religious convictions.  His descendant Robert Livingston(e) was born in 1654 and came over to America about 1676 and was granted by Governor Thomas Dongan in 1683 the manorial estate of the family.  After the death of the third Lord, these immense estates were divided into four shares.
Symbolism
The meaning of symbols (known as charges) and colors on the Coat of Arms and Crest. These represented the hopes, dreams and ambitions of bearers of this heraldry insignia.
Argent – (Ar'-jent) White or silver. It represents purity, innocence, beauty and gentleness. Cinquefoil – (sink'-foil) A five pointed leaf, usually borne without a stem and signifying hope and joy. Flory – Adorned with fleur de lis which is a flower standing for purity and light. Gules – (guelz) The color red. This color signifies the qualities of military strength and nobility and fairness. Tressure – (tresh'-ur) A border around the shield. Popular in Scottish heraldry, it stands for protection and preservation. Vert – The color green. Represents the qualities of hope, joy and loyalty in love.
To receive a complete surname meaning report by PDF you can order our SURNAME MEANING PACKAGE for $129.   This report is great to share with family and friends.  It includes everything you see above plus any other information we can find on the specified surname.  It does take approximately 10 to 15 days for us to complete this custom report.
To receive a direct lineage & coat of arms search for your specific line(s) you can order one of our GENEALOGY PACKAGES ranging in price from $249 to $999.   All research is completed by a professional genealogist with over 30 years' experience.  All reports and coat of arms files are sent by email in PDF and JPG format.
Blazons & Genealogy Notes
1)  The Livingstons quarter : 1 and 4, Linlithgow ; 2, Hepburn; 3, Calendar. They use the Linlithgow crest and motto.  Crest : A demi-Hercules, wreathed about the head and middle ; in his dexter hand, a club in pale ; in the sinister, a snake : all proper.  Motto: Si je puis. [If I can.]