Vitale Family Crest, Coat of Arms and Name History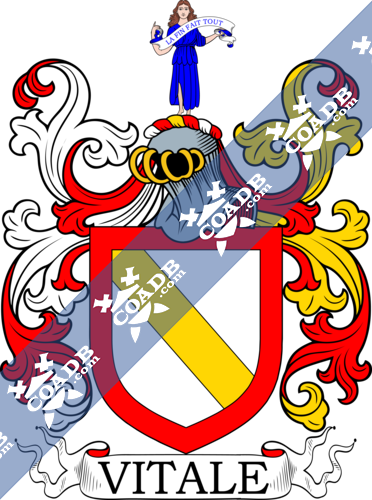 Vitale Coat of Arms Gallery
Don't know which Coat of Arms is yours?
We can do a genealogical research. Find out the exact history of your family!
Learn More
VITALE
The surname Vitale is Italian in origin. It would be considered patronymic as it comes from the ancient Italian masculine given name Vitale which is derived from the latin "vitalis" or "vita" which translated to life. The name was popular among those of the Christian faith as it represented their belief in eternal life as well as several saints bearing names which were derivatives of the name. The spread of the name and variations of its spelling are due to popularity among Christians. The name is over a thousand years old, dating from a time when Christianity became formalized within the Roman Empire.
Surnames, as can be noted from the information above, often were adapted from a person's occupation or topographical landmark found near the individual's home or birthplace, or possibly from the name of the village in which the person lived or was born. Surnames were sometimes patriarchal or matriarchal, created by combining the person's given name plus the name of their father or mother. In some instances surnames were also created from defining physical traits; such as a person's hair color, eye color, height, etcetera.
It must be noted, surnames in Europe prior to the mid-sixteenth century were largely reserved for the noble class. In the small villages which existed during these earlier times, residents found little need for surnames as everyone in these communities knew each other and a given name would usually suffice. However, as population growth and expansions of villages gave way to towns and cities, for practical purposes it became necessary to add a qualifier to a people's names to distinguish them, one from another, it also made the keeping of tax, census, and immigration records easier.
The task of record keeping was primarily under the jurisdiction of the Church, local priories, and the government. This was due in large part to the fact that literacy was a skill usually found only
among the nobles, the clergy, and government officials and scribes. Even so, there often existed multiple variations of names which may be attributed to a number of factors; the origins of the surname, the lack of guidelines which existed for spelling, and the fact that many scribes who were charged with record keeping spelled phonetically, among other things. One of the earliest records of anyone bearing the surname or any variation of its spelling is that of Abbot Vitalis found in Abbot records of Westminster dated 1076. Some other early variations of the name include; Vial; Vidal; Vitall; Vidall; Vital; Viall; and Viel among others.
With the discovery of America the use of surnames made tracking of people and immigrants easier. Some of the first recorded immigrants to America bearing the surname were Francisco Vitale who landed and settled in New Orleans, Louisiana in 1827. Egidio Vitale landed and settling in New York in 1881. Brothers Agostino and Francesco Vitale landed and settling in New York in 1883 and Angelo Vitale landed and settling in New York in 1886.
Worldwide, the highest concentration of people with the surname Vitale are found in Italy, Argentina, the United States, Australia, and Switzerland. By state, the largest percentile of those with the surname Vitale live in Connecticut, Massachusetts, New Hampshire, New Jersey, and New York.
There are many persons of note who bear this surname, such as American documentary film maker and photojournalist, Amy Vitale. She studied at the University of North Carolina where she earned a degree in International Studies she then attended the University of Miami where she received her Master's Degree.
Vitale's photographs have been published in international magazines including Smithsonian, National Geographic, Newsweek, and Time among others. Exhibits of her work have appeared in museums and galleries around the world.
Giordano Vitale was an Italian born mathematician. He was born in a small town in southeastern Italy but left at an early age. He traveled extensively, even finding employment for a brief period as the mathematician to the former Queen of Sweden, Christina. He was also a lecturer in mathematics at the French Academy in Rome, founded by Louis XIV. He left the Academy when offered a position at the Sapienza University of Rome.
Blazons & Genealogy Notes
1) Mondovi – (Annuario della Nobilita : 1888) D'argent à la bande d'or bordée de gueules Cimier une jeune fille vêtue d'azur tenant la devise LA FIN FAIT TOUT. English:Argent a bend or a bordure gules Crest: a young girl dressed azure holding the motto LA FIN FAIT TOUT.
2) (Vitale-Rizzi). Milan Écartelé aux 1 et 4 de gueules à trois hérissons couchés d'or au chef du même ch d'une aigle de sable couronnée d'or aux 2 et 3 d'argent à une tour de deux étages de gueules sur une terrasse de sinople accostée de deux lions affrontés d'or rampants contre la tour et tenant ensemble la garde d'une épée d'argent garnie d'or posée en pal sur le sommet de la tour Sur le tout d'argent à un cep de vigne déraciné poussant deux branches pamprées et fruitées au naturel Cimier une licorne issante d'argent Devise VETERUM CLARA VIRTUTIS IMAGO. English:Quarterly 1st & 4th gules three hedgehogs couchant (lying down) or a chief of the same charged with an eagle sable crowned or 2nd & 3rd argent a tower of two floors gules on a mount vert surrounded by two lions affrontant or rampant against the tower and holding between them the hilt of a sword argent hilt and pommell or placed in pale over the summit of the tower over the whole shield argent a vine stock (stem) rootless with two branches leaved and fructed proper Crest: a unicorn issuant argent.