Vitali Family Crest, Coat of Arms and Name History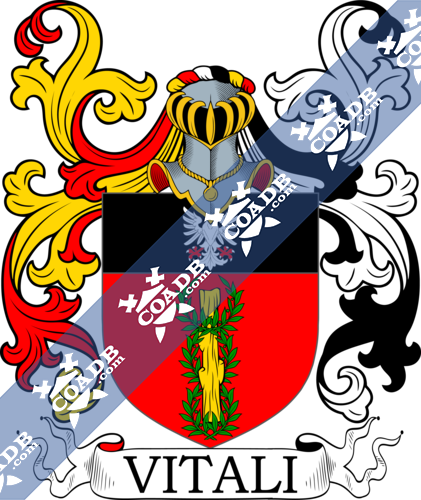 Vitali Coat of Arms Gallery
Don't know which Coat of Arms is yours?
We can do a genealogical research. Find out the exact history of your family!
Learn More
Origins of Vitali:
The name acquires from the Latin word "vita," which means "life."
Variations:
More common variations are: Vitaliy, Vitalli, Vitalie, Vittali, Vitalia, Vitauli, Vitalio, Vitalyi, Vitaili.
England:
The surname Vitali first appeared in Treviso, anciently known as Tarvisium, a town in Venetia, a capital of the county of Treviso.  The cathedral of San Pietro is notable and dates back to 1141.  It is in the classical style with seven domes, and houses works by many famous painters and sculptors.  In those old times, only persons of rank, the podesta, clergy, city officials, army officers, artists, landowners were entered into the records.  To be noted at this time, at the starting of noted history, was of itself a great distinction and characteristic of noble ancestry.
United States of America:
Some of the first settlers of this family name or some of its variants were as A. M. and F. A. Viti, who both arrived in San Francisco in 1855.  Raffaela DiVito, who traveled from Aquilonia, Italy to Montclain, New York in the year 1913.  Crossing the ocean on the SS Italia and Michele-Angelo DeVito, who arrived in New York on board the SS Anglia in the year 1891.
Blazons & Genealogy Notes
1) Milan Coupé au 1 d'or à l'aigle de sable couronnée du champ au 2 d'argent à un cep de vigne pampré et fruité au naturel accolé à son échalas soutenu d'une terrasse de sinople Cimier l'aigle Lambrequin d'or et de sable. English:Per fess 1st or an eagle sable crowned of the field 2nd argent the stock (stem) of a vine leaved and fructed proper alongside its pole above a mount vert Crest: the eagle Mantling: or and sable.
2) Legnano De gueules à deux rameaux de laurier de sinople en pal les tiges passées en triple sautoir et un bâton d'or en pal passé dans ces anneaux au chef de sable ch d'une aigle d'argent becquée et membrée de gueules couronnée d'or. English:Gules two laurel branches vert in pale the stems passing in triple saltires and a ragged staff (bâton) or in pale passing through these rings (of the entwined branches) a chief charged with an eagle argent beaked and legged gules crowned or.
3) Vérone Parti d'or et d'argent à deux lions affrontés de l'un à l'autre rampants contre un arbre de sinople brochant sur le parti le tout soutenu d'une terrasse de sinople au chef d'or ch d'une aigle éployée de sable becquée et membrée de gueules. English:Per pale or and argent two lions affrontant counterchanged rampant against a tree vert covering over the partition all resting on mount vert, a chief or charged with an eagle displayed sable beaked and legged gules.
4) Padoue, Rome De gueules à la bande d'or ch d'un rameau de laurier de sinople ondoyant dans le sens de la bande et fruité de gueules. English:Gules a bend or charged with a laurel branch vert undulating (wavy) in bend and fructed gules.
5) Autriche – (An., 25 déc. 1876) Coupé au 1 de gueules à deux épées d'argent garnies d'or passées en sautoir au 2 d'azur à un cheval d'argent Cimier un vol à l'antique coupé l'aile de devant de gueules sur or l'aile de derrière d'argent sur azur Lambrequin à dextre d'or et de gueules à senestre d'argent et d'azur Devise FIDELITATIS PRAEMIUM. English:Per fess 1st gules two swords argent hilt and pommell or placed in saltire 2nd azure a horse argent Crest: an (ancient) pair of wings per fess the front of the wing in gules over or, the back of the wing argent over azure Mantling: to the dexter or and gules to the sinister argent and azure.
6) (Comtes) – Italie, Paris – (Comtes 1887). Originaire de Pirano en Istrie D'argent à un cep de vigne au naturel accolé à un pal (planche) alésé au naturel. English:Argent the stock (stem) of a vine proper next to a pale couped (board or plank) proper (a wood-effect or brunatre pale couped at both ends).
7) Italie – (Rivista araldica) D'azur à un cep de vigne de sinople accosté de deux croissants d'argent et surmonté d'une aigle de sable à la champagne coupée enclavée d'or sur gueules les enclaves penchées en bande. English:Azure a stock (stem) of a vine vert surrounded by two crescents argent and surmounted by an eagle sable, a base per fess embattled or over gules the crennels sloping in bend (i.e. raguly).
8) Dalmatie – (M. ét.) D'or à la bande de gueules acc de quatre tiges effeuillées de sinople en pals 1 en chef et 3 en pointe côtoyant la bande fruitées chacune de cinq baies de gueules 1 2 et 2 Bourlet de gueules et d'or Cimier une tige de l'écu entre un vol d'or l'aile dextre ch d'une barre de gueules et l'aile senestre d'une bande du même. English:Or a bend gules surrounded by four leafless stems (saplings) vert in pale 1 in chief and three in base bordering on the bend each fructed with five berries gules 1,2 and 2. The shield crowned with a cloth scroll (instead of a helmet) Crest: the stem of the shield between a pair of wings or the dexter wing charged with a bend sinister gules and the sinister wing with a bend of the same.
9) ou Vidali – Vérone Coupé d'azur à une étoile d'or sur sinople plein à la fasce d'or brochant sur le coupé. English:Per fess azure an etoile or over vert (plain) a fess or covering over the partition.