Waldo Family Crest, Coat of Arms and Name History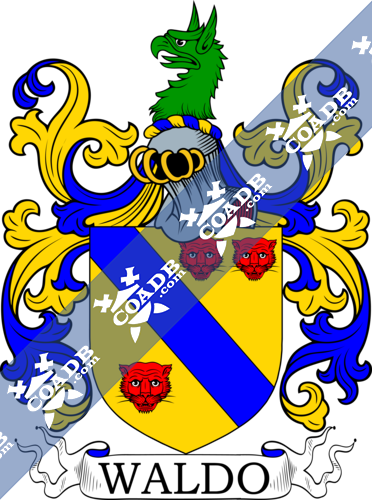 Waldo Coat of Arms Gallery
Don't know which Coat of Arms is yours?
We can do a genealogical research. Find out the exact history of your family!
Learn More
The German state of Bavaria is the ancestral home of the Waldo family.  Waldo is a local name.  Waldo is a name for someone who resided in or near the woods.  Many cultural groups resided in the German states in old times.  Each had its language and traditions, and unique variations of popular names.  Low German, which is similar to contemporary Dutch, was spoken in Westphalia.  German names characterized by additions such as regional suffixes and phrases that tell something about the origin or background of its original bearer.  More contributing to the variation in German names was the fact that there were no spelling rules in old times like authors noted names according to their sound.  The noted spelling variations of Waldo include Waldau, Waldauer, Waldov, Waldauw, Waldowe, Waldow, Waldo (English), Waldaw, Walde, Zumwalt, Zumwald, Zumwalde and much more. More common variations are: Walido, Walldo, Walado, Waldeo, Waldoh, Wauldo, Waldoo, Waldoe, Wald, Walidou.
The surname Waldo first appeared in the Franconian-Bavarian border, where the name emerged in old times as one of the notable families of the region.  From the 13th century, the surname recognised with the great social and economic evolution which made this territory a landmark contributor to the advancement of the nation.
Some of the people with the surname Waldo who arrived in the United States in the 17th century included Richard Waldo, who landed in Jamestown, Va in 1607.  Cornelius Waldo, who landed in Ipswich, Massachusetts in 1654.  John Waldo, who arrived in New England in 1675. Some of the people with the surname Waldo who came in the Canada in the 19th century included Volney Waldo, who arrived in Canada in 1831.
Blazons & Genealogy Notes
Or, a bend azure between three leopards' faces gules. Crest: A griffin's head, erased, vert.