Waldron Family Crest, Coat of Arms and Name History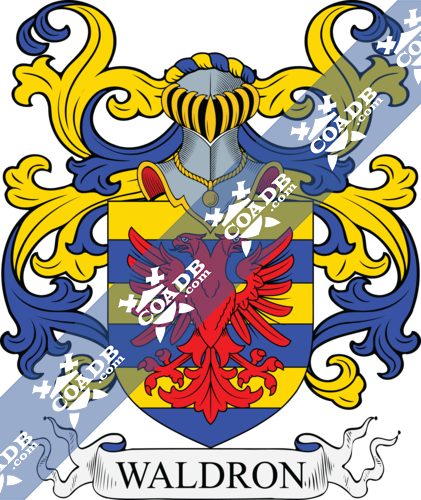 Waldron Coat of Arms Gallery
Don't know which Coat of Arms is yours?
We can do a genealogical research. Find out the exact history of your family!
Learn More
Surname Name Meaning, Origin, and Etymology
The last name Waldron is a baptismal surname meaning "the son of Waleran", the letter d being intrusive. It derives from the Old Germanic or Teutonic personal name Walahramn or Waldhramn, with the suffix of the word meaning mighty raven or strong bird, and the prefix being a wall, a pivotal piece of a medieval fortification. Another author notes t wald is a Saxon word for wood.
The name was brought into Britain by the Anglo-Saxons in the 700s AD. In England, the name was first established in Sussex at a parish named Waldron. The place name dates back to the Domesday Book, a survey of England and Wales ordered by William the Conqueror in 1086 AD, where one Iohannes filius Waleranni, Galerami was first documented.
The progenitor of the family, Baron Rudolph Van Waldron, served in the First Crusade (1095-1099) against the Muslims in the Holy Land under the Frank knight, Godfrey of Bouillon, Duke of Lorriane, who became the first King of Jerusalem. He was given large estates for his service and also granted a coat of arms. Another member of his family served in the Second Crusade (1147-1149), received a coat of arms, and was granted a large manor in 1128 AD by the Dutch Government. Baron Rudolph Van Waldron had two sons: Adolph and Richard. The latter came to England in 1154 AD and served as a soldier/knight under King Henry II, the first Plantagenet King of England, who conquered part of Ireland and France. He was created a Baron three years later in 1157 AD and received a coat of arms, and built a castle on his manor in Bradfield, county Devon, where his descendants lived for generations. A lineal descendant of this Richard was, Major Richard Waldron went to America in 1635, was commander-in-chief of the British force in King Phillip's War and was killed by Indians.
Spelling Variations
Common spelling variants or names with similar etymologies include Waldrone, Waldern, Walderne, Waldam, Waldren, Waldron, Walrond, and Waleran.
Popularity & Geographic Distribution
The last name Waldron ranks 1,952nd in popularity in terms in the United Status as of the 2000 Census. The name ranks particularly high in the following four states: New York, New Jersey, Virginia, and Connecticut.
The surname Waldron frequency/commonness ranks as follows in the British Isles: England (1,278th), Scotland (2,233rd), Wales (1,029th), Ireland (621st) and Northern Ireland (2,536th). In England, it ranks highest in Worcestershire and Devon. In Scotland, it ranks highest in Renfrewshire. In Wales, it ranks highest in Flintshire. In Ireland, the surname Waldron ranks highest in county Mayo.
The name is also present throughout the remainder English speaking world:  Canada (4,319th), New Zealand (1,409th), Australia (1,236th), and South Africa (9,230th).
The 1890 book Homes of Family Names by H.B. Guppy, states the following in regard to this surname: "Waldron, a name also established in Wiltshire and Worcestershire, was a well – known name in Winchester last century; ten mayors of that city between 1727 and 1754 bore the name (Milner's "Winchester")".
Early Bearers of the Surname
The earliest known bearer of this last name was John Waleram who was founded in charters of the district of Clerkenwell in Lodon in 1196 AD. Robert Waldrond (Worcester) and Matilda Waldron (Warwick) was recorded in the Hundred Rolls for those counties in 1275 AD. The Feet Fines of Essex lists one Richard Walram in 1262 AD. A one Walronde or Walderon was recorded in the Register of the University of Oxford in 1522 AD. A one John Walrond was recorded in the county of Devonshire in the Register of the University of Oxford in 1600 AD. A one Francis Waldron was also recorded in the same register in county Somerset in 1603. An early baptism involving this surname include Sarah Walrdon, daughter of St. Mary Aldermary in London in 1730.
History, Genealogy, and Ancestry
Edware Walderne was born between 1404-1454 and he married Agnes Dislin with whom he had a son named William.  William Walderne was born in 1455 and he married Joan Kibblewhite, with whom he had a son named Edward. This Edward Walderne I was born in Alcester, Warwickshire England in 1535 and he married Joan with whom he had three issue: George Waldron, Edward Waldron II, and William Waldron. His son Edward II was born in Alecester, Englan in 1552 and he married Mary Hunt. Thhey had the following children together: Johannes Rudolph I, Edward, Rose, John Resolvaert II, and William. His son John (or Johannes) Resolvaert Waldron II was born in the same town in 1579. He married Maria Goverts, and prior to his death in Holland in 1650, had the following issue: Resolved, William, Cornelia, Joseph, Antje, and Joris. His son Resolved Waldron was born in Amsterdam, Holland before 1610. He was also known as Baron Rosaluld Waldron. He went to the United States. He married Rebecca Hendricks and Tanneke Barentse. He had the following issue: William, Aeltge, Rebecca, Barent Resolvedse, Ruth, Cornelia, Johannes III, and Samuel Waldron. His son Samuel was born in New York, 1670 and he married Neeltie Bloodgood and had the following issue with her: Johannes, Francis Bloodgood, Resolved, Elisabeth (Beekman), Tanneke, William, Peter, Samuel, Francis, and one other. His son Samuel was born in New York in 1710. He married Anna Delamater and they had the following issue: Elizabeth (Beekman), Samuel, John S., Margaret, Cornelia (Catherine), Benjamin Waldron, William, and Anne (Rapellye).
William Waldron was born in Alecester, England in 1577. He married Catharine Raven and had three issue with her: William, George, Richard. His son Major Richard Waldron was born in Alecester, England in 1615 and he went to America. He married Anne Scammon. Prior to his 1689 death, he had two daughters: Elizabeth (Gerrish) and Anna (Gerrish). His brother George was born in Aleceser in 1610 and also went to America. George married Bridget Rice and had a son with her named John. John Waldron was born in 1639 and he had a daughter named Elizabeth (Beard).
Early American and New World Settlers
Early settlers in colonial America bearing this name include Alexander Waldron (New Hampshire 1630), Isaac, Richard, and William Waldron (Rhode Island 1630), Edward Waldron (Boston 1630), Richard Waldron (New England 1635), William Waldron (New England 1640), Elizabeth Waldron (1736), and Edward Waldron (Pennsylvania 1740).
In Canada, one of the earliest settlers bearing this surname was Henry Waldron who arrived in Halifax, Nova Scotia in 1749. In Australia, one of the first settlers with this last name was Thomas Waldron, who came to Kangaroo Island in 1836 aboard the John Pirie. In New Zealand, in 1864, the following bearers of the Waldron name came to the city of Auckland in 1864 aboard the Owen Glendower: Jacob, Mary Anne, Alfred, Reuben, and Susan.
Early Americans Bearing the Waldron Family Crest
Charles Bolton's American Armory (1927) contains one entry for this surname: Argent 3 bulls' heads cabossed horned or. Seal Richard Waldron, Boston, 1691. Jeffries MSS. N. E. Reg., Jan 1877, p. 66 Said to have used 3 fleurs-de-lys in 1683.
Crozier's General Armory (1904) contains one entry for this name: Resolved Waldron, Manhatttan, New York, 1654 (Devonshire). Argent three bulls' heads sable armed or. Crest: An heraldic tiger sable peletee.
Matthew's American Armoury (1907) and Bluebook contains one entry for this name: Richard Waldron (or Walderne) who was born in Alcester, Warwickshire, England in 1615 and settled in New England, and was the son of William Walderne. Argent, a chevron ermines between three bulls' sable heads sable armed gules.
Mottoes
We have identified three Waldron family mottoes:
1) Fortis et velox (Strong and swift)
2) Virtute et valore (By virtue and valour)
3) Nec beneficii immemor nec injuraie (Strive for the right without regard to benefits or injuries)
Grantees
We have eight coats of arms for the Waldron surname depicted here. These eight blazons are from Bernard Burke's book The General Armory of England, Ireland, and Scotland, which was published in 1848. The bottom of this page contains the blazons, and in many instances contains some historical, geographical, and genealogical about where coat of arms was found and who bore it.
Notables
There are hundreds of notable people with the Waldron surname. This page will mention a handful. Famous people with this last name include: 1) Adelbert F. Waldron III (1933-1995) who was a United States sniper from Virginia who served in the 9th Infantry during the Vietnam War with 109 confirmed kills, 2) Malcolm Earl Waldron (1925-2002) who was an American jazz pianist and composer from New York City, 3) Major Richard Waldron (1615-1689), also spelled Waldern(e), who was the second "president" of colonial New Hampshire, 4) Richard Waldron (1650-1730) who was a military officer, businessman, and political from New Hampshire, 5) Kathleen Waldron who is the president of William Paterson University, 6) Irving J. Waldron (1876-1944) who was an outfielder who played in the MLB for the Milwaukee Brewers and Washington Senators in 1901, and 7) John C. Waldron (1900-1942) who was a United States Navy aviator who led a squadron of torpedo bombers in World War II who died at the Battle of Midway.
Blazons & Genealogy Notes
1) (or Walrond). (Pucklechurch, co. Gloucester, Alborne, co. Wilts, and co. Devon). Barry of six or and az. an eagle displ. with two heads gu.
2) (co. Lancaster). Ar. a fess betw. three griffins' heads erased sa.
3) (or Walron). (Langridge, co. Somerset, and co. Wilts). Ar. a chev. ermines betw. three bulls' heads couped sa. armed gu.
4) (quartered by Bury, of Culham, co. Oxford; Avice Waldron, sister and co-heir of Thomas Waldron, temp. Henry VI., dau. of William Waldron, granddau. of Thomas Waldron, and great-granddau. of Willlam Waldron, co. Oxford, m. Thomas Pynchpoll, of Maundon, co. Essex; her granddau., Jane Pynchpoll, dau. and heir of John Pynchpoll, of Winrush, co. Gloucester, m. Edmond Bury, Esq., of Hampton Poyle, co. Oxford. Visit. Oxon, 1574). Ar. three bulls' heads cabossed sa. attired or.
5) (Chief Justice of Barbadoes, temp. Charles II.). Same Arms.
6) (temp. William I.). Lozengy or and az. a bend gu. bezantée. Crest—Two laurel branches in saltire ppr.
7) Ar. a bend betw. three greyhounds' beads erased sa.
8) Az. two bars ar. on a chief or, a lion pass. gu.
9) (Lord Mayor of London, 1412 and 1422). Ar. a bend betw. three griffins' heads erased sa.