Walsingham Family Crest, Coat of Arms, and Name History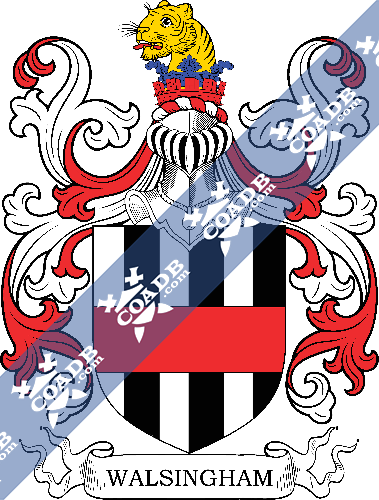 Walsingham Coat of Arms Gallery
Don't know which Coat of Arms is yours?
We can do a genealogical research. Find out the exact history of your family!
Learn More
The English surname Walsingham is toponymic in origin, belonging to that group of surnames derived from the place where the original bearer once dwelt or where he once held land. In this case the surname indicates "one who resided at Walsingham", the name of two villages in Norfolk; Great and Little Walsingham. The place name itself is derived from the Old English "Waelsing ham" and means "the homestead of Wael's people", Wael being the forename of the original settler of the village. The villages formed part of a large manor in the Middle Ages and are recorded in the Domesday Book of 1086 among the lands of Roger Bigod, Reynold son of Ivo, and Ralph Peverel. Little Walsingham is the site of the shrine of Our Lady of Walsingham, built in 1060 in honour of a saintly local gentlewoman which unfortunately no longer exists. (Anglo-Scand.) belonging to Walsingham (Norf.), 13th cent. Walsynghám, A.- Sax. Wœlsingaham ('Dipl. Angl.', p. 363) = the Home of the WÆls Family [for the pers. name see under Walsham, and + -inga, genit. pl. of the son suff. -ing + hám, home, estate] The shrine of Our Lady of Walsingham was very famous for centuries; and the town is mentioned in old ballads—e.g., in one beginning—-.Great and Little Walsingham are parishes in Norfolk. Or De Clare, from Walsingham, Norfolk. Blomefield states that Sir Francis Walsingham, Queen Elizabeth's great minister, descended from Thomas W., who removed from Norfolk to Kent, and d. c. 1456 (vii. 270), whose ancestor Sir Richard W., of Norfolk, t. Ed­ward III. was son of Thomas, son of Sir Richard, a Justiciary in Norfolk 1304, whose father, Richard, had lived t. Henry III. The latter was probably a son of William de Clare, who died seized of Walsingham 1257, and brother of Richard, Earl of Clare (father of Thomas and Gilbert). William de C. also appears as 'De Walsingham' (Roberts, Excerpta, ii. 308). This descent of the Walsingbams is inferred from the surname, the possession of the estate of Walsingham, and the similarity of Christian names. The family of De Clare had long possessed an estate at W., for on the foundation of Walsingham Abbey in the 12th century, the grants of Geoffry de Faverches at W. were confirmed by Roger, Earl of Clare. The estate of W. was granted to William de C. by his brother, Earl Richard.
To receive a complete surname meaning report by PDF you can order our SURNAME MEANING PACKAGE for $129.   This report is great to share with family and friends.  It includes everything you see above plus any other information we can find on the specified surname.  It does take approximately 10 to 15 days for us to complete this custom report.
To receive a direct lineage & coat of arms search for your specific line(s) you can order one of our GENEALOGY PACKAGES ranging in price from $249 to $999.   All research is completed by a professional genealogist with over 30 years' experience.  All reports and coat of arms files are sent by email in PDF and JPG format.
Blazons & Genealogy Notes
1) Blazon Paly of six argent and sable, a fess gules. Crest Out of a mural coronet gules a tiger's head or, ducally gorged azure.