Woodhull Family Crest, Coat of Arms, and Name History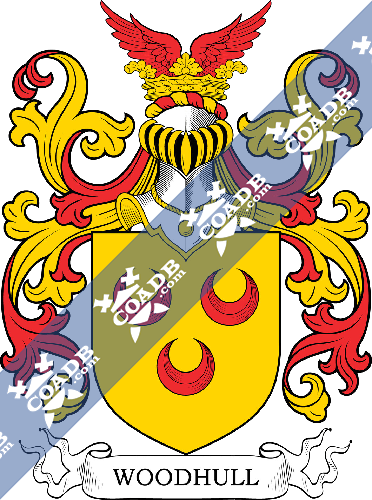 Woodhull Coat of Arms Gallery
Don't know which Coat of Arms is yours?
We can do a genealogical research. Find out the exact history of your family!
Learn More
This family possesses a very elaborate and complete achievement of its arms.  Its ancestry is traced to Walter de Wahull (1297).  The emigrant Richard Woodhull, came from Thenford, county Northampton, England and settled in Jamaica, Long Island.  He died in 1690.  We read that the titled branch of the family, the Lords Crewe of Steene, accept the relationship.  ARMS:  Wahull Lord of Wahull – Angl. Gold has three crescents. from gu. CREST:  Two wings, gules, out of a ducal coronet, or.
It is said that upon the Conquest of England, the Lord of Wahull and Stephen then Lord of la Leie, divided he fee of Wahull between them and that thereupon the Lord of Wahull had two parts, and Stephen the third, viz. the one of them twenty Knights Fees, and the other ten.  Also, that the Lord of Wahull having a mind to keep the whole part of Segenho, and the Demesns of Brocheburgh, caused all the Woods and Plains to be measured by the perch.  So likewise, all Northwood and Cherlewood adjoining and outed the Inhabitants; allowing unto Stephen de la Leye his third part of the Arable which those Inhabitants had enjoyed and the whole Wood, then called Cherlewood but afterwards Northwood.  Lord of Wahull was succeeded by Simon de Wahull who in the time of King Henry the First or King Stephen with Sibyll his wife gave the Church of Langford to the Knights Templars, and to him Walter de Wahull which Walter in 12 Henry 2nd upon the Assessment of the Aid for marrying the Kings Daughter certified his Knights Fees, de veteri Feoffamento to be twenty seven and those de novo, three, of which Feeds Hugh de Legh held of him.
Many generations after Lord Walter de Wahull his many times great grandson Richard Woodhull was a colonist to America he born Sept. 13, 1620 in Thenford, Northhampton, England and died in Brookhaven, New York Oct. 17, 1690.  He came to America around 1648, on April 29th of that year he witnessed a deed at Easthampton, Long Island.  He settled permanently at Brookhaven Suffolk co. N.Y.  in 1655, of which place he became proprietor in two patents 1) that of Gov. Richard Nicolls in 1666 and 2) that of Geo. Thomas Dongan in 1686.  In 1663 he represented Brookhaven at the general court at Hartford to obtain aid against the usurpations of the Dutch.  In 1666 he was appointed one of the justices of the court of assizes and in 1673 he became deputy to the Dutch commissioners in New York, and by them was commissioned a magistrate for Brookhaven.  His great grandson Nathaniel was a soldier and was born Dec. 30, 1722 in St. George's Manor in Long Island, New York and died Sept. 10, 1776 in New Utrecht, Long Island.  He served as a major under General Abercrombie in the attack upon Crown Point and Ticonderoga in 1758.  He was representative from Suffolk county in the colonial assembly from 1769 till 1775 and was active there in resisting the encroachments of the crown.  The colonial government was suspended in May 1775 till April 1777, New York was then governed by the Provincial congress, of which General Woodhull was president in 1775 and again in 1776.  He was appointed brigadier-general in August of 1775 and on the landing of the British on Long Island put himself at the head of the militia.  A few days after the disastrous battle of Long Island he was surprised by a body of British light horse near Jamaica.  He surrendered his sword but was afterward severely wounded by the troopers that he died.
John Woodhull was born to his like-named father and mother, Elizabeth, at Miller's Place, Long Island, January 26, 1744. Mrs. Woodhull was the daughter of Major William Henry Smith who owned St. George's Manor on Long Island. The property had been inherited from his father. Infant John was the second born of a nine-child household that included eight sons and one undoubtedly greatly pampered daughter named Elizabeth. The Woodhulls were descended from Richard Wodhull (early variant spelling) of Brookhaven, Long Island, who had settled in the colony in the mid-seventeenth century. As John matured, he received preparation for further studies in a school mastered by his mother's brother, Rev. Caleb Smith (Yale 1743), a minister in what is currently Orange, New Jersey.
Rev. John Woodhull died November 22, 1824. He was honored with his "D.D." (Doctor of Divinity) by Yale College in 1798 during the presidency of Rev. Timothy Dwight. About fifty feet from the church he served for so many years is his grave where he awaits the resurrection of the dead. Sarah would survive him by only a few years dying on October 14, 1827. They enjoyed the births of five boys and one daughter, Sarah, who was likely pampered by her brothers and parents much like her aunt Elizabeth had been by her family. Daughter Sarah would marry Major William G. Forman and move to Mississippi where she would predecease her parents. Of the sons—John died in infancy, William Henry trained for the mercantile business but died during the yellow fever epidemic in New York in 1798, George Spafford followed in his father's footsteps by becoming a minister, and John Tennent and Gilbert Smith both became physicians.
This family has a long line of men that not only fought for what they believed in but held prominent positions throughout history.
To receive a complete surname meaning report by PDF you can order our SURNAME MEANING PACKAGE for $129.   This report is great to share with family and friends.  It includes everything you see above plus any other information we can find on the specified surname.  It does take approximately 10 to 15 days for us to complete this custom report.
To receive a direct lineage & coat of arms search for your specific line(s) you can order one of our GENEALOGY PACKAGES ranging in price from $249 to $999.   All research is completed by a professional genealogist with over 30 years' experience.  All reports and coat of arms files are sent by email in PDF and JPG format.
Blazons & Genealogy Notes
1) Wahull Lord of Wahull – Angl. Gold has three crescents. from gu. CREST: Two wings, gules, out of a ducal coronet, or.