Weekes Family Crest, Coat of Arms and Name History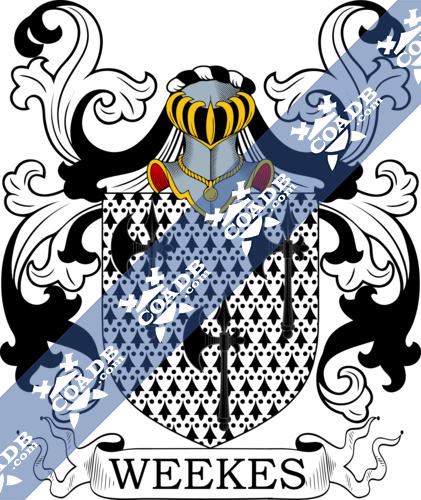 Weekes Coat of Arms Gallery
Don't know which Coat of Arms is yours?
We can do a genealogical research. Find out the exact history of your family!
Learn More
Weeks Origin:
England
Origins of Name:
The surname of Weeks is an English surname with multiple and various spellings. The multiple origins of the surname of Weeks come from a topographical name or an occupational name. The topographical possibility of the surname of Weeks is that it is used to describe a dairy farm, and was thus given to those who lived on our near a dairy farm. For the occupational possible explanation of this surname, the original bearer was said to have worked on or near the dairy farm or provided some sort of good or service that was utilized by this dairy farm. The name itself comes from an Old English Pre 7th Century word of "wic" which is an early borrowed word from the Latin "vicus" which can be translated to mean "an outlying settlement which can only thrive dependent on a larger village, especially specifically meaning a dairy farm." This name is also locational, and there are places throughout the English countryside. Many places with the locational name of Weeks are found in the south west of England, such as in Devonshire, Cornwall, and Somerset. These places are named with the spelling Week, Weeke, Weeks, or Weekes, and may be locational in any of the aforementioned counties. By adding the final "s" to this topographical surname of Weeks, it confirms that this surname was created in medieval times, and denotes someone who is a resident at an actual place, rather than someone who has come from this place or formerly lived there.
Variations:
More common variations are:
Weekes, Week, Weak, Weecks, Weekse, Weeaks, Weekis, Weekw, Weks, Weeksii, Weaks, Wieks
History:
England:
The first recorded spelling of the surname of Weeks was in England. Alueredus de Uuica was named in Somerset in the year 1084, while Goselin de Wich was recorded in Worcesetershire in the year 1184. Jordan le Wike was mentioned as residiign in Gloucestershire in the year 1194. Those who reside in England and bear the surname of Weeks are said to be in high concentrations in the area of Sussex county originally, but later spread to the areas of Devon, Somerset, Brecknockshire, Kent, Dorset, Wiltshire, and Hampshire counties.
United States of America:
During the European Migration, which is when English settlers were fed up with their homeland and it's poor living conditions, and emigrated out of their home country, many settlers sought out the United States of America, which at that time was referred to as the Colonies, or the New World. The United States promised freedom from religious persecution, the ability to find new work, and better living conditions. The first of these settlers who was recorded to bear the surname of Weeks was one Leonard Weeks, who settled in New Hampshire in the year 1630, while one Symon Weeks from Devonshire, who left for the New World when he was only sixteen years of age in the year of 1634, in the month of February. Those who bear the surname of Weeks are found in large concentrations throughout the United States of America. Those states with these large numbers of people who are identified by this surname are New York, Virginia, Michigan, North Carolina, Florida, Alabama, Texas, California, Massachusetts, Illinois, and the southern state of Mississippi.
Weeks Today:
United States 49,699
England 7,566
Australia 3,246
Liberia 2,984
Canada 2,809
South Africa 1,607
Wales 745
New Zealand 383
Mexico 262
Scotland 256
Notable People:
Don Weeks (1938-2015) who was a radio personality from America
Sinclair Weeks (1893-1972) who was the United States Secretary of Commerce under former President Dwight D. Eisenhower
Rickie Weeks (born in 1982) who is an MLB second baseman from America
John Wingate Weeks (1860-1926) who is a politician in the Republican Party, and the Secretary of War from the year 1921 to the year 1925 and is from America
Brent Weeks (born in 1977) who was an author from America, who is most notably recognized for The Night Angel Trilogy
Willie Weeks (born in 1974) who is a bass guitarist from America
Al Weeks, who was a Delegate to the Democratic National Convention from Utah in the year 1952, and was a Democratic politician from America
Alfred C. Weeks, who was a Candidate for the Connecticut State House of Representatives from Pomfret in the year 1906, and was an American Republican politician
Alvin Gardner Weeks (1866-1924) who was a Representative from Massachusetts in the 15th District in the years 1912 and 1914, who was a politician from America
Blazons & Genealogy Notes
1) (Honychurch and Broadwood Kelly, co. Devon; Francis Weekes, Esq., of Broadwood Kelly, temp. James I., fifth in descent from Sir Richard Weekes, Knt., of Honychurch. Visit. Devon, 1620). Erm. three battle axes sa.
2) (co. Surrey). Per chev. indented gu. and sa. three annulets ar.
3) Paly of six gu. and or, on a chief az. three eagles displ. ar
4) (Hurstperpoint, co. Sussex). Mottoes—Cari Deo nihilo carent; Vitae via virtus; and, Praesta et perstae. Erm. three battle axes sa. Crest—A dexter arm in armour embowed, holding a battle axe gu.
5) Per chev. gu. and sa. three annulets or. Crest—A dexter hand grasping a scymitar ppr.
6) Paly of eight or and gu. on a chief az. three eagles displ. with two heads of the first.