Wiley Family Crest, Coat of Arms and Name History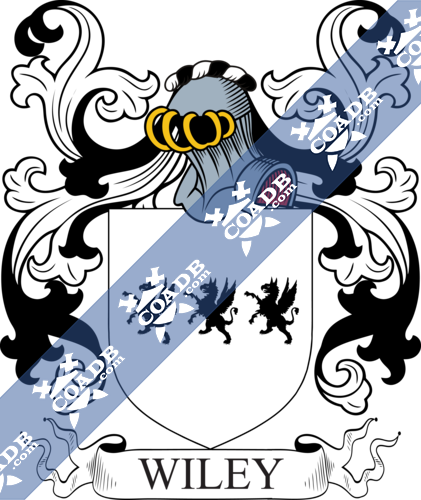 Wiley Coat of Arms Gallery
Don't know which Coat of Arms is yours?
We can do a genealogical research. Find out the exact history of your family!
Learn More
Surname Name Meaning, Origin, and Etymology
This last name has four origin theories. First, it is the Scottish and Northern Irish variant of the surname Wylie. Second, it may be the English variant of the name Willey (a surname which derives from numerous places in Cheshire, Hereford, Shropshire, Warwickshire, and Warwickshire that derive from the Old English word will, meaning willow, and leah, meaning wood or clearing, literally translating as a willow clearing). A village spelled Weoleage was recorded in the Anglo-Saxon Chronicles of 909 AD. Third, it could be a habitational/locational surname from a village Wylye in Wiltshire, which was named for the Wyley river. Fourth, it could derive from the personal (first name) name Will, a nickname for William, and hence may be baptismal "son of Will" in origin. It should be noted the Old English word wil means a wile, a person who was sly, cunning, or wily.  The last name Wiley ranks 653rd in popularity in terms in the United Status as of the 2000 Census. Common spelling variants include Willey, Wylegh, Wylie, Willy, Wyley, Willie, Wyly, Wilye, Weyley, and Wylley. One source asserts this is a Scottish family originally who lived on the English/Scottish Borderlands, originally in Dumfries, where they held land and titles prior to the Norman Conquest of 1066 AD.
Early Bearers of the Surname
The earliest known bearer of this surname was John de Wylegh who was documented in the Pipe Rolls of Wiltshire in 1201 AD. William de Wylly was recorded in Sussex in 1296 AD. The Hundred Rolls of 1273 AD, a census of Wales and England, known in Latin as Rotuli Hundredorum lists two  bearers of this surname: Richard de Wileye (Cambridgeshire) andRoger de Wylye (Bedford). Richard de Wyleye was recorded in Essex in 1390. The Testa de Beville, sive feodrum  lists one Nicholas de Wyly in county Wiltshire during the era of Kings Henry III and Edward I of England  (thirteenth century AD).
The Placita de Quo Warranto lists one Hugh de Wyly (Wiltshire) during the reign of King Edward I of England (1272-1307 AD). Edmund Willie was recorded in Somerset in the Register of the University of Oxford in 1595 AD. Francis Willy was recorded in Hertfordshire in the Register of the University of Oxford in 1621 AD. Early marriages involving this surname include 1) Elizabeth Wylley to Thomas William at Westminster in London in 1614 and 2) Elizabeth Wily to William Rogers at St. George's Chapel Mayfair in 1746.
Wiley Family History, Genealogy, and Ancestry
The famous genealogist Bernard Burke's book two notable books (The Landed Gentry and Peerage and Knights), which discussed noble and landed families, do not contain entries for the surname Wiley.
Robert Willie (or Wylley) was born in Thorley, Hertfordshire, in 1453 AD. He married Sara Samuelsdotter and had a son with her named John. John Willie (or Wylley) was born in 1500. He had a son named Richard.Richard Willey was born in England in 1526. He married a woman named Alice Somersby and had a son with her named Richard. His son Richard Wiley was born in Lincolnshire in 1575 and he married Salley Freer with whom he had two issue: Allen and John. His son John was born in England and 1609. He married Elizabeth Clough in Watertown, Massachusetts in 1644 and he had the following issue with her: John, Mary (Sage), Elizabeth, Timothy, Susanna (Damon), and Sarah. His son Timothy Wiley was born in Reading, MA in 1653. He married twice: Elizabeth Davis and later Susannah Kendall. He had three children: Timothy, Thomas, and Moses. His son Moses was born in 1699 and he married Thankful Young, with whom he had the following issue: Mary (Higgins), Levi, Mary, and Mary. His son Levi was born in Eastham, MA in 1740 and he married Rebecca Stubbs with whom he had one son named Rebecca, and had a son with her named John. This John Wiley was born in Wellfleet, MA in 1774 and he married Hannah Cahoon. They had the following six children together: Jesse, Betsey (Davis), Dorcas, Solomon, Solomon Cahoon, and John. His son Solomon Cahoon Wiley was born in the same town in 1806 and he married Betset G. Smith. They had nine issue together: Sarah Eaton, Lewis Parker, Simeon Smith, George Eaton, Frances Ann, Solomon Bartlett, Samuel Smith, Samuel Smith, and Lucinda Lewis Wiley. His daughter Sarah Eaton was born in 1832 and she married Rufus Higgins in 1853 and had a daughter with her named Lucina Lewis Higgins Paine.
A one William Wiley was born in Harrisburg, Pennsylvania in 1751. He married Priscilla Marquis and had four issue with her: John, James, Thomas, and William. His son John was born in North Carolina in 1780 and he married Elizabeth Charity Seevers with whom he had numerous issue: Abraham, David, Thomas, Polly Ann Marshall, Wiliam F.,  Jacob Anson, Margaret Moreland, James, Hamilton, Charity Ann (Woodford), William, John Jr., Lewis, Amos, James A., Dolly, and Elizabeth (Gray). His son Thomas was born in 1809 and he married Mariah Scott and Elizabeth Foge. He had the following issueL Emeline (Dryer), Delilah (McCune), Archibald, Eliza Jane McKnee, Margaret, James W., Dunlap, Mary E. (Corns), and Thomas. His son Dunlap Wiley was born in 1844 and he married Martha Boggs with whom he had issue: James, Ella (McKee), Eva (Ross), Ellen, Frank L., and Evalina.
Early American and New World Settlers
Early settlers in colonial America bearing this name include Ann Wiley (Maryland 1674), Sarah Wiley (New England 1718), and Betty, Jane, and James Wiley (Boston 1766). In Australia, one of the earliest recorded bearers of this surname was Thomas Wiley who came to South Australia aboard the Lismoyne in 1855. In New Zealand, one of the earliest settlers with this name was Thomas Wiley, who arrived in the city of Auckland (particularly the Tamaki area) in the year 1843. The last name also appears to have been present in the Caribbean. A one John Wiley was buried in May of 1678 in the parish of St. Michaels, Barbados. A one Isaac Wiley came to the Barbados in 1663.
Early Americans Bearing the Wiley Family Crest
I researched the following three resources and did not find any coats of arms for Wiley: Bolton's American Armory, Matthew's American Armoury and Bluebook, and Crozier's General Armory.
Mottoes
I have been unable to identify a Wiley family motto.
Grantees
We have three coats of arms for the Wiley surname depicted here. These three blazons are from Bernard Burke's book The General Armory of England, Ireland, and Scotland, which was published in 1848. The bottom of this page contains the blazons, and in many instances contains some historical, geographical, and genealogical about where coat of arms was found and who bore it.
Notables
There are hundreds of notable people with the Wiley surname. This page will mention a handful. Famous people with this last name include: 1) Alexander Wiley (1884-1967) who was a four term Republican Senator from Wisconsin who served from 1939-1963, 2) Harvey Washington Wiley (1844-193) who was an American chemist from Kent, Indiana most known for the role he played in helping pass the Pure Food and Drug act of 1906, 3) Isaac William Wiley (1824-1884) who was an American physician, missionary to China, and Bishop of the Methodist Episcopal Church who was born in Lewistown, Pennsylvania, 4) Janet M. Wiley (1933-2010) who was an American professional baseball player (pitcher and infielder) born in South Bend, Indiana who played for the AAGPBL for the Chicago Colleens, South Bend Blue Sox, and the Rockford Peaches, 5) John Cooper Wiley (1893-1967) who was a United States ambassador who was born in Bordeaux, France  involved with Austria, Latvia, Estonia, Colombia, Portugal, Iran, and Panama, 6) Maya Wiley (1964) who is an American civil rights activist from Washington, DC who served as council to Bill de Blasio, Mayor of New York City, 7) Henry Orton Wiley (1877-1961) who was a Christian theologian born in Marquette, Nebraska who was a Christian theologian and follower of John Wesley and was a member of the Church of Nazarene, 8) William Wiley, a United States sailor who served in the First Barbary War (1801-1805), 9) William T. Wiley (1937) who is an American artist born in Bedford, Indiana who has a wide array of mediums (ex. drawing, painting, sculpture, films, and pinball), 10) William Halsted Wiley (1842-1925) who was an American Republican Party politician born in New York City who served in the Union Army and became a member of the House of Representatives for New Jersey during the early 1900s, and 11) Laura Ives Wiley who was a member of the North Carolina House of Representatives.
Blazons & Genealogy Notes
1) Ar. three griffins pass. sa. Crest—A rose bush vert bearing roses ar.
2) (or Willey).Ar. three griffins segreant in fess sa.
3) (or Willey).Ar. two griffins segreant in fess sa. betw. five trefoils slipped vert.