Wilkie Family Crest, Coat of Arms and Name History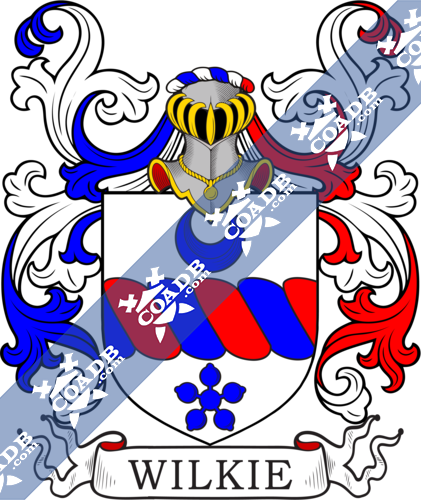 Wilkie Coat of Arms Gallery
Don't know which Coat of Arms is yours?
We can do a genealogical research. Find out the exact history of your family!
Learn More
Surname Name Meaning, Origin, and Etymology
This mainly Scottish name is a baptismal surname meaning "the son of William", from the personal or first name Wilkin, which is a pet form of William. It can also be a corrupted spelling of the German last name Wilke. The first name William in turn derives from the name Wilhelm, and Old French and Germanic personal named that has the words wil (will or desire) and helm (helmet or protection). The word kin is a diminutive suffix. The name was introduced into the British Isles during the Norman Conquest of 1066 AD. A family of this name held seat and estates in Rathobyres in Midlothian, Scotland at the beginning of the 1300s AD. Another source claims the name was first established in Kent where the family was Lords of the manor of Ellington House and Blackheath.
Spelling Variations
Common spelling variants include Wilkey, Wylkie, Wilke, Willkie, and Willeke. The foreign equivalents are Wilko and Wilke (Flemish) and Wilke and Wilkes (Dutch).
Popularity & Geographic Distribution
The last name Wilkie is the 4,680th most common surname in the United States according to the 2000 Census.  Wilkey ranks 8,055th and Wilke ranks 4,191th. In England, the name is ranked 1,925th in popularity in recent years. The name is also prevalent in Canada, South Africa, Australia, and New Zealand. The name is also present in Barbados. In the United States, it's most common in North Carolina, New York, Georgie, California, Washington, Michigan, and Minnesota. In the United Kingdom, the name is most popular in Suffolk, North Yorkshire, Angus, and Nottinghamshire.
Early Bearers of the Surname
A one David Wilkie was documented in the Records of Pitcairn, Fifeshire in 1495 AD. William Wilkie was listed in the Assize Rolls of Edinburg in 1529 AD. A one Catherine Wilkie was listed as living in Dysart, Fifeshire in 1541 AD.  Early marriages involving this surname include Alex Wylkie and Mary Francis at St. George's Hanover Square in London in 1756 and Sara Wilkison to James Forward in 1788 in London. A one Susanna, wife of James Wilkey, was buried at St. Dionis Backchurch London in 1663.
History, Genealogy, and Ancestry
The famous genealogist Bernard Burke's book "The Landed Gentry" discusses one branch of this family: Wilkie of Ellington House. It begins with a mention of Hales Wilkie, Esq. of Ellington House in Kent, who was born in 1837 and who was a Colonel in the army and a Lieutenant Colonel of the 29th regiment. In 1861, he married Eleanor, the daughter of W. Walker of Summerfirled, and had children with her, including Edward Ormerod Hales (b. 1862). Burke traces the lineage of this branch back to Colonel Thomas Fletcher Wilkie who was born in 1777 and was the son of Thomas Wilkie (who fought in the American Revolution in the 35th regiment and was killed in said war). He served in the 35th and 38th regiments in war from 1793-1815. In 1805, he married Elizabeth, daughter of Sir John Hales, and died in 1862, leaving one son: Edward Charles Hales Wilkie who was D.L. and Justice of the Peace in Kent and the Cinque Ports. He was born in 1809 and in 1834, he married Mary, daughter of Thomas Wood of Chislett Court, and had seven children with her prior to his 1872 death: Hales, Kenyon Wood (Barrister-at-Law born in 1838), Reverend Christopher Hales (born 1841 and married Melian Jones and was Rector of Edburton), Edward Hales (1844), Caroline Hales (married Sidney Young in 1872), Mary Anne Hales (married Francis Headlam Keenlyside), and Octavia Elizabeth Hales. This family bore the following coat of arms blazoned as follows: Argent, a fess wreathed azure and gules between a crescent in chief and on a cinquefoil in base of the second.
George James Wilkie was born in 1831 in LaHave Lunenburg county in Nova Scotia, Canada. In 1854, he married Mary Jane Weigel, and they had two children together: James A. and Edward Jonas. A one George B. Wilkie was born in 1860 in Scotland. He married Lida May Shephard and was the father of Percy K. and Fred prior to his death in 1912 in Brown City, MI. His son Fred was born in 1889 in Maple Valley Township, MI. He had a daughter named Lucile (Tynan).
William Wilkie was born in 1570 and had a son named Daniel. Daniel was in 1590 in Scotland and was the father of David. Davis was born in 1613 in Dysart and in 1640, he married Catherine Tod. Together they had a son named John. David died in St. Phillips Parrish in the Barbados. His son John was born in 1647 on Edinburgh. In 1676, he married Issobell Lauder and they had a son named James. A one John Wilkie was born in 1560 and was the father of John Wilkie of Foulden and Agnes (Carmichael). His daughter Lady Agnes married James Carmichael in 1603 and had two issue with him: William and Daniel.
Early American and New World Settlers
Early settlers include James Wilkie (1685 New Jersey), James Wilkie (1716 South Carolina), and James Wilkie (1783 Nova Scotia, who came aboard the HMS Clinton).
Mottoes
The Wilkie family motto is Favente Deo, meaning "With God's Favor".
Grantees
Later people bearing this surname that bore the arms: 1) Wilkie, Patrick, of St. Vincent, West Indies, 15 Sept. 1770, 2) Wilkie of Edinburgh, [1811] Vol, 3) Wilkie after Allen, of co. Northumberland. Quarterly Arms, [1812], 4) Wilkie to Crosby, of Newcastle-upon-Tvne,co. Northumberland ; London; and Chester Place, St. Marv, Lambeth, Surrey, [1821],and 5) Wilkie, Sir David (portrait painter), of London, and Cults, co. Fife, Scotland. Arms and Augmentation, [1837].
Notables
Famous people with this last name include: 1) Alexander Wilkie (1850-1928) who was a Labour Party politician in Scotland and Member of Parliament from Dundee, 2) Wendell Lewis Willkie (1892-1944) was an American lawywer and the 1940 Republican Party nominee for President of the United States of America, 3) William Wilkie (1721-1772) who was a Scottish poet that published Epigoniad and was professor of natural philosophy at the University of St. Andrews, and 4) David Percival Dalbreck Wilkie (1882-1938) who was an influential surgeon from the United Kingdom.
Blazons & Genealogy Notes
1) (Blackheath, co. Kent). Ar. on a chev. sa. betw. three pineapples gu. as many bucks' heads erased of the first. Crest—A primrose ppr.
2) (St. Vincent, West Indies; granted 15 Sept. 1770). Quarterly, or and ar. a fess wreathed az. and gu. in the 1st and 4th quarters a camel's head couped sa. bridled of the fourth, in the 2nd quarter a crescent, and in the 3rd quarter a cinquefoil, both of the last. Crest—A demi negro wreathed about the temples or and gu. girt round the waist vert, earrings pendent ar. in the dexter hand a bill, in the sinister a sugarcane couped, all ppr. Motto—Favente Deo.
3) (Ellington House, co. Kent). (Scotland). Ar. a fess wreathed az. and gu. betw. a crescent in chief and a cinquefoil in base of the second.