Wirth Family Crest, Coat of Arms and Name History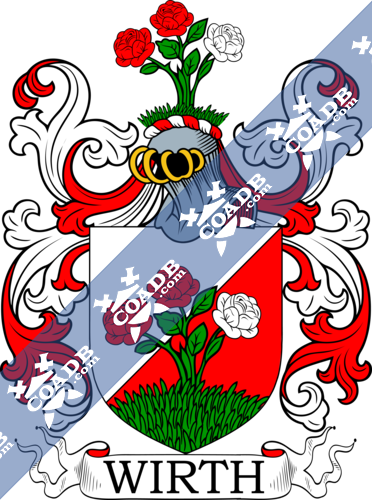 Wirth Coat of Arms Gallery
Don't know which Coat of Arms is yours?
We can do a genealogical research. Find out the exact history of your family!
Learn More
WIRTH
The surname Wirth is Germanic and Jewish (Ashkenazim) in origin. The name was occupational as it translates to innkeeper. It was derived from the medieval German "wirt" the title give to the male considered head of the family or his household, the word is also interchangeable with the word provider. A second source of origin also comes from the German given name "Werd" which translates to worth, in this context the name would be considered patronymic.
Surnames in Europe were largely unheard of until late in the middle ages. In the small settlements and villages which existed during earlier times, residents found little need for surnames as everyone in these communities new each other and a given name would usually suffice. However, with the passage of time, population growth and expansions of communities as villages gave way to towns and cities, it became necessary to add a qualifier to a people's names to distinguish them, one from another. Therefore one person may have been identified by their given name plus their occupation while another may have been identified by their given name and one of their parent's names. The introduction of surnames by the aristocracy after the invasion seemed to be the next logical step in this evolution. There was a boundless supply from which surnames could be formed, in addition to the use of patriarchal/matriarchal names or reference to the individuals occupation, there were things such as defining physical traits, a familiar geographical location or a topographical landmark found near the individuals home or birthplace, the name of the village in which the person lived, and so much more. Soon, surnames would come not just to represent an individual but whole families.
There often exists variations in spelling of many surnames, as with many given names which date back to the early centuries. The variation in spelling of both given and surnames during this time period can be attributed to a lack of continuity regarding guidelines for spelling which was compounded by the diversity of languages in use in European countries at this time. The variations in the spelling of the surname Atwood include but not limited to; Wirth; Wirthe; Worth; and Worthe, among others.
One of the earliest records of any variation of this surname is that of William de la Worthe which appears in the Somerset tax rolls from 1273. These rolls, were a series of census and tax records kept by the English Treasury by order of King Henry III, with the oldest dating back to the 12th century. They hold the distinction of being the oldest consecutive set of records detailing English governance in the United Kingdom. These records span a period of over 700 years and have proven invaluable to researches over the years.
With the discovery of America it wasn't long before people set sail for the new world. Some of the first recorded immigrants to America bearing the surname or any variation of the spelling were Casper Wirth who arrived in 1740 and settled in Pennsylvania. Conrad Wirth landed and settled in Pennsylvania in 1743. Hans Wirth landed in 1752 and settled in Pennsylvania. Fredrick Wirth landed I 1760 and settled in Pennsylvania and Anna Wirth landed in1789 and settled in New York.
Worldwide, the highest concentration of people with the surname Wirth are found in Germany, Luxembourg, Switzerland, and Australia. By state, the largest percentile of those with the surname Wirth live in Michigan, Indiana, Pennsylvania, Iowa, and Connecticut.
There are many persons of note who bear the surname such as, German born entrepreneur, hotelier, and philanthropist, Andrew Wirth. He is currently the President and CEO of Squaw Valley Ski Holdings, the company which owns Squaw Valley and Alpine Meadows ski resorts located in Olympia Valley, California. Wirth also lends his time and energy to a number or local charitable organizations.
American born Conrad L. Wirth was a noted landscape architect, park service administrator, and conservation. Between 1951 and 1964, Wirth was appointed the director of the National Park Services.
Swiss born Theodore Wirth was a noted horticulturalist. Wirth immigrated to the United States and resided in Minnesota. He was noted for designing the systems of parks in Minneapolis.
To receive a complete surname meaning report by PDF you can order our SURNAME MEANING PACKAGE for $129.   This report is great to share with family and friends.  It includes everything you see above plus any other information we can find on the specified surname.  It does take approximately 10 to 15 days for us to complete this custom report.
To receive a direct lineage & coat of arms search for your specific line(s) you can order one of our GENEALOGY PACKAGES ranging in price from $249 to $999.   All research is completed by a professional genealogist with over 30 years' experience.  All reports and coat of arms files are sent by email in PDF and JPG format.
Blazons & Genealogy Notes
Saint-Gall Taillé d'argent sur gueules à un rosier tigé et feuillé de sinople posé sur une terrasse du même et fleuri de trois pièces mal-ordonnées dont celle à senestre d'argent posée sur le gueules et les deux autres de gueules posées sur l'argent Cimier les meubles de l'écu Lambrequin d'argent et de gueules. English: Per bend sinister Argent and Gules a rosebush stalked and leaved planted on a terrace Vert flowered of three blooms one and two, the one to sinister Argent placed on the field Gules, the other two Gules placed on the Argent. Crest: the devices of the shield (i.e., a rose bush flowered the same way). Mantling argent and gules.