Winter Family Crest, Coat of Arms and Name History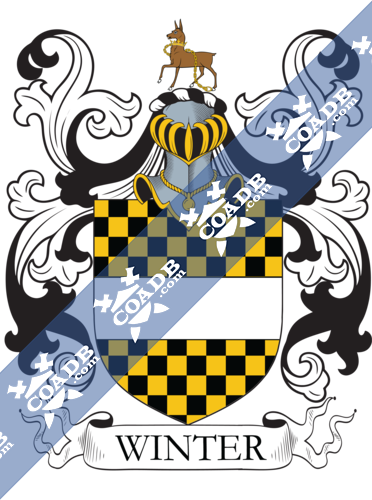 Winter Coat of Arms Gallery
Don't know which Coat of Arms is yours?
We can do a genealogical research. Find out the exact history of your family!
Learn More
The surname Winter or Wynter is a baptismal one meaning the "son of Winter". A one professor Skeat believes the word winter literally means "the wet season", deriving from places that are low-lying hollows with streams liable to flood during winter trains, but were dry in other reasons. One theory is that Summer and Winter evolved from the personification of these two season in Norse mythology. Another theory is that Winter derived from the surname Vintner/Vinter.
The ecclesiastical seasons made an impact on surnames: Pentecost, Whitsunday, Noel, Nowell, Chistmas, and Middlemass/Michaelmas. Winter also is in the names Wintersgill, Winterbotham, Winterburn, and Winterflood.
Winter was also an ancient personal name as in Cod. Dip. Alamannioe a Winter was recorded in 858 AD. Winter was also the name of one of the companions of Hereward the Saxon.Winter was also the first name of one of the companions of the Anglo-Saxon Hereward.
Early notables include Philip Winter recorded during the reign of Henry III, John Winter, Wynter Mariot of Norfolk and Gelle Winter of Cambridge who were recorded in the Hundred Rolls in 1273 AD, as well as Emma Wynter recorded in Yorkshire in 1379 AD. One of the earliest notables is William Winter, from 1185 AD, recorded in the Knight Templars Roll for the county of Warwickshire, during the reign of King Henry II of England.
Burke's Landed Gentry mentions one family of this line: Winter of Agher. The family is related to the Winters of Lydney, in county Gloucester, and was settled in Oxford in 1600. Notables in this line is James Sanderson Winter of Agher (born in 1832 AD), county Meath, who was a High Sheriff, as well as Samuel Winter (1603-1666) who married Anne Beeston of Boston, Lincol and has a son named Samuel. Other notables mentioned include Reverend Sankey Winter, Archdeacon of Killala and Dean of Kildare, who married Elizabeth, the daughter of Dr. William Lloyd, the Bishop of Killala, as well as Francis Winter who married Margaret Pratt and had three children: Samuel, Jane (Edward Reynell), and Mary (married Nicholas Reynell).
Early American settlers include James Winter who settled in Philadelphia in 1773, Mary and Edward Winters who arrived in New York in 1811, and Bernard Winters who settled in Maryland in 1813.
Blazons & Genealogy Notes
1) (Derham, co. Gloucester, Berningham, co. Norfolk, and co. Worcester). Chequy or and sa. a fess ar. Crest—A hind pass. ar. ducally gorged, lined, and ringed or.
2) (Lydney, co. Gloucester). Sa. a fess erm. on a canton ar. a lion ramp. gu.
3) (cos. Gloucester and Worcester). Sa. a fess erm. Crest—A cubit arm erect habited or, in the hand ppr. three ostrich feathers, the middle one sa. the others gold.
4) (Canterbury, co. Kent, 1610). Chequy or and sa. on a fess gu. an annulet of the first. Crest—On a mount vert a hind gu. ducally gorged, lined, and charged on the shoulder with an annulet or.
5) (Worthington and Northington, co. Leicester; Edward Winter, Esq., of Northington, temp. James I., great-grandson of Henry Winter, Esq., of Worthington. Visit. Leicester, 1619). Quarterly, 1st and 4th, sa. on a chev. ar. betw. three tuns or, a chessrook az.; 2nd and 3rd, gu. a saltire engr. ar. betw. four mullets or. Crest—A hawk close ar. holding in the dexter claw a fish erect or.
6) (co. Leicester). Chequy or and gu. a fess ar.
7) (co. Surrey). Sa. a fess erm. on a canton of the second a lion ramp. of the first.
8) Ar. on a cross sa. betw. four birds az. armed gu. a garb or, enclosed by as many bezants, on a chief of the third a lion pass. within two leopards' faces or. Crest—A demi griffin gu. winged per pale or and az. ducally gorged and holding in the dexter claw a garb both gold.
9) (or , Witer, or Wither).Erm. a bull pass. sa.