Wise Family Crest, Coat of Arms and Name History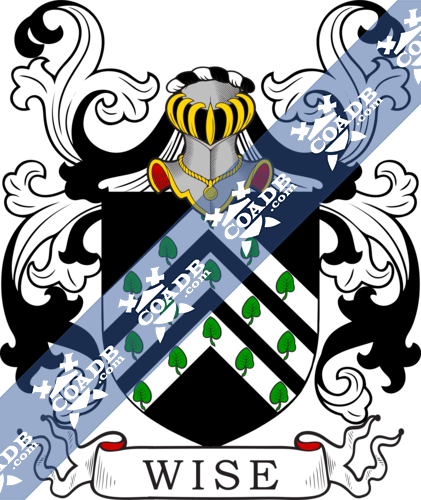 Wise Coat of Arms Gallery
Don't know which Coat of Arms is yours?
We can do a genealogical research. Find out the exact history of your family!
Learn More
Surname Name Meaning, Origin, and Etymology
This Anglo-Saxon last name derives from a nickname for Wiseman, a wise or learned person. Naturally, the out of the nine bearers recorded in the Hundred Rolls, eight were found in counties Cambridgeshire and Oxfordshire, and were likely graduates of the respective universities in said counties. It derives from the Old English word wis or Middle English wise, which means wise, a person with great knowledge/experience and good judgment. Another source, Dictionary of American Family Names, offers a second origin theory: it was a nickname for a person who was believed to be acquainted with the occult, orders or ofrganizations interested in magic and the paranormal. The family first became established in Devon, England where they were Lords of the manor of Greston.
Spelling Variations
Common spelling variants or names with similar etymologies include Wyse, Wys, Wiseman, Wysman,Wyseman,Wisehead, Wyaman, Wisman, Widsom, and Wysehede. The name can also be an Anglicized/Americanized spelling of the German or Jewish surname Weiss or Weis, meaning white, referring to a person with a white complexion or hair, primarily found in Bavaria.
Popularity & Geographic Distribution
The last name ranks Wise ranks 445th in popularity in terms in the United Status as of the 2000 Census.  The name ranks particularly high in the following five states: Ohio, Pennsylvania, Georgia, South Carolina, and Indiana. The surname is also very common in England, where it ranks 798th. It ranks highest in the following counties: Berkshire, Oxfordshire, and Buckinghamshire. It ranks highest in the following counties:  Northumberland, Durham, and Cumberland. The name is common throughout the English speaking world:  Scotland (2,062nd), Wales (1,521st), Ireland (3,961st), Canada (2,274th), New Zealand (1,146th), Australia (603rd), and South Africa (2,801st).
The 1890 book "Homes of Family Names" by H.B. Guppy, states the following in regard to this surname: "The ancient knightly family of Wise of Mount, Wise in Stoke Damerel (Devonport) was one of the oldest families in the west of England: one of this family was high sheriff of Devonshire in 1612 (Worthy's "Devonshire Parishes"). The name is now common on the Cornish border in the Launceston district".
Early Bearers of the Surname
The first documented bearer of this last name was Johanna de Wisa in the 1000s AD. A one Aedwin Wise, who was listed in the Pipe Rolls of Devonshire in 1176 AD. A one Roger le Wis was recorded in the Pipe Rolls of Sussex in 1203 AD. The Hundred Rolls of 1273 AD, a census of Wales and England, known in Latin as Rotuli Hundredorum lists two bearers of this surname:  Elias le Wyse in county Oxfordshire and Henry le Wyse in county Huntingdonshire. There is also one Julia la Wyse in the Hundred Rolls. A one William le Wyse was listed in the Close Rolls during the reign of King Edward II of England (1307-1327). A Thomas le Wys was documented in the Pat. Roll during the reign of King Edward VI of England (1547-1553). An early marriage involving this surname was Patience Wyse, daughter of John, to Stephen Dring in 1668 at Canterbury.
History, Genealogy, and Ancestry
The earliest recorded ancestor of this family is Oliver Wise, also known as Oliver Gewis or Gwiss, who was born in Greston, Gloucestershire, before 1046 AD. He had a son named William who was also called William FitzWise or Gwise.  He in turn had a son Serlonius Wise born in 1160 in the same town. He in turn had three sons: Henry Wise of Greston, Oliver Wise, and Sir John Wise. His son Henry, also spelled Henry Wyse, was born in 1180 at Grestone Manor in Greston, England and he married Catherine Elizabeth Seebold, daughter of Christopher, and was father of Sir William Wise or Wyse, born in Crapstone in 1196 AD. Sir William married Ela de Vipont, daughter of Robert (Lord of Westmorland), and had two issue with her: Sernolius Wise Thurlestone and Constance Wise.
The famous genealogist Bernard Burke's book "The Landed Gentry" discusses four branches of this family: 1) Wise of Clayton Hall, 2) Wise of Hillbank and Rostellan Castle, 3) Wise of Woodcote, and 4) Wise of Leamington.
The first branch begins with a discussion of Lewis Lovatt Ayshford Wise, Esquire of Clayton Hall in county Stafford and Hilleson, Torquay who was Justice of the Peace and Lieutenant of the Queen's Own Staffordshire Yeomanry. He was born in 1844 and his second wife was Alice Isabel, daughter of Thomas Brought Charlton, and had issue with her: Ralph Lovat Ayshford (1876), Elfrida (1875), and Esla Muriel Ayshford (1878). Burke traces the Wise genealogy back to a family that resides in West England prior to the Norman Conquest and deduces its descent from Oliver Wise, de Greston on the Tamar, whose direct male descendant was Sir William Wise, who lived during the 40th year of the reign of King Henry III. In 1295 AD, Walter Wise was a member of Parliament for Tavistock, and in 1442, John Wise of Sydenham who was member of Parliament for Plympton. Through marriage to the De Vepontes, Thursselton, Sydenham, and Trevage, acquired the manors in Devon and settled at Sydenham, where John Wise dwelled. John's son was named Thomas Wise. Thomas married Margaret, daughter and heiress of Robert Brett of Slottiscombe, and had a son with her named John. This John married Thomasine, daughter of Sir Baldwin Fulford, and had children with her named Oliver and Alicia (married James Russell). His son Oliver had a great grandson named John, Esquire of Sydenham. John married Alicia, daughter of John Harris, of Hayne and had many issue with her including Thomas and John. John married Emma, daughter of Richard Vavasour, and he was succeeded by his son William Wise, Esquire of Totnes born in 1560.  He had a son named John, who in 1631, married Susannah, sister and co-heir of T. Prestwood, and died in 1670 where he was succeeded by his son John. The pedigree or Wise ancestry goes on for another page and a half. The Wise Coat of Arms is blazoned in heraldry as the follows: Quarterly: 1. Sable three chevronels ermine. 2. Argent, guttee de sang three copper cakes sable. 3. Gules, a cross-paree vaire. 4. Sable, on a fess or, between three crosses-patee argent as many pallets gules. 5. Argent, three hawks gules membered and beaked, or. 6. Gules, a chevron per fess indented argent and azure between three martlets argent. 7. Argent, on a bend gules, three stags courant or. 8. Sable, a pelican in her piety or. 9. Argent three bendlets gules within a bordure charged with twelve bezants sable. 10. Gules, a fess argent, between three escallops or. 11. Or, a chevron gules. 12. Argent, three ash crops very between two chevronels sable. 13. Or, on a bend sable three horse-shoes or. 14. Gules, an arm in armour holding a battle-aze argent.  Crest: The old crest of the Wises of Sydenham was a mermaid proper. In 1400, a demi-lion rampant gules guttee argent holding in his paws a regal mace, was granted to the family. Mr. Wise likewise bears the crest of the Ayshfords.
The second branch begins with a mention of Josiah Patrick Wise, Esquire of Hillbank in county Forfar, Fedineh in county Fife and Rostellant Castle, in county Cork, a Magistrate in Bengal, born in 1803. Burke traces the genealogy/ancestry back to the family of Wysse, Wyse, and Wise, that have similar armorial bearings, who are regarded as the same stock of the Wysseman or Wiseman family. Alexander Wysse of Mains in Thornton in the parish of Laurencekirk county Kincardine was the representative of the family in the 1600s. He was succeeded by his son, David Wysse, a wealthy man who received large sums of money for the time to kirk sessions of the parishes of Lunan, Montrose, Ecclesgreig St. Cyrus, and Laurencekirk. His only surviving son was Alexander Wise of Lunan, who married Margaret Strachan, daughter of James Strachan of Woodside. Their eldest surviving son was David Wise, Esquire of Lunan. In 1795, David married Anne, daughter of William Chalmers of Glenricht, and had four children with her: Thomas Alexander, Patrick Josiah, Anne, and Barbara (married John Thorns of Pitscottie). The Wise Family Crest or Wyse Family Crest has the following blazon in heraldry, matriculated in the Lyon Office in 1807: Sable, three chevronels ermine, and again, in 1878, viz., per chevron sable and or, in chief two chevronels ermine in base a stag trippant azure. They were seated at Hillbank in Forfar and Rostellan Castle in county Cork.
The third branch begins with a mention of Henry Christopher Wise of Woodcote in county Warwick, who was Justice of the Peace and Deputy Lieutenant, Justice of the Peace, and Member of Parliament for South Warwickshire, and Major Warwickshire Yeomanry Cavalry, who was born in 1806. In 1828, he married Harriett, daughter of Sir Gray Skipworth, and  had seven children with her: Henry Christopher (1829), George (1830), William Naper (1832), Frederick Gray (1838), Augustus (1840), Harriet Mary, and Lelia Charlotte. Burke traces the Wise genealogy back to Henry Wise, Esquire born in 1653, who descended from Casleston. He was Ranger of Hyde Park and Superintendent of the Royal Garden at Hampton Court, during the reign of Queen Anne. He procured the estate and mansion of The Priory and with his wife Patience Banks, had two sons: Henry and John. The first son, Henry Wise of the Priory, was born in 1706 and married Mary Tilson. They had a son together named Henry Christopher Wise who was born in 1738 and was High Sheriff in county Warwick and had two sons: Mathew Blackett and Henry. His son Reverend Henry Wise, of the Priory, in 1798, married Charlotte Mary, daughter of Sir Stanier Porten, and had one son and three daughters with her: Henry Christopher, Katherine (married Sir Thomas Wathen Waller), Mary Patience (married Charles Thomas Willes), and Louisa (married Reverend Ernest Waller, son of Sir William Waller). The Wise Coat of Arms is blazoned as follows: Sable, three chevrons ermine between as many adders erect or.
The fourth branch discussed begins with a mention of Charles John Wise, Esquire of Shurblands, Leamington, county Warwick who was born in 1836. He married Louisa Caroline, daughter of Richard Malone Sneyd, and had a daughter with her named Louisa Elizabeth. Burke traces the pedigree of Wise ancestry back to John Wise, Esq. born in 1711, the son of Henry Wise of the Priory. He married Elizabeth Prew and left three issue with her: Patience, Elizabeth, and Matthew. His son Matthew Wise was born in Esquire of Leamington Priors married Martha Dolphin and left several issue. His eldest son was Matthew, who was once High Sheriff in county Warwick, and in 1800 he married Harriet, daughter and sole heiress of Robert Trotman of Suffolk, and left a son with her named Matthew. This Matthew Wise was Esquire of Shrublands, Leamington who was Justice of the Peace and Deputy Lieutenant. He was born in 1802, and in 1834 he married Elizabeth, eldest daughter of William Stannton of Longbridge, and had children with her: Mathew (1835), Charles John, William George (1851), Henry Edwards (1856), Elizabeth Harriett (married Henry Lecke of Weston Hall), and Caroline Augusta. They bear the same arms as the Priory branch.
Early American and New World Settlers
The earliest settler in American with this name was Humphrey Wise, who came to Massachusetts in 1620. A one Joseph Wise, age 28 or 18, came to Virginia aboard the Bonaventure in January 1635, as did John Wise, who was 30 years old. John Wise, age 18, came to Virginia aboard the Transport in July 1635. A Thomas Wide and Nicholas Wise came to Virginia in 1634 and 1635, respectively. Other early settlers in colonial America with this surname was Joseph Wise (Roxbury 1643), John Wise (Ipswich 1652), Charles Wise (Virginia 1635), Peter Wise (Virginia 1718), Jacob Wise (Philadelphia 1729), and Andreas or Andrews Wise (Pennsylvania 1732).
One of the earliest settlers in Canada with this last name was Bridget Flood Wise, who came to Nova Scotia in 1842. In New Zealand, one of the earliest documented settlers was Richard Wise, who came to Auckland in 1840. In 1856, a few other bearers of this name came to Wellington aboard the Wyvern: Alfred, Emily, Henry, and Julia. One of the first bearers in Australia with this name was John Wise who came to New South Wales in the late 1820s or early 1830s.
A one Benjamin Wise was born in 1700 in Attleboto in Bristol, MA. He married Prudence Gott when he was about 21 years old and had the following issue with her: Mary, Thomas, Benjamin, Margaret, John, William, Elizabeth, Eunice, Prudence, Anne, and Stephen.
Another Benjamin Wise (son of the above?) was born in about 1772 and he married Sarah Martha Cuthbertson and had the following issue with her: Josiah G., James, Martha O., Susannah, William Cuthbertson, Mary J., Sarah Elizabeth, and Celia (Pope). His son William was born in Burke, North Carolina in 1808 and he married Catherine Margaret Wise and had four children with her: James N., Margaret M. (Browning), Sarah, and Jasper Josiah. His son Josiah was born in 1842. He had two children: Oliver Luther and William. His son William Wise was born in 1870 in Avery County, NC. He married Angeline Carpenter and had the following issue with her: Lizzie (Lowery), Maria Anna (Hall), Calep Oscar, Roscoe Melvin, Earl, Lillian (Biggerstaff), and Mae (Ollis). His son Earl was born in 1911 in the same county. He married Matha L. Willis and had several issue with her, including Joe and Shirlet (Bennet). He died in 2001 in Greenville.
Mottoes
There are two Wise family mottoes: Sapere aude (Dare to be wise) (for Wise of Ford House) and Circumspice (Look around you).
Grantees
We have 7 coats of arms for the Wise surname depicted here. These 7 blazons are from Bernard Burke's book The General Armory of England, Ireland, and Scotland, which was published in 1848. The bottom of this page contains the blazons, and in many instances contains some historical, geographical, and genealogical about where coat of arms was found and who bore it. People with this last name that bore a Wise Coat of Arms include:  Henry Wise, of Brompton Park, county Middlesex, Master Gardener of all Her Majesty's Gardens, April 4th 1720.
Notables
There are thousands of notable people with the Wise surname. This page will mention a handful. Famous people with this last name include: 1) Audrey Wise (1932-2000) who was a British Labour Party politician and Member of Parliament, 2) Brownie Wise (1913-1992) who was an American saleswoman who pioneered the "party plan" marketing system, 3) George Douglas Wise (1816-1881) who was a Union brevet brigadier general during the American Civil War, 4) George Douglas Wise (1831-1898) who was a U.S. Representative from Virginia, 5) Henry Alexander Wise (1806-1876) who was an American lawyer and politician from Virginia that was Governor of Virginia, a general in the Confederate States of America, and a U.S. Minister to Brazil, 6) Ernest Wise (1925-1999) who was an English comedian from West Riding, and 7) John Wise (1652-1725) who was a Congregationalist reverend and a political leader in Massachusetts during the American colonial period, known for his protests against taxation.
To receive a complete surname meaning report by PDF you can order our SURNAME MEANING PACKAGE for $129.   This report is great to share with family and friends.  It includes everything you see above plus any other information we can find on the specified surname.  It does take approximately 10 to 15 days for us to complete this custom report.
To receive a direct lineage & coat of arms search for your specific line(s) you can order one of our GENEALOGY PACKAGES ranging in price from $249 to $999.   All research is completed by a professional genealogist with over 30 years' experience.  All reports and coat of arms files are sent by email in PDF and JPG format.
Blazons & Genealogy Notes
1) (Sydenham, co. Devon; John Wise, Esq., of Sydenham, temp. James I., son of James Wise, and grandson of John Wise, both of same place ; the heiress, Arabella, dau. of Sir Edward Wise, K.B., of Sydenham, in. 1673, Edward Tremayne, Esq., of Collacombe. Visit. Devon, 1620). (Totnes, co. Devon, afterwards Clayton Hall, co. Stafford; descended from John Wise, Esq., of Totnes, second son of John Wise, Esq., of Sydenham, temp. Henry VIII.). (Ford House and Wonwell Court, co. Devon; descended from John Wise, Esq., of Sydenham). Motto—Sayere aude.Sa. three chevronels erm. Crest: (The old crest of the Wises of Sydenham was a mermaid ppr.)—A demi lion ramp. gu. guttee d'ea, holding in the dexter paw a mace or (granted 1400).
2) (Thornbury, co. Gloucester). Ar. two bars gemel gu. betw. three columbines az. stalked and leaved vert, on a chief sa. as many ducks' heads erased of the first. Crest—A duck ar. beaked gu. amongst flags vert.
3) (Brompton Park, co. Middlesex; granted by Austis, Garter, to Henry Wise, of Brompton, afterwards of the Priory, co. Warwick). (Woodcote, co. Warwick). (Leamington, co. Warwick). Sa. three chevronels erm. betw. as many adders erect or. Crest—A demi lion ramp. ar. holding in the paw a rose branch ppr. in the mouth a snake vulnerating him in the shoulder and entwined aoout the body vert.
4) Sa. three chevronels erm. betw. as many serpents embowed vert. Crest—A demi lion ramp. ar. holding a rose ppr.
5) Sa. three chevronels ar. each charged with five leaves vert.
6) (Ludan and Hillbrook, co. Forfar, 1807). Motto—Circumspice.Sa. three chevronels erm. Crest—A demi negro in armour ppr. issuing out of the top of a tower ar. holding in his dexter hand a dart of the last, plumed and barbed or, with the point downwards, and in his sinister a Roman shield ppr.
7) (Hillbank, co. Forfar, 1875). Motto—Circumspice.Per chev. sa. and or, in chief two chevronels erm. and in base a stag trippant az. Crest—A demi Moor in armour ppr. issuing out of the top of a tower ar. holding in his dexter hand a dart of the last plumed and barbed or, with the point downwards and in his sinister a Roman shield ppr.