Wiseman Family Crest, Coat of Arms and Name History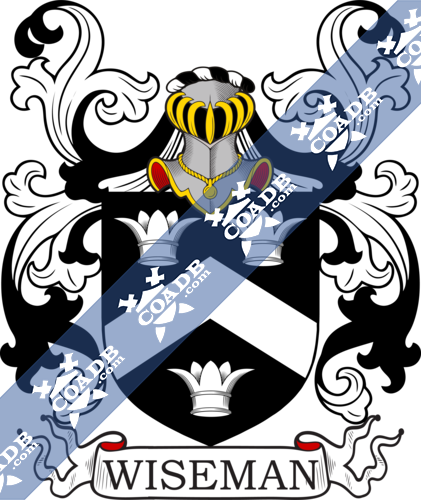 Wiseman Coat of Arms Gallery
Don't know which Coat of Arms is yours?
We can do a genealogical research. Find out the exact history of your family!
Learn More
Surname Name Meaning, Origin, and Etymology
This Anglo-Saxon last name derives from the nickname for a "wise man" or a clever, well learned or educated man. It's a name given for a person who has the quality of wisdom.  In his book A Dictionary of English and Welsh Surnames, Charles Wareing Bardsley states, "It is curious and interesting to note that the instances of Wise and Wiseman in the Hundred Rolls are nearly all from two University counties". His finding supports the origin story of the surname. It derives from the Old English word wis or wys, meaning a wise or knowledgeable person. Another source, Henry Harrison's book "Surnames of the United Kingdom" states it possible was a name that referred to a wizard or conjuror. It can also be an Americanized spelling of the German surname Weismann.
Spelling Variations
Common spelling variants Wyseman, Wisman, Wysman, and others. The Dutch version is Wiseman or Wisman. In ancient Germany, Weissmann was a personal (first) name.
Popularity & Geographic Distribution
The last name ranks Wiseman ranks 1,9745th in popularity in terms in the United Status as of the 2000 Census and the variant Wisman ranks 32.936th. The name is particularly common (in terms of the percentage of the population) in the following five states: West Virginia, Ohio, Indiana, Kentucky, and Tennessee. The last name is also popular throughout the rest of the English speaking world and ranks as follows: England (1,146th), Scotland (695th), Wales (2,365th), Australia (1,130th), New Zealand (1,485th), and South Africa (2,199). In England, it is most dense (in terms of percentage of the population) in Norfolk, Essex, and Suffolk.
The 1890 book Homes of Family Names by H.B. Guppy states "The Wisemans of Essex, belonging to the distinguished families of Rivenhall, Northend, Great Baddow, Felstead, etc., played an important part in the county in the 16th and 17th centuries, and frequently served as high sheriffs. Amongst the Essex gentlemen who contributed towards the Armada Fund in 1588 were Ralph Wiseman, a donor of £100 ; William Wiseman of Brodokes, a donor of £50 ; and John Wiseman of Stisted, who contributed £25 (Sp.). The name of Wisman occurred in Cambridgeshire and Norfolk in the 13th century. After a lapse of six centuries, the Wisemans have still their home in much the same part of England, namely, in Norfolk and Essex" and "The name of Wiseman was represented by Wisman in Norfolk in the 13th century. The Wisemans in the 16th and 17th centuries were gentle families, owning considerable property in the county".
Early Bearers of the Surname
The first known bearer of this surname was Lewin Wisman, who was documented in the Records of the Abbey of Bury St. Edmunds in 1154 AD. The Hundred Rolls of 1273 AD, a census of Wales and England, known in Latin as Rotuli Hundredorum, documents three people bearing this surname:  Roger Wyseman in county Oxforfshire, Alan Wysman in county Cambridgeshire, and John Wysman in county Oxfordshire. The Poll Tax of Yorkshire in 1379 AD lists two bearers of this last name: Johannes Wysman and Petrus Wysman. An early marriage involving this surname was Margaret Wiseman to Thomas Duncombe at St. Michael, Cornhill in London in 1656 AD.
History, Genealogy, and Ancestry
The famous genealogist Bernard Burke's book "The Landed Gentry" discusses this family in considerable detail. It begins with a discussion of Sir William Eden Wiseman, the 10th Baronet, of Canfield Hall, Essex. He was born in 1885 and succeeded his father in 1893. He served in World War I and was the Chief Advistor on American Affairs to British Delegation Paris. In 1908, he married Marjoria Florence Hulton, daughter of George Frederick Sams, and he had three issue with her: Honour Marjorie (1910, married Ramsay William Rainsford-Hannay), Margaret (1913), Rosemary (1916, married Major Frederick Hulton). He later married Joan Mary Lesear, daughter of Arthur Phelps of Woodridge, Harrow.
Burke traces the lineage back to Sir John Wiseman, an Auditor of the Exchequer during the reign of King Henry VIII, who was knighted for his bravery at the Battle of Spurs. He purchased Much Canfield Park in Essex. He married Agnes, the daughter of Ralph Joscelyn of Great Canfield. He died in 1558 and was succeeded by his son, John Wiseman, who married Margery, daughter of Sir William Waldegrave of Smallbridge, and had six sons and two daughters with her prior to his death in October of 1603. His fourth son was Thomas Wiseman, who married Alice, the daughter and heiress of Robert Myles of Sutton, and died in 1624, have two sons: Robert and William. His second son, Sir William Wiseman, became the 1st Baronet on August 29th, 1629. In the same year, he married Elizabeth, daughter of Sir Henry Capel, a knight of Raynes. They had the following issue together: William, Edmund (born in 1633 and married Elizabeth Waldo and had four daughters with her), Capel (a reverned and Dean of Raphoe and Bishop of Dromore, Theodosia (married Sir William Craven), and Elizabeth (married Robert Tyderleigh). He was succeeded by his son, Sir William Wiseman, the 2nd Baronet, who was born in 1630 and served as the Sheriff of Essex in 1659-1600. In 1659, he married Anne, daughter and co-heir of Sir John Prescot. He later married Arabella, fifth daughter of Sir Thomas Hewitt and sister and co-heir of the last Viscount Hewett, and had three children with her: Thomas, Charles, and John (born 1679 and married Penelope). Sir Thomas was the 3rd Baronet and was succeeded by his brother when he died in 1733. Sir Charles was the 5th baronet, born in 1686 and died in 1751. He was succeeded by his nephew, Sir William Wiseman, the 5th Baronet, who died in 1774 and the title devolved to his relative, Sir Thomas Wiseman the 6th Baronet. Sir Thomas married Mary, daughter of Michael Godden and had children with her: Edmund (married Jemima Arne) and Thomas (born 1760, of Northfleet, Kent, who married Susannah Bookman). The 7th Baronet was Sir William Saltonstall, the son of Edmund and Jemima. Sir William was born in 1784 and was a Captain in the Royal Navy. In 1812, he married Catherine, daughter of Sir James Mackintosh, and had issue. William Saltonstall Wiseman was the 8th Baronet. He was born in 1814 and was a rear admiral in the navy. In 1838, he married Charlotte Jane, daughter of Adam Paterson of Easy Cosham House) and had a son with her named William (9th Baronet) as well as a daughter named Eliza Francis Charlotte who married Rear-Adm Henry McClintock Alexander in 1865. Sir William Wiseman was the 9th Baronet who was born in 1845 and was a Captain in the Royal Navy. In 1878, he married Sarah Elizabeth, daughter of Lewis Langworthy of Ellesmere, and had children with her: William George Eden (10th Baronet, discussed above) and four daughter: 1) Winifred May (bporn 1880 and married Major John Muspratt-Mood), 2) Dorothy Lilian (born 1881 who married Charles Stephen Ascherson in 1881), 3) Margery Elizabeth (born 1883, married Captain Arnold John Dick of the Royal Air Force), and 4) Joan Hilda Marion (born 1890, who married Captain Arthur Robert Montogery Roe of the Dorset Regiment in 1911). The Wiseman family a coat of arms with the following blazon: Sable, a chevron ermine, between three cronels argent. Crest: A castle triple-towered, or, port open, argent, out of the top a demi-Moor issuant, armed proper, in his right hand a dart argent, barbed and flighted or, in his left a Roman target of the last.
Alexander Wyseman was born in 1325 in England. He had a son named Simon who was born in 1350. Simon had a son named John who was born in 1375. He married Mawdlyn Rockell and had a son named Robert Wyseman, who was born in 1400. Robert, also spelled his last name Wiseman, married Mary Hubert and had a son named George Wiseman who was born in 1425. George married Margaret Garnishe and had a son with her named John, who was born in 1450. John married Anne Wyndham and had a son with her named Simon who was born in 1462. Simon married Margaret Bokingham and had a son with her named William Wiseman who was born before 1469 in Great Canfield, Essex. William married Mary Glascock and had a son named John of Canfield, a Knight. John was born in 1495 in the same town. He married Agnes Josselin and had four issue: Catherine (Yonge), Margaret (Church), Catherine (Young), and Clemence (Everard).
Robert Wiseman was born in 1595 in an unknown location. He married a woman named Jane Cooper in 1620 and they had a son named Edmond, who was born in Wynondham, Norfolk in 1622. He in turn had a son named Thomas who was born in 1645. Thomas married Mary Murton in 1670 in South Wooten, England and they had a son also named Thomas. This Thomas was born in 1672 in Wales. He married Elizabeth Quadling in 1695 in Philadelphia County, Pennsylvania in the American colonies. They had two issue: Isaac and Abraham Wiseman. The son Isaac was born in 1700 on a ship from England called the Canterbury (?). He married Mary Marshall around 1739 and had three children with her prior to his 1779 death on Jersey, North Carolina: Isaac II, George, and Mary Catherine. His son Isaac II was born in 1738 in Amityville, PA. He married Elizabeth Davis and had numerous issue with her: Joseph D., John, Sarah, Isaac III, Jacob, Rachel, Rachel Elizabeth (Honaker), Abner, Elizabeth, Samuel, Margaret, William, Maru, and Edith. His son Abner was born in 1772 in Pennsylvania. He married Isabel Blanton in 1800 in Virginia and had the following children with her: Thomas Blanton Wiseman, William, Abner, Elizabeth, Isaac, Jacob,  Jane (Cuvlerson), Diana (Barnes), Isabel (Barnes), Joseph, John, and Henry Bascom. His son John was born in 1820 in Estill, Kentucky.
Early American and New World Settlers
A one Katherin Wiseman came to Virginia in June 1635 aboard the Thomas & John from the port of London. Other early settlers in colonial American incle Henry Wiseman (Maryland 1633), John Wiseman (Virginia 1652), Thomas Wisewman (Maryland 1652), Henry Wiseman (Maryland 1719), Hugh Wiseman (1767), Philipina and Wirnart Wiseman (Pennsylvania 1798), John Wiseman (Vermont 1812), and Timothy Wiseman (1812). These persons are listed in the book "Passenger and immigration lists index" published in 1985. An early Canadian settlers was John Wiseman, who came in 1774 to Trinity Bay in Newfoundland.
Mottoes
The Wiseman family motto is Omnia pro Christo meaning "All things for Christ" or Sapit qui Deum sapot, meaning "He is a wiseman who was the knowledge of God"
Grantees
We have eight coats of arms for the Oakes surname depicted here. These eight blazons are from Bernard Burke's book The General Armory of England, Ireland, and Scotland, which was published in 1848. The bottom of this page contains the blazons, and in many instances contains some historical, geographical, and genealogical about where coat of arms was found and who bore it. Later grantees of arms bearing this last name include: 1) William Thomas Wiseman, of Cromwell House, Lambeth, in county Surrey, 1897.
Notables
Famous people with this last name include: 1) Richard Wiseman (1622-1676) who was an English surgenon, 2) Clarence Dexter Wiseman (1907-1985) who was the tenth General of the Salvation Army in the 1970s, 3) Joseph Wiseman (1918-2009) who was a Canadian actor best known for playing an antagonist if a James Bond film, and 4) Nicholas Wiseman (1802-1865) who was a Spanish born Irish Cardinal who was the first Archbishop of Westminster.
To receive a complete surname meaning report by PDF you can order our SURNAME MEANING PACKAGE for $129.   This report is great to share with family and friends.  It includes everything you see above plus any other information we can find on the specified surname.  It does take approximately 10 to 15 days for us to complete this custom report.
To receive a direct lineage & coat of arms search for your specific line(s) you can order one of our GENEALOGY PACKAGES ranging in price from $249 to $999.   All research is completed by a professional genealogist with over 30 years' experience.  All reports and coat of arms files are sent by email in PDF and JPG format.
Blazons & Genealogy Notes
1) (Canfield Hall, co. Essex, bart.). (Sparsholt Park, co. Berks). Sa. a chev. erm. betw. three cronels or heads of spears ar. Crest—A tower triple-towered or, port open, out of the top a demi Moor issuant armed ppr. in the right hand a dart ar. barbed and flighted gold, in the left a Roman target also gold.
2) (Riven Hall, and Upminster, co. Essex, bart., extinct 1692; granted 22 Feb. 1574). Same Arms. Crest— A seahorse sejant sa. fins or.
3) (Waltham, co. Essex; granted 18 May, 1572). Per pale or and az. on a chev. two dragons combatant all counterchanged, on a chief ermines three cronels or spearheads of the first. Crest—A demi dragon sa. wings endorsed or, holding in the dexter claw a broken staff gold.
4) (London). Sa. a chev. betw. three cronels or spearheads ar.
5) (co. Middlesex). Sa. a less dancettee betw. three mullets ar.
6) (co. Suffolk). Sa. a chev. erm. betw. three walnut leaves ar.
7) (Reg. Ulster's Office). Sa. a chev. erm. betw. three ducal coronets ar.
8) (Scotland). Ar. a chev. betw. three stars of eight points wavy or.