Wolfe Family Crest, Coat of Arms and Name History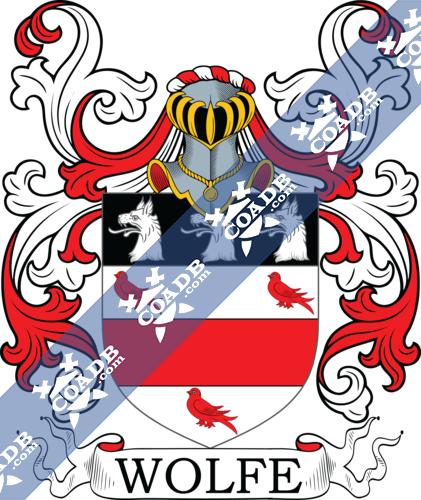 Wolfe Coat of Arms Gallery
Don't know which Coat of Arms is yours?
We can do a genealogical research. Find out the exact history of your family!
Learn More
Surname Name Meaning, Origin, and Etymology
This surname has three origin theories. First, it is a nickname "the wolf" given to a person who resembles the animal in terms of physical traits or personality characteristics.  The animal is a prominent and sacred one in Germanic mythology and was regarded as a sacred beats of Woden (or Odin in Scandinavia, the most prominent god).
Second, it is a baptismal surname meaning "the son of wolf" or "the son of ulf, which is an ancient personal (first) name used throughout Europe including England, Iceland, and Denmark. There are numerous locales throughout the British Isle bearing the root of this nameL: Wolverton, Ulverston, Wolvesey, Wolvercote,, Wolverhampton, Wolferton, and more.
Third, it is a baptismal surname meaning "the song of Wolfgang", an old Germanic personal name deriving from the Old German word wolf and ganc, meaning battle.
Spelling Variations
Common spelling variants include Wolff, Wolfe, Wulf, Wolfe, Woolf, Woolfe, Wulff, and Woolf. Please run a search for Wolff and Wolfe, as we have separate pages with different coats of arms for those surnames. There are also many other names bearing this name, including: Wolfhound, Wolfhunt, Wolfraven, Wolfson, Woolfso, and Wulfson. In Ireland, it is a varied spelling of Woulfe.
Popularity & Geographic Distribution
The last name ranks 427th in the United States according to the 2000 Census.  The variant Wolff is ranked 1,543rd and Wolfe is ranked 337th. The name is most common in New York, Pennsylvania, the Midwest, and California. The name also has notable density in Austria, Germany, France, and Brazil.
Early Bearers of the Surname
A one Ulf, son of Tur-ulf was present at the foundation of St. Mary's Priory in Lancaster. A one Ulf married the sister of Canute (King of Denmark, England, and Norway, known as the North Sea Empire, who was called called King Cnut The Great, who reigned from 1016-1035 AD) and was the third Bishop of Dorchester. The Pipe Rolls of Cumberland, Westmoreland, and Durham (also called the Sheriff's Annuial Accounts) records Ulf de Appelbi in 1163 and Ulf Strodhyrda in 1196 AD.
The Pipe Rolls of Lincoln in 1166 AD list one Robert Wulf. The Hundred Rolls of 1273 AD, a census of Wales and England, known in Latin as Rotuli Hundredorum, documents three people bearing this surname: John le Wlf in Sussex, Agnes le Wolf in county Huntingdonshire, and Emma le Wolf in Bedfordshire. The Poll Tax of Yorkshire in 1379 lists Magota Wlfe. The Register of the University of Oxford of 1586 records one Thomas Wolphe (or Wulph) in county Wiltshire. The Rolls of Parliament document the existence of Adam le Wolf, as well as Philip le Wolf in 1306 AD.  Roger Ulfe and William filus Ulfe were recorded in 1250 AD in the Cartularium Abbathiae de Whiteby.
History, Genealogy, and Ancestry
One source claims the family Wolf was first found in the Rhineland and in the 1200s it spread throughout Germany and later came to England during the Norman Invasion of 1066 AD. A one Elbel Wolf of Bruen, Moravia was documented as in 1365 AD.
The name Wolfe was first established in Cheshire and they descended from Hugh Lupus, Earl of Chester. The word lupus is Latin meaning wolf.
The famous genealogist Bernard Burke's book "The Landed Gentry" discusses two branches of this family: Wolfe of Woodhall and Wolfe of Forenaghts. The first begins with a mention of Thomas Birch-Wolfe, Esq. of Wood Hall in county Essex, who married Eliza Vernon, daughter of Reverend Richard Birch, in 1831.
The second is a lengthier discussion and begins with a mention of Richard Wolfe, Esq. of Forenaghts and Bishopland in county Kildare, who was a 2nd Lieutenant of the 3rd Royal Scots Grey. He was born in 1855 and succeeded his father in 1872. Burke states this family is of great antiquity and names several prominent members of this branch, including Major General James Wolfe, the hero of Quebec, Arthur Wolf, the Viscount Kilwarden, and the Reverend Charles Wolfe, a poetic genius. John Wolfe, Esq. of Baronrath, was son of Richard Wolfe, and was appointed a Commissioner by King William III of England. In 1668, he married Mary Cooper, widow of Thomas Colclough. He died in 1715 and left behind a son named Richard who was born in 1673. In 1669, Richard married Lydia, daughter of Patrick Page and Mary Sandys, and had children with her: John, Thomas (of Blackhall born 1705 and married Margaret Lombard), Theobald (born 1710, Barrister-at-Law, who married Elizabeth Dobbs), and Richard (of Baronrath, born 1712 and married Alicia Standish). He died in 1732 and was succeeded by his eldest son John. John was born in 1700 and in 1725, he married Mary, daughter of William Phillpott and had issue with her: Philpott and Arthur (Lord Kilwarden born in 1738). He died in 1760 and was succeeded by his son Philpott Wolfe, Esq. of Forenaughts, born in 1723 who married Mary, daughter of Thomas Burgh, in 1753. He left a son and successor named John, born 1754, who was Colonel in the Kildare Militia. In 1777, he married Charlotte, daughter of Theobald Wolfe, and had issue with her: John (1778), Arthur (1786), and Richard. He died in 1816 and was succeeded by his only surviving son, Reverend Richard Wolfe. He was born in 1787 and in 1831, he married Lady Charlotte Sophia Hutchinson, sister of John, 2nd Earl of Donoghmore, and he died without issue. He was succeeded by his relative Theobald George Samuel Wolfe, Esq. of Forenaghts and Bishopland. He was born in 1815 and in 1852 he married Henrietta Elizabeth, daughter of Henry Moreland Ball. He had issue: Richard, George (1859), and Elizabeth. This family bore the following coat of arms: Argent, three wolf's heads erased sable ducally gorged or, with crest: A wolf's head sable ducally gorged or.
A one Edward Wolfe was born in 1615 in England. He married Margaret Southerne and together they had a son named Edward, born in 1685, who became a Lieutenant General. In 1723, he married Henrietta Thompson and had three people with her: Edmund, James, and Edward. His son James, born in 1727 in Westerham, Kent, became a Major General. He died in 1759 in Quebec. The son Edmund was born in 1720 and had a daughter named Frances (Cornwell).
A one William Washington Wolf was born in 1830 in Indiana. In 1857, he married Naomi Pulliman and they had numerous issue together: Jasper, Arizona (Kirkpatrick), John M., Ulysses S.G., Nancy Lavina (Becker), William B. and Neoma (George).
A one Johann Claus Wolf was born in Spock, Karlsruhe, Germany in 1619. He married Martha Seger and together they had a son named Johann Conrad. Johann was born in 1648. He married Anna Eva and they had a daughter named Anna Barbara (Wolf) Stober.
Thiebault Wolf was born in 1595 in Ilfurth, France. In 1621, he married Odile Schwebler and together they had a son named Thibaut Wolf IV who was born in 1630 in the same city. He in turn had a daughter named Appoline.
Early American and New World Settlers
A one Emanuell Wolfe came in the ship named Thomas and Susan to Boston in 1679. Other early settlers include Claes Wolf (New Netherlands 1658), Thomas Wolf (Philadelphia 1683), John George Wolf (New England 1709), Hans Bernard Wolf (Philadelphia 1727), Magdalena Wolf (Halifax, Nova Scotia 1742), Peter Wolfe (Salem, MA 1634), William Wolfe (Maryland 1640), Richard Wolfe (Virginia 1646), Anna Margaret Wolfe (New York 1710), Robert Wolfe (Nova Scotia 1750), Paul Wolff (Pennsylvania 1691), Bertram Wolff (New York 1710), and Freiderich Wolff (Nova Scotia 1757).
Mottoes
There are numerous mottoes for the Wolf, Wolfe, and Wolff family: 1) Pro patriae amore, meaning "For patriotism", 2) Dante Deo, meaning "God willing", 3) Virtutis praemium, meaning "Honor is the reward of virtue", 4) Fides in adversis, meaning "Faith in adversity", 5) Ostra Contrariis, meaning "unknown?".
Grantees
Later people bearing this surname that bore the arms: 1) Wolfe (Birch-), Kev. Richard ?, of Woodhall and Widdington, co. Essex. Quarterly Arms, 1827, 2) Wolfe, Rev. Richard (Rev. William ?), M.A., Camb., of Widdington, co. Essex, Rector of Hardwicke. Quarterlv Arms, 1859 and 3) Rev. William (Thomas?), of Woodhall, co. Essex, 1864.
Notables
Famous people with this last name include: 1) Dragutin Wolf (1866-1927) who was a Croatian Jewish industrialist, 2) Maurice de Wulf (1867-1947) who was a Belgian Thomist (from Thomas Aquinas) philosopher, 3) Markus Johannes Wolf (1923-2006) who was head of East German's Main Directorate Reconnaissance, 4) Rudolf Wolf (1816-1893) who was a Swiss mathematician and astronomer known for his research on sunspots, 5) Lieutenant Colonel Joseph Wolff (1788-1863) who was a British solider that served in the military under the Duke of Wellington, and 6) Charles Wilfe (1791-1823) who was an Irish poet.
To receive a complete surname meaning report by PDF you can order our SURNAME MEANING PACKAGE for $129.   This report is great to share with family and friends.  It includes everything you see above plus any other information we can find on the specified surname.  It does take approximately 10 to 15 days for us to complete this custom report.
To receive a direct lineage & coat of arms search for your specific line(s) you can order one of our GENEALOGY PACKAGES ranging in price from $249 to $999.   All research is completed by a professional genealogist with over 30 years' experience.  All reports and coat of arms files are sent by email in PDF and JPG format.
Blazons & Genealogy Notes
1) (Gwerngotheyn). Ar. a fess betw. three martlets gu. on a chief sa. three wolves' heads erased of the first.
2) (quartered by Staresmore, of Frolesworth, co. Leicester. Visit. Leicester, 1619). Ar. a wolf salient sa.
3) (Birch-Wolfe, Woodhall, co. Essex; exemplified to Thomas Birch, Esq., upon his assuming, by royal licence, 1864, the additional surname of Wolfe). Quarterly, 1st and 4th, gu. a chev. erminois cotised or, betw. three wolves' heads erased of the second, for Wolfe; 2nd and 3rd, az. three fleurs-de-lis ar, each entwined with a snake ppr. a canton of the second, thereon a cross pattée of the first, for Birch. Crests—1st, Wolfe: A demi wolf ramp. gu. charged on the body with a chev. or, betw. the paws a mural crown gold; 2nd, Birch: A mount vert, thereon a fleur-de-lis ar. entwined with two snakes ppr.
4) (Kentisbury, co. Devon). Ar. a chev. betw. three wolves pass. ar.
5) (Hatherton, co. Chester). Vert in base a wolf pass. in chief three fleurs-de-lis ar. Crest—Out of a ducal coronet or, a demi wolf ramp. gu.
6) (Easton-Manduit, co. Northampton). Ar. a wolf salient sa.
7) Gu. three bars ar. on a chief of the last three wolves' heads erased of the first.
8) Or, three wolves pass, in pale az. a border per bor dure indented gu. and az.
9) (Forenaughts, Blackhall, and Bishop Land, co. Kildare; Reg. Ulster's Office). Ar. three wolves'heads erased ea. ducally gorged or. Crest—A wolf's head erased sa. ducally gorged or.
10) (Viscount Kilwarden, extinct 1830; Arthur Wolfe, Lord Chief Justice of King's Bench in Ireland, was created Baron Kilwarden 1795, and raised to a viscounty 1800. He was murdered by the rebels under Emmett, in Thomas Street, Dublin, 23 July, 1803. His son, the second viscount, d. s. p.). Same Arms, a crescent for diff. Crest—A wolf's head erased aa. ducally gorged or. Supporters—Two wolves ppr. ducally gorged and chained or, chains reflexed over the backs. Motto—Pro patriæ amore.