Worthington Family Crest, Coat of Arms and Name History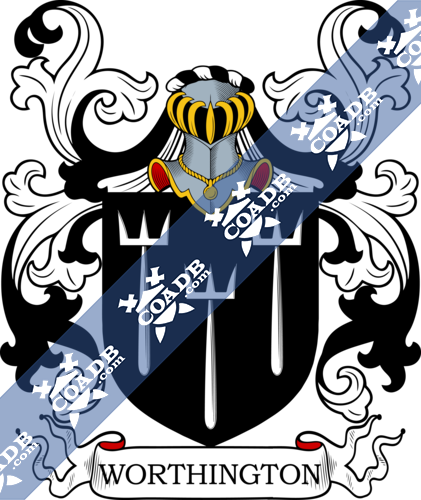 Worthington Coat of Arms Gallery
Don't know which Coat of Arms is yours?
We can do a genealogical research. Find out the exact history of your family!
Learn More
WORTHINGTON
Worthington is topographical in origin deriving its name from one of several places located in Lancashire called Worthintone or Leicestershire called Werditone. The locations derive their names from the medieval English given names, Wurethtun and Worthigntun. Both given names are compound words, broken down the prefixes "Wureth" means worthy and "Worthign" meaning worth, "tun" means settlement or village.
Surnames in Britain prior to the Norman conquest were largely unheard of. In the small settlements and villages which existed during earlier times, residents found little need for surnames as everyone in these communities new each other and a given name would usually suffice. However, with the passage of time, population growth and expansions of communities as villages gave way to towns and cities, it became necessary to add a qualifier to a person's name to distinguish them, one from another. Therefore one person may have been identified by their given name plus their occupation while another may have been identified by their given name and one of their parent's names. The introduction of surnames by the Norman aristocracy after the invasion seemed to be the next logical step in this evolution. There was a boundless supply from which surnames could be formed, in addition to the use of patriarchal/matriarchal names or reference to the individuals occupation, there were things such as defining physical traits, a familiar geographical location or a topographical landmark found near the individuals home or birthplace, the name of the village in which the person lived, and so much more. Surnames soon became representative of not just individuals but would entire families.
One of the earliest recordings of the surname, Snarri de Wurethintona, appears in the tax rolls of Lincolnshire dated 1169. These tax rolls hold the distinction of being the oldest consecutive set of records detailing English governance in the United Kingdom, with the oldest dating back to the 12th century. In medieval times, literacy was an attribute found primarily among the noble class, the clergy, and government officials, this meant most records were kept either by churches, priories, or government offices. Even so, often times there exists multiple variations in spelling of many surnames, due to the fact, rules and guidelines for spelling were lax this resulted in, even those who were literate spelled many words phonetically. Unfortunately, what may have sounded one way to one person may have sounded different to another, resulting in a variety of spellings of this surname name; examples include but are not limited to; Worthington; Wurthington; and Wrightington.
With the discovery of America and the addition of other countries to the British Commonwealth such as Canada, Australia and New Zealand, the use of surnames helped with the tracking of immigrants as well. One of the first recorded immigrants to America bearing the surname was Nicholas Worthington who arrived and settled in Connecticut in 1630. George and Mary Worthington and their children Frederick and Issac were early settlers to Australia, arriving and settling in Adelaide in 1839 and James and Elizabeth Worthington and their children Alice and George were early settler to New Zealand, arriving and settling in Auckland in 1856.
Worldwide, the highest concentration of people with the surname Worthington are found in the United Kingdom, New Zealand, Australia, the United States, and Canada. State by state, the largest percentile of those with the surname Worthington is in Alabama, Georgia, North Carolina, Tennessee, and Texas.
There are many persons of note who bear the surname Worthington. Lady Bryony Katherine Worthington was born in Wales, is a Member of Parliament in the House of Lords, and is a well known campaigner for environmental issues.
Lady Worthington was educated and graduated with a Bachelor's degree in English literature from Queens' College, Cambridge after which she joined Operation Raleigh, an organization which works to provide and improve access to safe water and sanitation in remote and rural communities around the world. They also teach the inhabitants how to sustain and manage natural resources and to protect vulnerable environment which in turn helps to build and nurture a sense of community. She has since worked for many charitable and government departments to promote environmental awareness and promote public welfare, including Friends of Earth and the Department for Environmental, Food, and Rural Affairs. Created a life peer in January 2011, she was titled Baroness Worthington, of Cambridge in the County of Cambridgeshire.
To receive a complete surname meaning report by PDF you can order our SURNAME MEANING PACKAGE for $129.   This report is great to share with family and friends.  It includes everything you see above plus any other information we can find on the specified surname.  It does take approximately 10 to 15 days for us to complete this custom report.
To receive a direct lineage & coat of arms search for your specific line(s) you can order one of our GENEALOGY PACKAGES ranging in price from $249 to $999.   All research is completed by a professional genealogist with over 30 years' experience.  All reports and coat of arms files are sent by email in PDF and JPG format.
Blazons & Genealogy Notes
1) (East Thornton, co. Essex). Sa. three dungforks ar.
2) (Worthington, co. Lancaster; of the branches of this family were Worthington, of Shevington; Worthington, of Blainscough; Worthington, of Crosshawe; and Worthington, of Sandiway Baulk). (Sandiway Bank, co. Chester; a branch of Worthington, of Worthington). (Blainscough, co. Lancaster, 1567). Ar. three dungforks sa. Crest—A goat pass. ar. holding in the mouth an oak branch vert, fructed or.
3) (The Bryn, co. Chester). Motto—Virtute dignus avorum. Same Arms. Crest—A goat pass. ar. armed or.
4) (co. Lancaster). Ar. three dungforks sa. on a canton erm. a dexter hand couped gu. a mullet of the last for diff.
5) (co. Suffolk). Same Arms, without the diff. Crest—A goat pass. ar. attired or, holding in the mouth an acorn branch vert, fructed of the second.
6) (Bayley-Worthington, Sparston Hall, co. Chester). Motto—In opinum sed gratum. Erm. three tridents sa. each handle encircled by a chaplet of roses ppr. Crest—A goat pass. ar. semée of estoiles sa. in the mouth a sprig of laurel ppr.
7) (Rev. William Worthington, D.D.). Ar. three pastoral staves ppr. each ensigned on the top with a crown celestial or. Crest—A goat browsing on a shrub ppr.
8) Ar. three dungforks sa. points in chief, betw. five holly leaves vert, on a canton of the last a sinister hand couped gu. on a border of the third eight boars' heads couped of the first.
9) Sa. a chev. ar. betw. three crosses crosslet fitchée or.