Younger Family Crest, Coat of Arms and Name History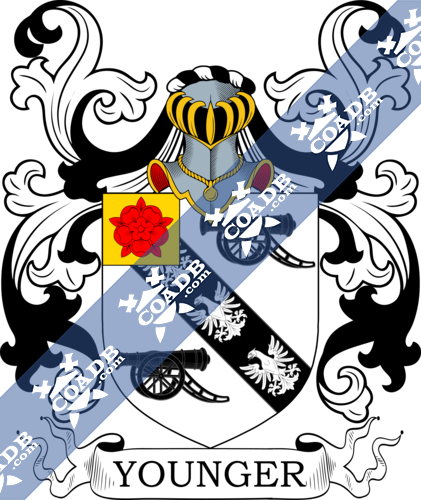 Younger Coat of Arms Gallery
Don't know which Coat of Arms is yours?
We can do a genealogical research. Find out the exact history of your family!
Learn More
YOUNGER
Younger is an Anglo-Saxon name with two possible origins. The first derives from the middle English "yunge" which translates to young and would have been applied to the youngest of two children. The second source is thought to be the Anglicized version of the middle Dutch "jonghheer" which also translates to young.
The variations in the spelling of the surname includes; Younger; Young; Younge; Youngson; and Yonge among others. The variations in spelling of surnames, as well as many given names dating back to ancient times can be attributed to a lack of consistency regarding guidelines for spelling in use by the scribes who recorded such information, many of which were in the habit of spelling phonetically. The issue of multiple spellings of names in records was compounded by the diversity of languages in use in European countries at this time.
Until the Norman invasion and conquest, surnames were rarely if ever used. In the small settlements and villages which existed during earlier times in most of Britain, residents found little need for surnames as everyone in these communities knew each other and a given name would usually suffice. However, as communities grew and people began to migrate on a larger scale, along with the need of the government having a reliable way to track people for tax and census purposes, the Norman aristocracy's penchant for using surnames seemed the appropriate evolution to this problem. In most instances to distinguish themselves, one from another, those not of the noble class would often be identified by their given name plus their occupation while others may have been identified by their given name and one of their parent's names.
There was a boundless supply from which surnames could be formed, in addition to the use of patriarchal/matriarchal names or reference to the individuals occupation, there were things such as defining physical traits, a familiar geographical location or a topographical landmark found near the individual's home or birthplace, the name of the village in which the person lived, and so much more. Over the course or time, surnames would come not just to represent an individual but whole families.
One of the earliest record of any variation of this surname is that of Edmund Yonger which appears in the London tax rolls from 1379. The tax rolls, were a series of census and tax records
kept by the English Treasury by order of King Edward III, with the oldest dating back over seven hundred years to the 12th century. These documents are considered the oldest continuous set of records detailing English governance in the United Kingdom spanning a period of over seven centuries, they have proven invaluable to researches over the years.
With the discovery of the Americas and the addition to the British Common Wealth of countries such as Canada and Australia, immigration to these new worlds was inevitable. Some of the first settlers on record to America bearing this surname were Elizabeth Younger who landed in 1668 and settled in Maryland. Mary Younger who arrived in 1674 and settle in Maryland and Alexander Younger who arrived and settled in Maryland in 1675. Some of the first settlers to New Zealand were Thomas and Isabella Younger and their children, Sarah and Elizabeth, who arrived in Auckland in 1865.
Worldwide, the highest concentration of people with the surname such as Scottish born, Sir William Younger. Younger was a Member of Parliament. He was the son of William Younger of Auchen Castle, the name given to the site where the remains of a 13th century castle still stands, which was also the home to Sir William Younger. He was educated at Worcester College,Oxford and was created a life peer as 1st Baronet, of Auchen Castle.
Scottish born brewer and political activist, William McEwan Younger, was educated at Balliol College, Oxford. He joined McEwan's Brewery after graduating which eventually merged into Newcastle Brewery Company. He was appointed Deputy Lieutenant of the City of Edinburgh in 1984 and was created a Baronet, of Fountainbridge in 1964.
British born George Younger, was a politician and Member of Parliament. He was appointed Deputy Lieutenant of Clackmannanshire in 1901. Younger was created a baronet in 1911 and 1st Viscount Younger of Leckie in 1923.
The current Viscount Younger is the 5th Viscount James Younger, who is one of the few hereditary Lords, sitting in the House of Lords who did not sit or occupy a seat in the House of Lords prior to the reorganization act of 1999. He has had a long and distinguished career within the House of Lords, acting as the Lord-a-Waiting, otherwise known as a political whip, and Under Chairman of State for intellectual property at the Department for Business Innovation and Skills. The Younger Viscount and Baronetcy titles are alive and active at this time.
To receive a complete surname meaning report by PDF you can order our SURNAME MEANING PACKAGE for $129.   This report is great to share with family and friends.  It includes everything you see above plus any other information we can find on the specified surname.  It does take approximately 10 to 15 days for us to complete this custom report.
To receive a direct lineage & coat of arms search for your specific line(s) you can order one of our GENEALOGY PACKAGES ranging in price from $249 to $999.   All research is completed by a professional genealogist with over 30 years' experience.  All reports and coat of arms files are sent by email in PDF and JPG format.
Blazons & Genealogy Notes
1) (alias Youngrave) (Daventry, co. Northampton, and co. Hereford). Ar. on a bend betw. three dolphins sa. as many eagles displ. of the firat. Crest—A buck's head or.
2) Ar. on a bend sa. betw. two dolphins haurient and embowed or the second three eagles displ. of tho flrat. Crest—A stag's head or.
3) Ar. on a bend betw. two cannons sa. three eagles displ. of the first, a canton or, charged with a rose gu.
4) (Hopperston, Scotland). Ar. on three piles in point sa as many annulets or, a chief gu. charged with a crescent betw. two mullets of the first.
5) (Auchen Castle, Dumfries, 1880). Motto—Tout prest. Ar. three piles in point sa. each charged with an annulet of the first, on a. chief gu. a crescent betw. two mullets also of the first. Crest—A dexter arm, the hand holding a lance headways ppr.