Zouch Family Crest, Coat of Arms and Name History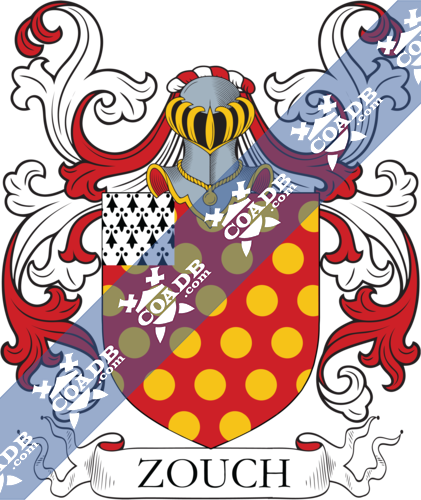 Zouch Coat of Arms Gallery
Don't know which Coat of Arms is yours?
We can do a genealogical research. Find out the exact history of your family!
Learn More
Surname Name Origin, Meaning, and Etymology
This English surname is a local one coming from the word Zuches, which are stumps of trees or stems of a vine. This last name originates French surname de la Zouch. It comes from the Middle English and Old French word souche or suche, meaning the trump of a tree. It may be of Gaulish origin, coming from the Old English word stocc. It may refer to a foot bridge that went over a stream, made of a tree trunk.
In his book, Patronymica Britannica, published in 1860, Mark Antony Lower writes the following regarding this last name: "The baronial family, who gave the suffix to Ashby de la Zouch, co. Leicester, were a branch of the Earls of Brittany, though genealogists differ as to the precise period and cadet. The founder of the race in England was William le Zusche, who died in the first year of King John. In a charter he calls Roger la Zusche his father, and Alan, Earl of Brittany, his grandfather".
Spelling Variations
Other spellings include Zouche, Zoche, Such, Souche, Souch, Zusch, Zusche, Zuche, Sutch, and Chucks.
Early Bearers of the Surname
One of the earliest recorded people with this surname was Alan de Lachuche, who was listed in the Pipe Rolls of Northamptonshire in 1172 AD. Shortly after, Roger la Zuche, was documented in the Book of Fees in county Devonshire in 1212 AD. A one Walter le Chuck is recorded in the Subsidy Rolls of Sussex in 1296 AD. The Hundred Rolls of 1273 AD, a census of Wales and England, known in Latin as Rotuli Hundredorum, documents two people bearing this last name: Ivo de la Zusch in county Devonshire and Ivo de la Zoche also in county Devonshire. The Testa de Neville, sive Liber Feodurum, records Alan de la Zouche in county Wiltshire around the time of the reign of King Henry III and Edward I of England. The Placita de Quo Warranto (Edward I-III) documents two people with this surname:  Guy de la Zouch in count Sutherland and Olive de la Zouch in county Hampshire. Early marriages involving this surname include Elizabeth Zouche to Robert Arras in 1589 at St. James Clerkenwell in London, England, as well as William Zouch to Anne Bowling in 1641 in London.
History, Genealogy, and Ancestry
The famous genealogist Bernard Burke discusses this surname at considerable length in his book "Peerage and Knights". It begins with a discussion of the Baroness Zouche (Mary Cecil Frankland) of Haryngworth England, was born in 1875 and succeeded her cousin in 1917. In 1901, she married Sit Frederick William Francis George Frankland (the 10th Baronet of Thirkleby) and had the following issue with him: Thomas William Assheton, Roger Nathaniel, Barbara Mary, and Diana Marry Leslie.  She was a co-heir to the Baronies of St. Maur and Grey of Condor.
Burke traces the lineage and ancestry of this branch of the family all the way back to Eudes la Zouche, living in 1273 AD, who was the younger brother of Sir Roger La Zouche of Ashby, the father of Lord Alan Zouche of Ashby. He married Milicent, widow of John de Montalt and had issue with her. One of their issue was William La Zouche, the first Baron Zouche, Lord of Haryngworth in county Northhampton who was born in 1276 AD and succeeded his mother in 1298 AD. He married Maud Lovel of Tichmersh and left a son named Eudes la Zouche, who possessed the Manor of Calston in Wilshire, as well as manors in several other English counties. He married Joan Inge and had a son with her: William la Zouche, the 2nd Baron, born in 1322. He had a wife named Elizabeth and his son and heir with her was, William la Zouche, the 3rd Baron, who was born in 1342 and married Elizabeth, the eldest daughter of Baron De Ros. He died in 1396, but left three sons: William, Edmund, and Thomas. The eldest son was William and he became the 4th Baron, born in 1374, who served in the wars in France under King Richard II and King Henry IV. He left an heir also named William La Zouche, who was the 5th Baron, born in 1402 who married  Alice, heiress of Lord St. Maur and had four issue with her: William (6th Baron), Sir John, Margaret, and Elizabeth. His second wife was Katherine Plumtpon, and with her had a son, William la Zouche, the 6th Baron, who was summoned to Parliament in 1466. He married Katherine Lenthall and with her had issue: John (7th Baron), William, Elizabeth, and Margaret. He died in 1467 AD and was succeeded his his eldest son, John La Zouche, the 7th Baron, born in 1460. He married Joan Dynham and had was succeeded by his son John (8th Barob), who married Dorothy Capell (had children Richard, the 9th Baron and Sir John with her) and later Susan, the widow of Nicholas Davenport, and daughter and heiress of William Welby of Halstead. He was succeeded his by his son, the 9th Baron, Richard La Zouche who was born in 1510. With wife Joan Roger, Richard had a son named George, who became the 10th Baron.
A one Henry Zouch was born in Quebec, Canada on August, 18, 1811 to unknown parents. He married Maria Brooks in 1836 and had one child with her: Marcia Charlotte (Zouch Thorsby) before he passed away in 1883 in New South Wales, Australia.
Early American and New World Settlers
Early immigrants in American bearing this surname include: Sir John Zouch (Virginia 1639) and John Zouch (Virginina 166). The book "The original lists of persons of quality; emigrants" includes one entry relating to America: Edward Lord Zouch, Lord of Warden of the Cinque Ports, stating "concerning the examining and licensing of passengers, with Instructions touching the same" on August 9th.
Mottoes
The Zouch family motto is prevalent virtus, meaning "virtue prevails".
Notables
Famous people bearing this surname include: 1) Henry Zouch (1725-1795) who was an English social reformer and antiquary, 2) Richard Zouch (1590-1661) an English judge who served in parliament in 1621-1624, and 3) Thomas (1737-1815) an English clergymen.
To receive a complete surname meaning report by PDF you can order our SURNAME MEANING PACKAGE for $129.   This report is great to share with family and friends.  It includes everything you see above plus any other information we can find on the specified surname.  It does take approximately 10 to 15 days for us to complete this custom report.
To receive a direct lineage & coat of arms search for your specific line(s) you can order one of our GENEALOGY PACKAGES ranging in price from $249 to $999.   All research is completed by a professional genealogist with over 30 years' experience.  All reports and coat of arms files are sent by email in PDF and JPG format.
Blazons & Genealogy Notes
1) (cos. Derby and Leicester). Gu. bezantee, a canton erm.
2) (Richard's Castle). Gu. ten bezants, four, three, two and one, a label az.
3) (Lubbesthorpe, co. Leicester). Az. ten bezants, four, three, two, and one.
4) (co. Leicester). Gu. a bend erm. betw. ten bezants.
5) (co. Leicester). Gu. a chev. erm. betw. ten bezants, four, two, one, two, and one.
6) (Gosberkirke, co. Lincoln). Gu. bezantee, on a canton erm. a crescent of the field.
7) (co. Somerset, and Pyrton, co. Wilts). Gu. fifteen bezants, five, four, three, two, and one, a canton erm. Cest —On a staff couped and raguly or, sprouting at the dexter point, a raven, wings expanded ar.
8) (or Souch) (co. Wilts). Gu. twelve bezants, three, three, three, two, and one, on a canton or, a lozenge sa. charged with a fleur-de-lis ar. Crest—An ass's head ar. neck round the mouth with cord az. charged on the nech with a fleur-de-lis vert.
9) Ar. a fess sa. in chief a leopard pass, of the second.
10) Az. ten bezants, four, three, two, and one, a border engr. gu.
11) (Baron Zouche, of Ashby, in abeyance since 1314; descended from Alan la Zusche, Earl of Brittany, temp. William I.; Sir Alanla Zusche, of Ashby-de-la-Zouche, co. Leicester, was appointed, 49 Henry III., Constable of the Tower of London, and d. 1269, leaving two sons: 1) Roger, whose son, Alan la Zouche, was summoned to Parliament 1297, and left three daus., among whom his barony fell into abeyance; 2) udo, ancestor of Baron Zouche, of Harringworth). Gu. ten bezants, four, three, two and one.
12) (Baron Zouche, of Harringworth; descended from Ecdo la Zouche, second son of Sir Alan la Zouche, Constable of the Tower of London, temp. Henry III; William la Zouche, his son, was summoned to Parliament 1308; Edward, eleventh Baron Zouche, d. 1625, leaving two daus. his co-heirs: 1) Elizabeth, m. Sir William Tate, Knt., of De La Pré Abbey, co. Northants; 2) Mary, m. first, Thomas Leighton, Esq., and second, William Connard; betw. these co-heirs the barony fell into abeyance, which was terminated 1815, Sir Cecil Bishop, eighth bart. of Parham Park, co. Sussex, having been summoned to Parliament as Boron Zouche, of Harringworth; at his death, 1828, the barony again fell into abeyance, which has been since terminated. See Curzon, Baron De la Zouche). Same Arms, with a canton erm. Supporters—Two eagles, wings endorsed ar.
13) (Baron Zouche, of Mortimer, extinct 1368; descended from William la Zouche, brother of Sir Alan la Zouche, Knt., of Ashby-de-la-Zouche, Constable of the Tower of London, temp. Henry III.; his only dau. Joice la Zouche, m. Robert Mortimer, of Richard's Castle, and her second son, William Mortimer, assumed the surname of Zouche. and was summoned to Parliament 1323; the third baron d. s. p.). Same Arms, without the canton.
14) (Alan de la Zouche, 1301). Gu. bezantée. On his seal six lions are placed round the shield, evidently alluding to the arms of ELA, his wife, who was dau. and co-heiress of Stephens de Longspee, Justiciary of Ireland, temp. Henry III., who bore six lions ramp. Tbe following differences of coats of Zouche, in the 14th century, are taken from a Roll, Cottonian MSS: Alan la Zouche, Gu. bezantée or. William la Zouche, Same Arms, a quarter erm.—The following were Knights in co. Leicester: Sir William Zouche, Same Arms, a label az. Sir Oliver Zouche, Same Arms, a chev. erm. Sir Amory Zouche, Same Arms, a bend ar. Sir Thomas Zouche, Same Arms, on a quarter ar. a mullet sa.