Anton Family Crest, Coat of Arms and Name History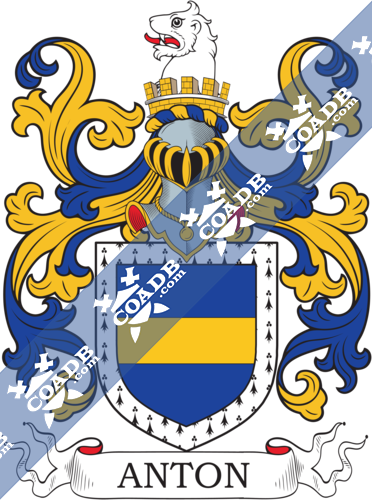 Anton Coat of Arms Gallery
Don't know which Coat of Arms is yours?
We can do a genealogical research. Find out the exact history of your family!
Learn More
Anton Origin:
Italy, England
Origins of Anton:
Listed in many forms, this is ultimately a Roman tribe name.  Deriving from the special name Antonius, and introduced into Europe by returning Crusaders of the 12th century, it is considered translating as 'praiseworthy.'  It has always related to Marcus Antonius circa 83 – 30 B.C., friend to Caesar, and lover of the Egyptian Queen Cleopatra.  The surname is much later being old and first noted in England.  World-wide, the surname has advanced into over one hundred original spellings, and examples of these range from Antony, Anthoine, Anton, Anten, and Antona, to Antoinet, Antonelli, Antognoli, and Antuk, and the patronymics such as Antunez, D'Antoni, Antoons, Antonssen, Antonov, and Antonwicz. However, the great popularity of the original baptismal name all over the Christendom is largely due to two saints.  The first being St. Anthony of Egypt. AD 251 to 331, and founder of monasticism, and the second, St. Anthony of Padua (1195 – 1231), who became a favored follower of St. Francis of Assisi.  His learning and power were so great that he is said to have drawn a group of fishes to raise their heads out of the sea and listen to him breathlessly.  Amongst the earliest examples of the surname record are those of William Antony, who noted in the tax charters of the division of Suffolk, England, in the year 1306, while in Germany in 1527 Schultheis Anthonius noted as being the Stadtschreiber (Town Clerk) for the city of Kassel.  The first noted spelling of the family name in any country is probably that of John Antoyne, which was dated 1275, in the charters of the division of Worcester, England.  Throughout the centuries, surnames in every country have continued to "develop" often leading to astonishing variants of the original spelling.
Variations:
More common variations are: Antony, Ainton, Antoni, Aynton, Antton, Antoun, Antono, Antona, Antoon.
England:
The surname Anton first appeared in Saxony, where the name became noted for its many sections with the region, each house acquiring a status and impact which desired by the princes of the region. In their later history, the name became a power unto themselves and raised to the ranks of nobility as they grew into this most important family.  The name related to Saint Anthony (Antonius,) the founder of Ministry and the patron saint of farmers. Although primarily a first name, Anton also became a family name as it got popularity in the Middle Ages.
Ireland:
Many of the people with surname Anton had moved to Ireland during the 17th century.
United States of America:
Individuals with the surname Anton landed in the United States in four different centuries respectively in the 17th, 18th,19th and 20th.  Some of the people with the name Anton who arrived in the United States in the 17th century included Jeremy Anton, aged 22, landed in Maryland in 1684.
People with the surname Anton who landed in the United States in the 18th century included Georg Anton settled in New Hampshire in 1718.  Samuel Anton settled in New England in 1718.  Frantz Anton, who arrived in Pennsylvania in 1750.  Frantz Anton, who settled in Philadelphia in 1750.
The following century saw more Anton surnames arrive.  Some of the people with the surname Anton who arrived in the United States in the 19th century included Lorenzo Anton, who arrived in Puerto Rico in 1803.  P Anton, aged 20, landed in New York, NY in 1850.  Peter Anton, who landed in North America in 1852.  John Anton, who landed in Allegany (Allegheny) County, Pennsylvania in 1852.  C T Anton, who arrived in New York, NY in 1852.
People with the surname Anton who landed in the United States in the 20th century included Richard Anderson Anton, who landed in Alabama in 1923.
Here is the population distribution of the last name Anton:
Spain 25,656; Romania 20,604; Peru 8,521; United States 8,351; Germany 7,531; Indonesia 6,388; Tanzania 4,633; Papua New Guinea 4,234; Mexico 3,978; France 3,968.
Notable People:
Abel Antón (born 1962), is a Spanish long-distance racer.
Adina Anton (born 1984), is a Romanian long jumper.
Anton Anton (born 1949), is a Romanian engineer and politician.
Arsenio Martínez-Campos y Antón (1831-1900), was a Spanish soldier and politician who restored the Bourbon dynasty.
Christopher Anton was an American singer and songwriter.
Craig Anton (born 1962), is an American actor and entertainer.
Fred Anton (born 1934), is an American businessman and political figure.
Blazons & Genealogy Notes
(Stoatfield, co. Lancaster, London, and Ireland). Az. a fesse or, a bordure erm. Crest—Out of a mural coronet a lion's head ar.