Archer Family Crest, Coat of Arms and Name History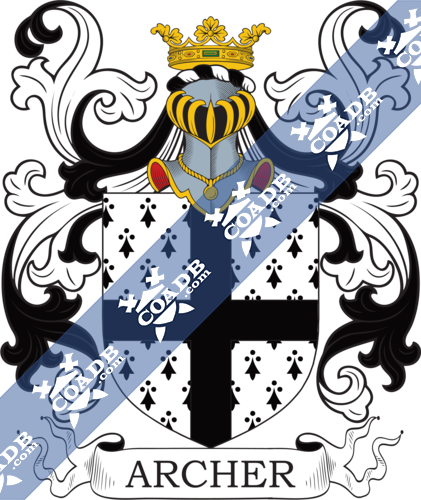 Archer Coat of Arms Gallery
Don't know which Coat of Arms is yours?
We can do a genealogical research. Find out the exact history of your family!
Learn More
Archer Surname Name Meaning, Origin, History, & Etymology
This popular last name originated as a medieval occupational name for an archer, from the Middle English word archere, itself coming from the Old French word archier, derived from the Latin word arc-us, meaning "archer".
Such soldiers were usually called bowman prior to the 1300s AD, at which point the Norman French term archer took over. The position of archer in medieval times and the Middle Ages in Europe was an important one. The following excerpt from Medieval Spell demonstrates this fact: "The role the Medieval Archers could play in battle was quickly understood, and as early as the years following the Norman Conquest, the practice of archery was much encouraged and the Medieval Archers were granted special privileges.  Among the enactments of Henry I of England, it was provided that if anyone practicing with arrows or with darts should by accident slay another, it was not to be visited against him as a crime.".
Historians believe the name was brought into England from France during the Norman Conquest of 1066 AD led by William the Conqueror, and that it was originally spelled Le Archer or L'Archer. This Anglo-Norman family eventually made its way into Ireland in the thirteenth century.
The progenitor of the family was a man named Fulbert L'Archer, son of a man named Achardus the Rich. He accompanied William the Conqueror at the Battle of Hastings in 1066 AD. He received lands for his service, and was the patriarch of the Lords Archer of Umberslade, Warwickshire, England. His son, Robert L'Archer obtained additional lands by a grant from King Henry I, as he was Henry's tutor.
Wikitree states the following about Archardus: "The earliest known person in the Archer line is Achardus dives. Achardus is one of the witnesses to the foundation charter of the Lonlay Abbey in Normandy, France in 1026. In that document, he signed as "Achardus dives, miles de Donnifronte", which roughly translates to "Archer the Rich, Knight of Donnifronte". Lonlay Abbey is an ancient church near Domfront, France. Establishing (or chartering) a new church required the approval of the lord of the land. In this case it would have been Robert, Duke of Normandy, the father of William the Conqueror. Local nobles, such as Achardus dives, were asked to be witnesses. It is uncertain when the family of Achardus dives gained power, but they retained it for generations after Achardus. Achardus' son and heir, Gervais of Domfront, an occasional attester for William the Conqueror, was important enough to have his own steward and was a representative of Robert of Belleme, one of the most powerful men in early Norman England".
A book titled "The Norman People", published in 1874, asserts that the name is associated with de Bois of Essex, and is armorially identified with the Boys or De Bosco family.
Surname Spelling variants
Spelling or names with similar etymologies include Archier, Larchier, L'Archer, and Archere.
Archer Family Mottoes
I have identified five Archer family mottoes as follows:
1) Sola bona quae honesta (Those things only good are which are honest)
2) Deus salutem disponit (God orders salvation)
3) Pro religione et patria (For religion and country)
4) Fortitudo (Fortitude)
5) La Fin Couronne L'Ouvre (The end crowns the work)
Early Bearers of the Archer Surname
The first known bearers of this surname include:
1) William Arcuaris, general of bowmen, was a tenant in capite, Hantshire, 1086 AD, as listed in the Domesday Book, which was a survey of England and Wales ordered by William the Conqueror.
2) His son, Fulbert Sagittarius or L'Archer, witnessed a charter of Geoffrey de Clinton during the reign of King Henry I of England (reign 1100-1135 AD).
3) Robert Larchier was recorded in the Pipe Rolls of Warwickshire in 1166 AD.
4) Hugh le Archer was recorded in the Feet Fines of Cambridgeshire in 1199 AD.
5) Odo le Archer was recorded in Devon, England in the Testa de Nevill, which was compiled between 1216-1307 AD.
6) Paean le Archier was documented in the Rotuli Litterarum Clausarum c. 1220 AD.
7) Colin le Archer was documented in the Calendarium Genealogicum c. 1261 AD in Herefordshire.
8) The Hundred Rolls of 1273 AD, a census of Wales and England, known in Latin as Rotuli Hundredorum lists one bearer of this surname: Thomas le Archer (Derbyshire).
9) Two bearers were recorded in the Placita de Quo Warranto around 1292 AD: John le Archer (Yorkshire) and Thomas le Archer (Derbyshire).
10) Patrick le Archer was documented in Are, Scotland in 1296 AD.
11) Alexandrina le Archer was recorded in Norfolk in 1375 AD
12) Michael Archer was recorded in Scotland in 1433 AD.

Popularity & Geographic Distribution
The last name Archer ranks 958th popularity in the United Status as of the 2000 Census. The name ranks particularly high in the following four states: Iowa (486th), Colorado (591st), Maine (591st), and Oklahoma (618th).
The surname Archer frequency/commonness ranks as follows in the British Isles: England (345th), Scotland (1,021st), Wales (537th), Ireland (1,299th) and Northern Ireland (714th).  In England, it ranks highest in counties Rutland, Wiltshire, and Hertfordshire. In Scotland, the surname ranks highest in Angus. In Ireland, it ranks highest in Leinster. In Wales, it ranks highest in Wrexham.
The name is also present throughout the remainder English speaking world:  Canada (1,046th), New Zealand (404th), Australia (473rd), and South Africa (3,657th).
Archer Family Tree & Archer Genealogy
Archer of Treslaske
The Archer family came into England from France with William the Conqueror. The name was bound in the Roll of the Battle Abbey, which was a commemorative list of all the companions of William the Conqueror, and has previously been written as Le Archer or Archard.
Robert, son of Fulbert Archer, was tutor to King Henry I (1068-1135 AD), for which he received a grant of seven manors in county Berkshire, in which the king styles him as "Magister meus". Henry le Archer was recorded during the reign of Edward I in the Assize Roll of Launceston. He held lands. He had a wife named Amaranda, a daughter named Dyonis. A John le Archer, and his son Amadeus, are also mentioned. Many years later, one descendant of this family, Thomas Archer, was an Esquire and Member of Parliament for Warwick in 1747, and was created Baron Archer of Umberslade, Warwick in 1747. An elder branch of the Archer family tree was seated at Lizard and owned Hall Archer. They became extinct when Jane Archer married James Levelis during the reign of King Edward III of England.  A younger branch, continued, of which one descendant was John Archer, a Member of Parliament for Helston in 1452 and Thomas Atcher who helped rebuild Bodmin Church in 1468.
The family was seated in St. Kew, where Richard Archer, a descendant of Alicia Archer, and bequeathed his estates to Nicholas Archer, his "kinsman", son of Reverend John Archer, Rector of St. Michael Carhayes in 1644. Nicholas died without posterity and his estates and mansions went to John. This John Archer, Esquire of Trelewack, son of Edward Archer (Vicar of Manacean in 1666) and Judith Swete. He married Sarah, daughter and co-heir of John Addis of Whiteford, Cornwall, and had a son with her named Swete Nicholas. Swete Nicholas Archer Esq. of Trelewack and Trelaske, was High Sheriff of Cornwall in 1758. He died without posterity and was succeeded by his nephew, Edward Archer of Treslaske. This Edward was also succeeded by his nephew named Edward. Edward Archer, Esquire of Trelaske, son of Samuel Archer and Dorothy-Ayre Yonge, was born in 1792. He was a High Sheriff in 1832. In 1814, he married Charlotte Catherine, daughter and heiress of Charles Harward and Charlotte Augusta Chambers, and had the following issue: 1) Edward (his heir, see below), 2) Reverend Charles Harward (married Jane  Rashleigh of Menabilly), 3) Reverend Samuel Harward (Rector of Throwley, married Charlotte Hester Radcliffe of Warleigh), 4) Fulbert (of New Zealand, Barrister at Law, had son named Henry Swete), 5) Charlotte Dorothea (married Reverend F.J. Hext Kendall), 6) Jane (married W.H. Anderson Morshead, Esq.), 7) Elizabeth (married Colonel Bond), 8) Cathertine (married H.J. Tolcher, Esq.), and  9) Marianne (married Mansfield Turner). His son, Edward Archer, Esquire of Trelaske, county Cornwall, England was a Justice of the Peace, Deputy Lieutenant, and Colonel of the Duke of Cornwall's Rifle Volunteers, born in 1816. In 1838, he married Sarah Lydia, daughter of Reverend Walter Radcliffe of Warleigh, county Devon, and had issue with her as follows: 1) Charles Gordon (Justice of the Peace for Cornwall), 2) Addis Edward, 3) Alice, 4) Emily Augusta (married George Badeley Marke of Wood Hill and later Richard William Okes Voysey Esq. of the Royal Navy), 5) Sarah Constance, and 6) Dora Kate. The Archer Coat of Arms for this branch of the family is blazoned in medieval European art of heraldry as follows: Sable, a chevron, engrailed, argent, between three pheons. Crest: A quiver full of arrows, fesswise proper.
Archer of Brickendon
William Archer Esquire, son of John Archer and Mary Bazell, grandson of Thomas, was born in England, but left for Tasmania, Australia in 1827. The Governor, Colonel Sorrell, gave free land grants to William and his eldest son. In 1776, he married Martha Kensey. He died in 1833 at the age of 79, after falling from his horse. He had nine sons and five daughters. His four eldest surviving sons were: 1) William (discussed below), 2) Thomas (of Woolmers, Longford, Tamania, born in Hertford, England in 1790, left England for Sydney in 1811, made Justice of the Peace in 1813, married Susan Hortle, and had issue with her as follows: Thomas, William, Joseph, Martha, Ellen, and Susan), 3) Edward (came in 1835, inherited the land purchased and granted to his late father), and 4) Joseph (original proprietor of Panshanger). The eldest surviving son, William Archer, was an Esquire of Brickendon, Longford, Tasmania, Australia, and a Justice of the Peace. He left England in 1823 aboard the Aguilar and landed in Tasmania. In 1829, he married Caroline, daughter of Robert Harrison of Woodbury, Antill PONDS. He was the father of the following children: 1) Robert Joseph (married Ellen, daughter of Alexander Clerke of Mountford, had five daughters, and a son named Alexander), 2) William Henry Davies (discussed more below), 3) Alfred (married Chrisien Von Heucketum, had three sons), 4) Reverend George Frederick (married Elizabeth Young, had four sons and one daughter, gradyuated from Christ's College, Cambrisge), 5) Eliza Caroline (married Alfred John Horne Esq., son of Lieutenant Alfred Hornse, had a son named Raymond Kensey and one daughter named Aimee Caroline), 6) Mary, and 7) Ellen. William Henry Davies Archer, Esq., graduate of Trinity College, Cambridge, Jystice of the Peace, was born in 1836. He was a member of the Middle Temple, London, of Brickendon, Longford, Tasmania, Australia. In 1881, he married Aphra Gertrude, daughter of Alexander Clerke and Frances Gertrude Sweetman, and had issue as follows:  William Fulbert (born 1883), Frances Gertrude Clerke, and Aphra Caroline. The coat of arms for this branch of the Archer family tree is blazoned in heraldry as follows: Azure a chevron between three pheons argent. Crest: A bear's gamb holding an arrow in bend all proper. Mottoes: Malo mori quam foedari, Le fin couronne l'aeuvre.
Archer of Panshanger
Joseph Arthur Esquire of Panshanger, Longford, Tasmania and Justice of the Peace, was born in Woolmers, Tasmania in 1836. He was educated in England but returned to Tasmania in 1842. In 1862, he was made a magistrate and was also elected to the Longford Legislative Counsel. In 1852, he married Ann, daughter of W.P. Weston of Hythe, and had issue with her as follows: Percy Weston, Edward Kermode, Bertram Lyttleton, Leonard Dubrelle, Bernard Clark, Isabel Madeline (married F. W. Grubb of Launceston), Frances Mary (married Arthur Peck, Esquire of Melbourne), and Aimee Josephine (married R.L Parker). Joseph was a promoted of the Launceston and Western Railway. They owned two estates: Panshanger, Longford, and Burlington.
Baron Archer
Andrew Archer (1659-1741) was a British landowner and politician who served in the House of Commons three times between 1690-1722. He was the son of Thomas Archer of Umberslade Hall in Tanworth in Argen, Warwickshire, England and Anne, daughter of Richard Leigh of London. He attended Trinity College, Oxford and was admitted to the Inner Temple in 1680. In 1693, he married Elizabeth, daughter of Sir Samuel Dashwood, and had the following issue with her: Diana (married Thomas Chaplin), Thomas (1st Baton Archer), Henry (married Elizabeth Montagu, the sister of the 1st Earl of Halifax), Anne, Elizabeth, and Sarah. His son, Thomas Archer, 1st Baron Archer, was a Member of Parliament who was created a Baron in 1474. He married Catherine, daughter of Sir Thomas Tipping, 1st Baronet.  He had a son named Andrew and a daughter named Catherine (married Other Windsor, 4th Earl of Plymouth). Andrew Archer (1736-1778), 2nd Baron Archer, was a British Peer and Whig politician. He served in Parliament for Bramber and Conventry. He married Sarah, daughter of James West of Alscot Park, and had one son and four daughters with her. His son died before him and the barony became extinct.
Le Archer
William le Archer was born between 1135 and 1193 AD. He married Hawise, daughter of Manasser Byset and Alice De Cany, and had a son with her named Robert. Robert le Archer was born c. 1193 AD. He married Alice, daughter of Walter de Stokes and Margaret de Cormeilles, and had a son with her named Nicholas. Nicholas was born c. 1245 AD. He married Cicely de la Wade, and had a son with her named Edmund. Edmund le Archer was born c. 1269 AD. He married Isabel, and had a son with her named Geoffrey. Geoffrey le Archer of Stoke Grove was born c. 1292 AD. He married Cecilia de la Bere and had a daughter with her named Johanna. Johanna Archer was born c. 1329 AD in Stoke Archer, Gloucester, England in 1369. She married Sir Thomas Berkeley and later William Whittingham V and had issue.
Archer from Warwickshire, England to Virginia, US
John Archer was born between 1555 and 1615. He married Mary Langdon and they had a son named George I. George Archer I was born, most likely, in Warwickshire, England c. 1620. He came to colonial America. He married Mary Wood (born in Essex, England) and had the following issue with her: Anne, Margaret, John, George II, Elizabeth, and George Archer Sr. His son, George Archer II, was born in Bristol Parish, Henrico County, Virginia c. 1654. He married Elizabeth, daughter of Thomas Harris, and had issue with her as follows: Judith, Elizabeth, John III, William, Blanche, George III, Margery, Mary, Susannah, and William. Two of his sons are discussed below:
1) John Archer III was born in Henrico, Virginia in 1677. He owned 100 acres of land known as "Cobbs" on the northside of the Appomattox River. He married Martha, daughter of Major Peter Field and Judith Soane, and had issue with her as follows: William, John IV, Field, Martha Field, Judith, Frances, Elizabeth, and Mary. His sons are discussed as follows:
A) John Archer IV was born in Archers Hall, Chesterfield, Virginia in 1709. He married twice and had issue as follows: John Field, Sarah, Judith, and Thomas Jr.
B) William Archer was born in Wright, VA in 1701. He married twice and had issue as follows: Edward and John.
C) Field (also called Peter) Archer was born in Virginia in 1709. He married and had two issue: Martha Field and Edward C.
2) George Archer III was born in Henrico, Virginia in 1681. He was a tobacco farmer. He married Mary Bevell Kennon and had two sons with her: George IV (born 1703, had son named George IV) and Peter Field Archer (born 1723, had issue named Jane Segar and Branch T.)
Marriages of Archers
1) Daniel Archer married Alice Kilner in Cheshire, England in 1750
2) Thomas Archer married Deborah in Great Packington, Warwickshire, England in 1665
3) Joseph Archer married Elizabeth Spencer in Hanbury, Staffordshire, England in 1681
4) Henry Archer married Alice Humst in Chesire, England in 1684
5) John Archer married Susan Clark in Tettenhall Regis, Staffordshire, England in 1764
6) Elizabeth Archer married John Hamilton in Guildford, North Carolina in 1774
7) Rebekah Archer married Benjamin Webber Jr. in Methuen, Massachusetts in 1799
8) John Archer married Hattie McFarren in Benton, Arkansas in 1882
9) Sarah D. Archer married Robert M. Whittle in Lynn, Essex, Massachusetts in 1872
10) Lucinda Archer married Goun S. Trip in Pope County, Arkansas in 1891
11) Charles Archer married Mary M. Snipes in Guilford, North Carolina in 1865
12) Willis R. Archer married Sarah Mccall in Chatam, Georgia in 1891
Early American and New World Settlers
Some of the earliest settlers in colonial America bearing this name include:
1) Gabriel Archer came to Maine of Massachusetts in 1602
2) Gabriel Archer came to Virginia in 1607
3) Georg Archer came to Virginia in 1618
4) Joseph Archer was recorded among the dead in Virginia in 1623
5) Thomas Archer came to Virginia in 1634
6) John Archer, age 21, came to Virginia in 1614
7) George Archer came to Virginia in 1629
8) Samuel Archer came to Massachusetts in 1630
9) Michael Archer came to the Island of Providence in 1634
10) Joseph Archer, age 21, came to Virginia aboard the Merchant's Hope in 1635
11) Henry Archer came to Massachusetts in 1639
12) George Archer came to Virginia in 1642
13) Roger Archer came to Virginia in 1642
14) William Archer came to Virginia in 1642
15) John Archer came to Virginia in 1645
16) John Archer came to Fairfield, Connecticut in 1648
17) Peter Archer came to Maryland in 1648
18) Alice Archer came to Virginia in 1653
19) Ann Archer came to Virginia in 1653
20) John Archer came to Rhode Island in 1655
21) Sarah Archer came to Maryland in 1658
22) Humphrey Archer came to Maryland in 1659
Several thousand members of the Archer family came to the United States through Ellis Island, during the nineteenth century, including:
1) William Archer came aboard the Carolina Ann in 1826
2) Robert Archer came aboard the Hannibal in 1838
3) Ben Archer came from England aboard the Yorkshire in 1844
4) Jane Archer came from Scotland aboard the Imelia in 1869
5) Christ Archer came from England aboard the Oceanic in 1872
6) Thomas Archer came from England aboard the England in 1872
7) William H. Archer came from Ireland aboard the Devonia in 1880
8) Thomas Archer came from Ireland aboard the Scythia in 1881
9) Mary E. Archer came from Kildare, Ireland aboard the Campania in 1902
10) William Archer came from Nottingham, England aboard the Campania in 1905
11) James Archer came from London, England aboard the Philadelphia in 1905
12) Ada Archer came from Liverpool, England aboard the Campania in 1901
Some of the earliest settlers in Canada bearing this name include:
1) Henry Archer, and his wife, came to Nova Scotia in 1749
1) James Archer came to Nova Scotia in 1826
2) Thomas and Margaret Archer came to Saint John, New Brunswick aboard the Eleanor in 1834
3) Ellen Archer came to Nova Scotia in 1844
4) Sarah Byrnes Archer, of Irish heritage, came from to Nova Scotia in 1834
5) William Archer came to Ontario in 1848
Some of the earliest settlers in Australia bearing this name include:
1) William Archer, a convict from Oxford, England, came to Van Diemen's Land (modern day Tasmania) aboard the Arab in 1822
1) William Archer came to Tasmania aboard the Aguilar in 1823
3) James and Elizabeth Archer came to Adelaide aboard the John in 1840
4) Henry Archer, a convict from Suffolk, England came to Van Diemen's Land aboard the Anson in 1843
5) William Archer came to Adelaide aboard the Sir Edward Parry in 1849
6) Matthew Archer came to Victoria, Australia in 1852
7) Patrick Archer came to Victoria in 1853
Some of the earliest settlers in New Zealand bearing this name include:
2) John Archer came to Auckland aboard the Annie Wilson in 1863
3) William Archer, along with his wife Harriet and children William J. and Alice J., came to Wellington aboard the Celaeno in 1872
4) George Hy Archer of Middlesex, England, a ry laborer by trade, came to Canterbury aboard the Rakaia in 1874
5) William Thomas Archer, age 6, came to Canterbury aboard the Cicero in 1875
6) William Archer, a laborer by trade, came to Hawes Bay aboard the Schiehallion in 1874
7) John Archer, a gardener by trade, came to Hawkes Bay aboard the Schiehallion in 1874
Grantees of Arms
1) Andrew Tamworth Archer, county Warwick, Esquire, 1597, by R. Lee.
2) Henry Theydon Gernon, Essex, son of William, grandson of Richard, great-grandson of John, great-great grandson of Symonde Boys of Theydon Gernon, 1575 by Cooke
3) John London Archer, gentleman, son of John of Kent, grandson of Thomas of Theydon Gernon, great-grandson of John, great-great grandson of Simon de Boys, confirmed 1575 by Cooke, ermine on a cross sable, a crescent
4) Baron Archer, 1747, Thomas Archer
5) Thomas Archer of Chelmsford, county Essex, 1820s
6) Susannah Archer (Houblon before Newton), widow of Houblon, of Coopersale House, county Essex, Welford, Berkshite, and Highlow, county Derby. Quarterly Arms 1819.
7) Archer Houblon to Eyre, Charles, of county Berkshire, Essex, and Derby
8) Lieutenant Colonel George Bramston Archer Houblon of county Essex and Berkshire, 1892
9) Lancelot Archer Burton of Harlow, county Essex, 1834
10) Archer, quartering to Elizabeth Walmsley, widow, of Feversham, county Kent
Notables
There are hundreds of notable people with the Archer surname. This page will mention a handful. Famous people with this last name include:
1) General Sir John Arthur Archer (1924-1999) was a senior officer in the British Army and a Commander in Chief of the United Kingdom Land Forces,
2) James J. Archer (1817-1864) was Brigadier General in the Confederate States Army during the American Civil War, born in Stafford, Maryland, and had previously served in the Mexican-American War, who was taken as a prisoner of war on the first day of the Battle of Gettysburg
3) Anne Archer (1947) is an American actress born in Los Angeles, California who is known for her roles in movies such as Fatal Attraction, Paradise Alley, Patriot Games, and Clear and Present Danger.
4) William Segar Archer (1789-1855) was a US Senator for the state of Virginia from 1841 to 1847 and in the US House of Representatives for Virginia from several times between 1820-1845, educated at The College of William & Mary
5) Stevenson Archer (1786-1848) was a member of the US House of Representatives from 1811 to 1817 and from 1819-1821, having also previously served in the Maryland House of Delegates
6) John Archer (1741-1810) (son was Stevenson, grandson was Stevenson II) was a physician from Maryland who represented said state in the US Congress from 1801-1807, having also served in the Continental Army during the American Revolution
7) Stevenson Archer (1827-1898), son of the above Stevenson Archer, was a US Congressman from Maryland who served from 1867-1875, having previously served in the Mary House of Delegates
8) William Reynolds Archer Jr. (1928) was a lawyer who served  in the US House of Representatives for Texas between 1971-2001, born in Houston, Texas
9) James Archer (1822-1904) was a painter from Edinburgh, Scotland whose work included genre works, portraits, landscapes, and historical scenes.
10) Colin Archer was a Scottish Norwegian-born naval architect and shipbuilder, best known for constructing durable and safe ships
11) Gleason Archer Sr. (1880-1966) was the founder and president of Suffolk University in Boston, Massachusetts, born in Great Pond, Maine.
12) James Archer (1550-1620) was a Irish member of the Jesuit Society who was one of the most hated figures in England during the reign of Queen Elizabeth I for his controversial role in the Nine Years War, who established Irish seminaries in continental Europe as part of the counter reformation.
13) Frederick Scott Archer (1813-1857) was the inventor of the photographic collodion process, an important advance in photography, born in London, England
14) Alexander "Sandy" Archer (1908-1979) was an English hockey player born in West Ham, Sussex who played right center for the Wembley Lions from 1935 to 1945, and was part of Great Britain's national ice hockey team who won the hold medal at the 1936 Olympics
15) Edward Archer (1718-1789) was an English physician who helped promote inoculation against smallpox, born in Southwark, London
16) David Mark Archer (1962) was an American football player born in Fayetteville, North Carolina who plated quarterback in the in the NFL (Atlanta Falcons, Philadelphia Eagles, Washington Redskins, and San Diego Chargers), CFL, and WLAF from 1984-1998, and won the World Bowl II MVP in 1992
Archer America Civil War Veterans
There were several soldiers with the last name Archer who served in the American Civil War, including the following:
1) Thomas O. Archer of the 17th Regiment New York Infantry (Union)
2) William S. Archer of Jones' Command, Ohio Infantry (Union)
3) Joins (or Irvin) Archer of the 40th Regiment New Jersey Infantry (Union)
4) Simpson M. Archer of the 17th Regiment Iowa Infantry (Union)
5) Martin V. Archer of the 154th Regiment Indiana Infantry (Union)
6) James Archer of the 20th Regiment Indiana Infantry (Union)
7) Eli Archer of the 29th Regiment Missouri Infantry (Union)
8) William T. Archer of the 23rd Regiment Alabama Infantry (Confederacy)
9) Roger W. Archer of the 33rd Regiment Alabama Infantry (Confederacy)
10) Eugene Archer of the 36th Regiment Texas Cavalry (Confederacy)
11) Cyrus A. Archer of the 7th Regiment North Carolina Infantry (Confederacy)
12) Hugh Archer of the 2nd Regiment, Florida Cavalry (Confederacy)
13) John B. Archer of the 29th Regiment Georgia Infantry (Confederacy)
14) Columbus L. Archer of the 43rd Regiment Georgia Infantry (Confederacy)
Archer America Revolution Veterans
There were several soldiers with the last name Archer who served in the Revolutionary War, including the following:
1) Private Benjamin Archer of New York
2) Lieutenant Peter Field Archer of Virginia
3) Captain Henry Archer
4) Private Isaac Archer of Virginia
5) Private Jacob Archer of Pennsylvania
6) Jacob Archer of New York
7) Lieutenant James Archer of Virginia
8) Private John Archer of New York
9) 2nd Lieutenant Joseph Archer of Virginia
10) Lieutenant Thomas Archer of Virginia
11) Private William Archer of New Jersey
12) Private Benjamin Archer of New Hampshire
13) Sergeant Sampson(?) Archer
14) Jeremiah Archer of Virginia
15) Corporal Wason Archer of the 1st Battlion, Continental Troops
Other Archer Resources
https://archive.org/details/genealogicalhist00arch
http://www.archercousins.com/
http://archerfamilytree.blogspot.com/
Blazons & Genealogy Notes
1) (Baron, of Umberslade, co. Warwick, extinct, 1778). Az. three arrows, two and one, points downwards or. Crest—Out of a mural coronet gu. a dragon's head ar. Supporters—Two wiverns reguard. ar. murally gorged or. Motto—Sola bona quae honesta.
2) (granted, 1597, by Lee, Clarenceux, to Andrew Archer of Tamworth, and confirmed by the deputies of Camden, Clarenceux, to Sir Symon Archer, knt. of Tamworth, twelfth in descent from John Archer, temp. Edward III., who was fourth in descent from Rorert Sagittarius of Umberslade, temp. Henry II.) Az. three arrows or. Crest—Out of a mural coronet gu. a dragon's head ar.
3) (settled in co. Kilkenny since the reign of King John). Ar. on a chev. gu. betw. three pheons sa. three mullets or.
4) (Capt. J. H. Lawrence-Archer, 1858). Per fess az. and ar. in chief three broad arrows in pale points downwards or, in base a cross raguly gu. charged in the centre with a saltire of the third. Crest—Out of a mural crown or, a wivern's head gu. Motto—Deus salutem disponit.
5) (Cornwall). Sa. a chev. betw. three broad arrows ar. Crest—On a quiver full of arrows lying fesseways a serpent all ppr.
6) (Trelaske, Cornwall). Sa. a chev. engr. ar. betw. three pheons or. Crest—A quiver full of arrows ppr.
7) (Lincolnshire, granted 24 March 1684). Per pale gu. and az. three arrows or, barbed and feathered ar. Crest—A dragon's head per pale gu. and az. with wings expanded, the sinister wing or, the dexter ar. issuing out of a mural crown per pale of the last and third.
8) (Chelmsford, co. Essex). Az. a garb erect or, betw. two branches of laurel tied by a ribbon in base, on a chief embattled ar. three arrows, points downwards, betw. eight erm. spots, two and two, in pale sa. Crest—A griffin's head erased ar. transpierced by a spear in bend sinister, point downwards, collared gu. charged with two crosses pattee of the first, in the beak a slip of oak fructed ppr.
9) (Essex). Erm. on a chief az. three lions ramp. or. Crest—A bull's head erased gu.
10) (alias De Boys, Essex). Erm. a cross sa. Two Crests—First, a wivern ar.; second, a leg couped at the thigh, embowed at the knee, quarterly sa. and ar. spur and leather or.
11) (Ballyseskin, co. Wexford). Arms same as the preceding. Crest—A duke's coronet ppr. Motto—Pro religione et patria.
12) (Theydon, co. Essex, granted 2 April, 1574). Erm. a cross sa. a crescent ar. for difference.
13) (Highlow, co. Dublin). Erm. a cross sa. Crest—A wyvern ar.
14) (Salop). Sa. a lion ramp. or.
15) Or, five fusils in bend sa.
16) Az. three arrows in pale ar.
17) Ar. three pheons gu.
18) Sa. three pheons ar.
19) Arms of the Tasmania, Australia branch of the family, owned Brickendon and Woolmers Estates. Motto: La Fin Couronne L'Ouvre. Source: https://en.wikipedia.org/wiki/Archer_family