Ashworth Family Crest, Coat of Arms and Name History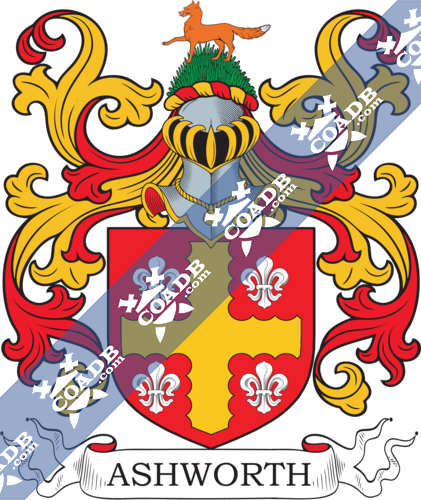 Ashworth Coat of Arms Gallery
Don't know which Coat of Arms is yours?
We can do a genealogical research. Find out the exact history of your family!
Learn More
ASHWORTH
The name Ashworth is of Anglo-Saxon/English origin. The surname is thought to possibly be topographical, coming from the Old English word "oesc" or "aesc", which translates to "ash" in reference the ash tree. In this context the name would be habitational as it was regarding someone who lived near a grove of ash trees. Some surnames actually acted as an indicator or representation of the birthplace of the individual by identifying easily recognizable landmarks. This worked well for the small settlements which existed at this time because people rarely traveled far from their homes and were familiar with the surrounding landscape.
Surnames were rarely if ever used in ancient Europe. In the small settlements and villages which existed during earlier times in most of Europe, residents found little need for surnames as everyone in these communities knew each other and a given name would usually suffice. However, as communities grew and people began to migrate on a larger scale, along with the need of the government having a reliable way to track people for tax and census purposes, the aristocracy's penchant for using surnames seemed the appropriate evolution to this problem. In most instances to distinguish themselves, one from another, those not of the noble class would often be identified by their given name plus their occupation while others may have been identified by their given name and one of their parent's names. There was a boundless supply from which surnames could be formed, in addition to the use of patriarchal/matriarchal names or reference to the individuals occupation, there were things such as defining physical traits, a familiar geographical location or a topographical landmark found near the individual's home or birthplace, the name of the village in which the person lived, and so much more. Over the course or time, surnames would come not just to represent an individual but whole families.
There are multiple variations of the spelling of the surname including but not limited to; Ashworth; Asheworth; Ayshworth; Aschworth; Ascheworth; Aishworth; and Eshworth among others. The variation in spelling of both given and surnames during this time period can be attributed to a lack of continuity regarding guidelines for spelling which was compounded by the diversity of languages in use in European countries at this time.
One of the earliest record of any variation of this surname is that of Robert Asshworth which appears in the Lancashire tax rolls from 1258. The Pipe Rolls, often times called the "Great Rolls", were a series of financial records kept by the English Treasury by order of King John, with the oldest dating back to the 12th century. They hold the distinction of being the oldest consecutive set of records detailing English governance in the United Kingdom. These records span a period of over 700 years and have proven invaluable to researches over the years.
Some of the first recorded immigrants to America bearing the surname were William Ashworth with his wife and child who arrived in 1653 and settled in Virginia. Richard Ashworth landed and settled in Virginia in 1657. George Ashworth and his sons, Zacheriah and John landed in 1745 and settled in Virginia.
There were also many immigrants to Canada, Australia, and New Zealand bearing the surname. Joseph and Mary Ashworth landed in 1862 and settled in Victoria, British Columbia. Brothers, Edmund and John Ashworth landed and settled in Adelaide, Australia in 1851. George and Jane Ashworth along with their daughter, Jane, landed and settled in Wellington, New Zealand in 1875.
Worldwide, the highest concentration of people with the surname Ashworth are found in the United Kingdom, Australia, New Zealand, Canada, and the United States. By state, the largest percentile of those with the surname Ashworth live in West Virginia, Virginia, Vermont, North Carolina, and Utah.
There are many persons of note who bear the surname such as British born biologist, scientist, and educationalist, John Ashworth. He was educated at Exeter College, Oxford and earned his PhD at Leicester University, where he lectured prior to taking a post as Professor of Biology at the University of Essex. Ashworth has held such positions as chief science adviser to the UK government's Cabinet Office, vice-chancellor at the University of Salford, director or the London School of Economics, and the American International University in London. In recognition of his public services he was awarded a knighthood in 2008.
Blazons & Genealogy Notes
1) (Ashworth, and Hall Carr, co. Lancaster, and Elland Bank, in Yorkshire: represented by Rev. John Hervey Ashworth, M.A.). (Heyford-Warren, co. Oxford, allowed by Flower, Norroy, and Glover, Somerset). Motto—Appetitus rationi pareat. Gu. a cross engr. couped or, betw. four fleurs-de-lis ar. Crest—On a mount vert a fox ppr.
2) (1585). Gu. a cross engr. humettee or, betw. four fleurs-de-lis ar. Crest—As the last.