Baines Family Crest, Coat of Arms and Name History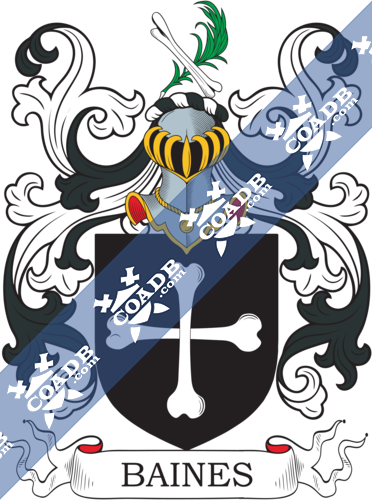 Baines Coat of Arms Gallery
Don't know which Coat of Arms is yours?
We can do a genealogical research. Find out the exact history of your family!
Learn More
The following century saw much more Baines surnames arrive. People of Baines, who came in the 18th century included Andrew Baines sailed to America in the year 1711 and George Baines, who arrived in Maryland, in 1734.
People of Baines who arrived in the 19th century included many people like Henry Baines, who came to New York in 1820. Richard Baines landed in Arkansas in the year 1848. Joseph Baines and Michael Baines arrived in New York in the year 1854.
Australia:
Some of the Baines people who settled ultimately in Australia in the 19th century included Mary Baines, an English captive from Leicester, who was shifted aboard the ship "Angelina", on 25 April 1844, settling in Van Diemen's Land, Australia.
New-Zealand:
The settlement of Baines family also happened in the 19th century, in New-Zealand. The people who arrived in New-Zealand included Matthew Baines, James Baines, and Caroline Baines, who arrived in Auckland, New-Zealand aboard the ship "African" in the year 1860.
Here is the population distribution of the last name Baines: United States 6,8066; England 9,749; Australia 1,649; Canada 1,240; South Africa 1,041; Wales 519; Germany 403; New Zealand 402; Sri Lanka 326; Brazil 318.
Notable People:
Ajay Baines was a Canadian ice hockey player.
Anthony Baines was an English musicologist,
Chris Baines (1947), was a British farmer, naturalist, television presenter and author.
Edward Baines (1774–1848), was a British paper-operator and politician.
Sir Frank Baines (1877–1933), was an English architect.
Blazons & Genealogy Notes
1) Sa. two shank bones in cross ar. that in pale surmounting the one in fesse. Crest—A bone and palm branch in saltire ppr.
2) (Bell Hall, co. York). Same Arms. Crest—A cubit arm erect holding in the hand a shank bone in bend sinister ar.
3) (Peteonly, Scotland). Motto—Vel arte vel marte. Az. a wolf's head erased or. in chief a crescent ar. Crest—A dexter hand holding a dagger ppr.