Bamfield Family Crest, Coat of Arms and Name History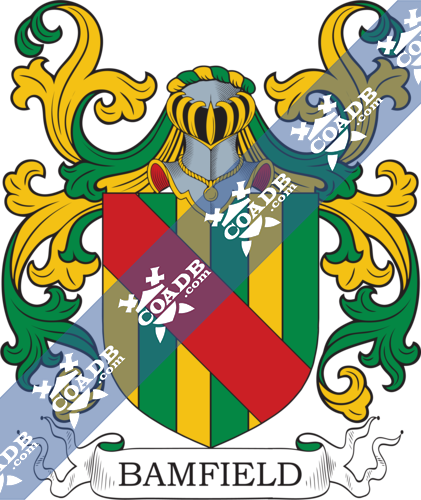 Bamfield Coat of Arms Gallery
Don't know which Coat of Arms is yours?
We can do a genealogical research. Find out the exact history of your family!
Learn More
Surname Name Meaning, Origin, and Etymology
This Anglo-Saxon is a local surname meaning "of Bamfyld", which is a place in county Devon or Somerset. Weston-Bamfyld is a parish six miles from Castle Cary in Somerset. One source states it derives from a more ancient name, Baumfilde. The village was recorded as Westone in the Domesday Book of 1086 AD, and later as Beneld in the Pipe Rolls of Devonshire in 1306 AD.
Spelling Variations
Common spelling variations of this last name include: Banfield, Banfill, Bampfield, and Bampfylde. Banfield is the most common variant.
Early Bearers of the Surname
The Register of the University of Oxford records several sixteenth century bearers of this surname: 1) Ames or Amias Banfilde in county Devon in 1575 AD, 2) Richard Bampfild or Bamfield in county Devon in 1581, and 3) Giles Bampfild in county Devon in 1582. Early marriages involving this surname include Hannah Bamfield to William Smith at St. George's Hanover Square in 1752 AD and John Banfield to Betty Nunns in 1766 AD.
History, Genealogy, and Ancestry
One source states the original ancestor of this family was John Baumfiled, received land grants from King Edward I of England, and had a pedigree that traces back three generation prior.
H.B. Guppy's book "Homes of Family Names" states: "Amongst the old Devonshire families now scantily represented are those of Bampfield or Bampfylde. Those at Poltimore and Hestercombe in Devon and Somerset were amongst the most distinguished, and the knightly family of Poltimore,  Devon, in the 17th century, held that estate as far back as the reign of Edward I. Richard Bamfield, a Devonshire gentleman, contributed £25 to the Armada fund in 1588 . Thomas Bamfield was chamberlain of Exeter in 1654 (I.), and Bamfield was an Exmouth name in the time of Charles I. Weston Bampfylde is a Somersetshire parish".
John Banfield was born in 1809 and married Sarah Ann Steel. With her he left the following issue prior to dying in 1858: William, Mary, Catherine, Henry, and Henry Charles. The first son Henry was born in 1854 and passed away in 1927.
Mottoes
The family mottoes include: 1) delectare in Domino, meaning "to rejoice in the Lord".
Grantees
Later individuals granted arms include: Poltimore, Baron [1831] (Bampfylde, [6th] Bart.). Supporters, [1831].
Blazons & Genealogy Notes
1) Or, on a bend gu. three mullets ar. Crest—A lion's head erased sa. crowned or.
2) (Camden's Grants). Same as last, mullets pierced and in centre chief point an annulet sa., the Crest charged with an annulet or.
3) or Baumfield – (Cornwall and Devonshire). Vert, on a bend or, three mullets gu. Crest—A lion statant guard. holding in the dexter paw an anchor, the flukes resting on the wreath.
4) or Baumefield – Paly of six or and vert a bend gu.
5) or Bawmefield – Or, on a chief gu. three trefoils slipped of the first.
6) (Devonshire). Paly of eight or and vert, on a bend gu. three mullets ar.
7) Ar. a cross moline sa.
8) (Lord Poltimore). Or, on a bend gu. three mullets ar. Crest—A lion's head erased sa. ducally crowned or. Supporters—On either side a lion, reguard. sa. ducally crowned and gorged with a collar gemelle or, therefrom pendent an escutcheon of the Arms. Motto—Delectare in Domino.