Beverley Family Crest, Coat of Arms and Name History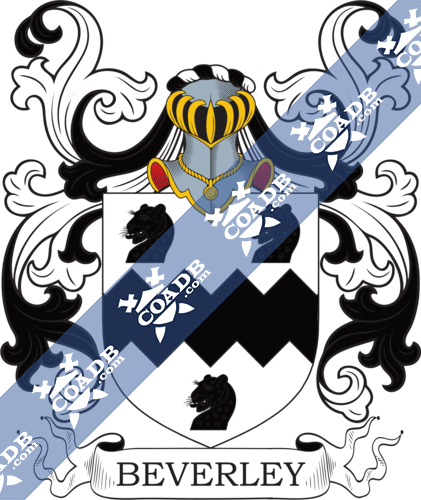 Beverley Coat of Arms Gallery
Don't know which Coat of Arms is yours?
We can do a genealogical research. Find out the exact history of your family!
Learn More
Surname Name Meaning, Origin, and Etymology

This Anglo-Saxon name is a local surname meaning "of Beverley", a town in East Riding, Yorkshire. Today the town has nearly 30,000 people. It's origins trace back to the Anglian Kingdom of Northumbria in the 600s AD. It was founded by St. John of Beverley (died 721 AD), who was Bishop of Hexham and York. It was ruled by Vikings and later by the Cerdic dynasty (aka House of Wessex). In the Domesday Book of 1086 AD, the city is recorded as both Bevreli and Beverlacum.
The name derives from the word Belvoir, meaning a beautiful prospect and ley, meaning a field or place. Others claim it derives from the word beverlac, meaning "the lake of beavers" as many beavers were present in the Hull river near the town, and literally means "the beaver stream". The Old English word beofor meaning beaver, and the words lecc, leche, licc, or lache, means a stream.
Spelling Variations
Common spelling variants include Beverly, Beverlee, Baverlay, Beaverley, Beverle, and still others. There are various cities in the United States bearing this name (ex. Beverly Kansas and Beverly Kentucky.
Popularity & Geographic Distribution
The last Beverly ranks 2,822nd in terms of popularity in the United States Census of 2000, whereas the name Beverley ranks 24,061st. It is most common in the eastern half of the county, particularly the southeast, as well as the state of Texas and California. In England, the later ranks 6,015th and the former ranks 26,770th. It is common in Yorkshire. The name has a high density in New Zealand.
Early Bearers of the Surname
The earliest known bearer of this surname was Albert de Beverli, who was recorded in the Early Yorksire Charters in 1142 AD. The Hundred Rolls of 1273 AD, a census of Wales and England, known in Latin as Rotuli Hundredorum, documents one person bearing this surname: John de Beverly of county Northumberland. A one Adam de Beverle (a bowyer) was recorded in the Freeman or York as having lived during the reign (1307-1327) of King Edward II of England. The Register of the University of Oxford recorded one James Beverley of Henley in county Oxford, a bargeman, in 1564.
Early marriages involving this surname include James Beverley (of county Huntingdonshire) to Anne Duncombe at Canterbury in 1674, as well as James Beverley to Mary Davey at St. George's Hanover Square in London in 1778.
History, Genealogy, and Ancestry
The book A Topographic Dictionary authored by Samuel Lewis in 1848 states the following in regards to this last name: "Leven is of considerable antiquity, a church being mentioned as existing here at the time of the Norman survey, when the manor was in the possession of the church of St. John de Beverley, which retained it till the Dissolution". Leven is a civil parish in East Riding of Yorkshire with a small population of nearly 2,500 people. The family held land and titles here.
A one John Beverley was born in 1525. He married Agnes Draycott and together they had a son named Thomas. Thomas married a woman named Eleanor or Elizabeth Vincent, and they had a son named Robert. Robert was born in 1577 in Selby, Yorkshire, England. He married Frances Fairfax and had a son named Peter Beverly. Peter was born in 1610 in Hull, Yorkshire and in 1634, he married Susanna Hollis. He had a son named Robert prior to death in September of 1650. His son Robert was, Major Robert, was born in 1635 in Beverley, Yorkshire, England. He was married three times: to Elizabeth in 1662, Margaret Mary in 1666, and Katherine (Hone) Robinson in 1679. He left behind numerous children before his 1687 death in Christchurch, Virginia: Peter, Mary (Muscoe), Robert Jr., Harry, John, Anna, Mary (Jones), William, Thomas, John, Catherine, and Christopher. His son, Colonel Peter Beverley (or Beverly), was born in 1663 in Hull, England. In 1689, he married Elizabeth Peyton in 1689 and had the following issue with her: Anne (Whiting), Elizabeth Peyton (Randolph), and Susannah (Randolph). He passed away in 1728 in Beverley Hundred, Gloucester, VA.
Robert Beverley was born in 1340 in Gloucester, England. In 1370, he married Beatrice Percy. They had three issue: Thomas, Alan, and John. His son John was born in 1373 in Plaitford, England.  His son Thomas was born in the same town in 1371. He in turn had a son named Thomas. The son Alan was born in 1372.
Early American and New World Settlers
Early settlers in the New World with this last name include Robert Beverley (1687 Virginia), John Beverley (1699 Virginia), John Beverley (1732 Maryland), William Beverley (1750 New England), and John Beverly (1812 New York).
Mottoes
There are two family mottoes for Beverley/Beverly:  Ubi libertas ibi patria, meaning "Where there is liberty, there is my country", and Esperance en Dieu, meaning "Hope in God".
Grantees
Later people bearing this surname that bore the arms: 1)Sir George Beverley, Dublin, Knight, new coat and crest 20 January 1605-6, by D. Molyneux, Ulster  K. of A. Harl MS. 2153, for 126th. Mise Gen. et Her., ii., 95, former coat, by Ro. Cooke, Clar., Argent on a chevron sable between three pellets a crescent or, the surveyors of vietnall in Ireland.
Notables
Famous people with this last name include: 1) William Beverley (1696-1756) who was a civil servant, legislator (member of House of Burgesses), planter, and landowner in colonial Virginia, 2) Peter Beverley (1668-1728) who was born in Jamestown, VA and became the Treasurer and Speaker of the House of Burgesses in the state, 3) Henry Roxby Beverley (1790-1863) who was an English actor and comedian, and 4) Nicholas Gerald Beverley (born 1947) who was a Canadian Hockey player that played for six different NHL teams (and played in the AHL as well).
Blazons & Genealogy Notes
1) (Bedfordshire). Ar. a fesse dancettee, betw. three leopards' heads sa.
2) (Cornwall). Ar. a chev. gu. betw. three torteaux.
3) Barry of six sa. and or, on an inescutcheon gu. three bars erm. on a chief of the second two pales of the first.
4) Gu. three bars erm.
5) Or, two bars sa. in chief as many pales of the second an inescutcheon gu.
6) Or, an inescutchon and three bars sa. in chief six palets of the second.
7) Ar. a chev. sa. betw. three ogresses.
8) Ar. a chief bevile vert.
9) Erm. a rose gu.
10) Per bend sinister indented sa. and or, in chief a cross sarcelly of the second.
11) Quarterly, ar. and gu. a rose counterchanged barbed vert.
12) Quarterly, ar. and gu. a cross quarterly, counterchanged.
13) (Dublin. Arms confirmed and Crest granted by Daniel Molyneux, Ulster, 2 James I.). Sa. on a chev. betw. three wolves' heads erased ar. as many ogresses. Crest—On a mount ppr. a wolf pass. ar. vulned with a dart sa.
14) (Beverley, co. York). Erm. a chev. sa. on a chief of the second three bulls' heads cabossed ar. Crest—A bull's head erased ar. Motto—Ubi libertas ibi patria.
15) (Yorkshire). Ar. a chev. sa. on a chief of the second three bulls' heads cabossed of the first.
16) (Yorkshire). Erm. a rose gu. barbed and seeded ppr.
17) (Yorkshire). Ar. on a bend betw. two unicorns' heads erased az. three fusils of the field.
18) (Selby, co. York, Visit. 1612, Harl. MS., 1487). Erm. a chev. sa. on a chief of the second, three bulls' heads cabossed ar. armed or.
19) Ar. a chev. sa. betw. three pales.
20) Ar. a chev. gu. betw. three hurts.