Biberstein Family Crest, Coat of Arms and Name History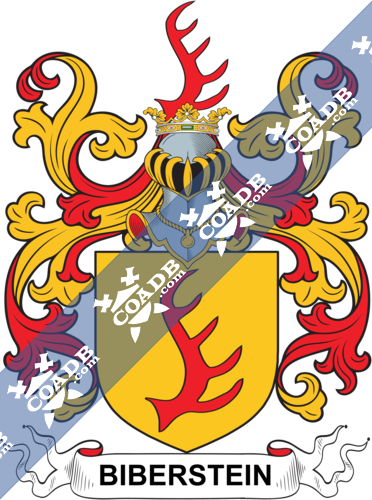 Biberstein Coat of Arms Gallery
Don't know which Coat of Arms is yours?
We can do a genealogical research. Find out the exact history of your family!
Learn More
More common variations are: Bieberstein, Biberstine, Beberstein, Biberstain, Biberstien, Biebersteni, Beeberstein, Biberston, Bibiersitine, Boberstine. The surname Biberstein first appeared in Wuerttemburg, where this family name became a leading contributor to the advancement of the district from old times. Individuals with the surname Biberstein landed in the United States in the 19th century.  Some of the people with the name Biberstein who arrived in the United States in the 19th century included Lorenz Biberstein, who came to America in the year 1838.
Blazons & Genealogy Notes
First notation: 1432 W polu złotym r"g jeleni czerwony o pięciu sękach w słup. W klejnocie samo godło. Or, stags Horn gules, crest charge as in shield.