Brereton Family Crest, Coat of Arms and Name History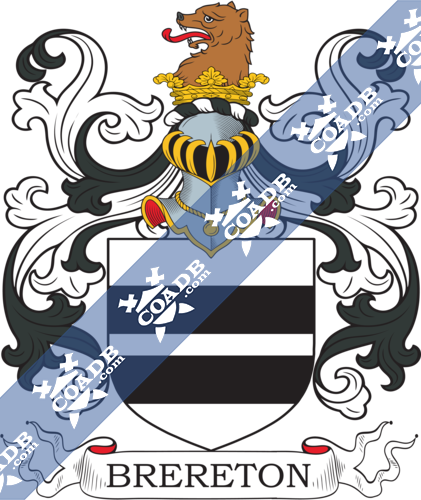 Brereton Coat of Arms Gallery
Don't know which Coat of Arms is yours?
We can do a genealogical research. Find out the exact history of your family!
Learn More
Brereton Origin:
England
Origins of Brereton:
It is an English geographical name from the places in England so named as 'Brereton' in Staffordshire and Cheshire, and 'Brearton' in West Yorkshire. The place name sources are somewhat different as can be seen from documents in the Domesday Book of 1066. Brereton in Cheshire and Brearton in West Yorkshire were noted as 'Bretone' and 'Brareton' respectively and acquire from the Old English pre 7th Century components 'braer' or 'brer,' Briar and 'tun,' which means documents or settlement. Brereton in Staffordshire was first noted as 'breredon,' the second component being 'dun' which means a hill, slope. The two names would, therefore, mention one who resided at the hamlet where briars raised, or at the briar hill. John Brereton and Margaret Kempton married in London 1585.
Variations:
More common variations are: Brereaton , Briererton, Breareton, Brerton, Brearton, Brierton, Bruerton, Bererton, Breraton, Breerton.
England:
The surname Brereton first appeared in Cheshire at Brereton, a local church, containing the villages of Brereton Green and Brereton Heath. Brereton records back to the Domesday Book where it was noted as Bretone and meant "farmstead with the briars," having acquired from the Old English words brer and dun. At that time, Gilbert de Venables held the lands of Brereton which were sufficient for four turns and held 1 acre of pasture. Brereton Hall, built for Sir William Brereton (1550-1631) is a country house north of the hamlet of Brereton Green. Alternatively, the name could have acquired from Brearton, a hamlet and local church in the Harrogate borough of North Yorkshire.
The very first recording spelling of the family was shown to be that of Richard de Brertona, dated about 1176, in the "Yorkshire Charter Rolls." It was during the time of King Henry II who was known to be the "The Builder of Churches," dated 1154-1189. The origin of surnames during this period became a necessity with the introduction of personal taxation.
Ireland:
Many of the people with surname Brereton had moved to Ireland during the 17th century.
United States of America:
Individuals with the surname Brereton landed in the United States in two different centuries respectively in the 17th, and 19th. Some of the people with the name Brereton who arrived in the United States in the 17th century included John Brereton settled in Maine in 1602. John Brereton, who came to Virginia in 1602. John Brereton who settled in Barbados in 1654. Geo Brereton, who landed in Virginia in 1695.
The following century saw much more Brereton surnames arrive. Some of the people with the surname Brereton who arrived in the United States in the 19th century included J T Brereton, who landed in Alaska in 1898.
Australia:
Some of the individuals with the surname Brereton who landed in Australia in the 19th century included George Brereton, a harness-maker, arrived in New South Wales, Australia sometime between 1825 and 1832. Henry Brereton arrived in Adelaide, Australia aboard the ship "Competitor" in 1848. Thomas Brereton, aged 27, a laborer, arrived in South Australia in 1852 aboard the ship "Charlotte Jane."
Here is the population distribution of the last name Brereton: England 2,640; United States 1,830; Australia 1,612; Canada 606; Ireland 519; Trinidad and Tobago 436; South Africa 310; Wales 226; New Zealand 135; Barbados 54.
Notable People:
Alexander Picton Brereton (1892-1976), was a Canadian winner of the Victoria Cross.
Cuthbert A. Brereton (1850-1910), was a British civil engineer.
Dan Brereton (born 1965), is an American artist and cartoonist.
Dermott Brereton (born 1964), is an Australian rules football player.
Frederick Sadleir Brereton (1852–1957), was a British writer.
Henry E. H. Brereton (1865–1957), was a New York legislator.
Joseph Lloyd Brereton (1822-1901), was an English scholastic reformer and author.
Kevin Brereton (born 1972), is a Canadian singer, composer and record director.
Laurie Brereton (born 1946), is an Australian leader.
Lewis H. Brereton (1890-1967), was an American military flight officer.
Mocky Brereton is a New Zealand rugby league football player.
Patrick Brereton is a writer and a professor at Dublin City University.
Blazons & Genealogy Notes
1) (Brereton, co. Chester). Ar. two bars sa. Crest—Out of a ducal coronet a bear's head ppr.
2) (Lord Brereton, created 1624 Lord Brereton, of Leighlin, co. Carlow, extinct 1722). (Malpas, Eccleston, Wetenhall, Tatton, Honford, Wolfesacre, and Barrell, co. Chester, and Borasham or Burras, co. Denbigh; this last line descended from William Brereton, a younger son of the first Randle Brereton, of Malpas, acquired the Denbighshire estate by m. with Kathrine, dau. and heir of Thomas de Weild, of Burras, and became extinct at the decease, 1798, of Owen Salusbury Brereton, Esq.) Same Arms. Crest—Out of a ducal coronet or, a bear's head couped sa. muzzled gold. Supporters—Dexter a bear sa. armed and muzzled gu. sinister a greyhound ar. collared az. armed gu.
3) (Honford, co. Chester, bart, extinct 1673). Ar. two bars sa. over all a cross formee flory gu. Crest—Out of a ducal coronet or, a bear's head ppr. charged with a crescent in chief and a cross crosslet in base for diff., and with an additional Crest, viz., a griffin with wings elevated gu. standing on a chapeau gu. turned up or.
4) (Brinton, co. Norfolk). Motto—Opitulante Deo. Same Arms. Crest—A bear ppr. muzzled or.
5) (Devonshire). Ar. fretty gu. on a chief or, crusily of the second a lion ramp. of the last.
6) (Staffordshire and Cheshire). Ar. betw. two bars sa. a cross patonce of the second, charged with five bezants. Crest—On a chapeau az. turned up erm. a dragon with wings expanded gu.
7) Ar. three eagles displ. gu.
8) Ar. a cross bottonee gu.