Brest Family Crest, Coat of Arms and Name History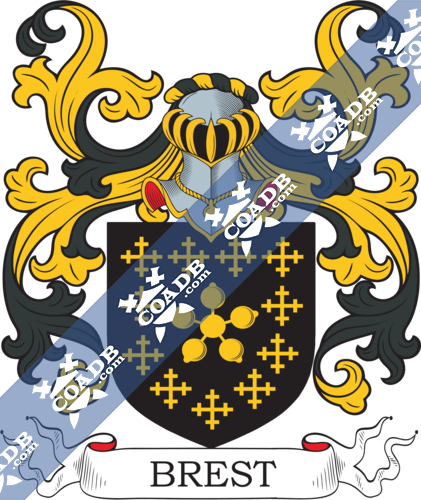 Brest Coat of Arms Gallery
Don't know which Coat of Arms is yours?
We can do a genealogical research. Find out the exact history of your family!
Learn More
Brest Origin:
France
Origins of Brest:
The French name Brest started in the northern coastal region of France known as Normandy. The name Normandy acquired from the settlement and invasion of the territory by ("Northmen") better known as Vikings. One can encounter great variation in the spelling of French surnames in part, like spelling, and the spelling names not yet regulated during the early advancement of the written French language. Later, there was much branching and movement of families, and spellings would change according to the region. Variations of the name Brest include as Brisson, Brison, Brés, Bris, Brix, de Brix, Bresset, Bresson, Bressot, Brice, Brisse, Brisset, Brissonot, Brissonneau, Brissonet, Brissonnet, Brissot, Brissaud and much more.
Variations:
More common variations are: Briest, Berest, Breust, Breest, Bresta, Breast, Barest, Borest, Broest, Bresto.
France:
The surname Brest first appeared in Normandy (French: Normandie), the former Duchy of Normandy, where the family first started, maintaining their status as one of more distinguished families of the region.
Ireland:
Many of the people with surname Brest had moved to Ireland during the 17th century.
United States of America:
Individuals with the surname Brest landed in the United States in two different centuries respectively in the 18th, and 19th. Some of the people with the name Brest who arrived in the United States in the 18th century included Johann Heinrich Brest, who arrived in Pennsylvania in the year 1709.
The following century saw more Brest surnames arrive. Some of the people with the surname Brest who arrived in the United States in the 19th century included Joseph Brest, who arrived in Allegany (Allegheny) Division, Pennsylvania in the year 1848.
Here is the population distribution of the last name Brest: Argentina 1,628; France 1,151; United States 594; South Africa 310; Germany 134; Australia 76; Israel 47; Norway 46; England 43; Netherlands 27.
Notable People:
Harold Brest was a 20th-century American prisoner.
Jorge Aníbal Romero Brest (October 1905 – February 1989) was an influential art critic in Argentina, who helped popularize avant-garde art in his country. He was born in Buenos Aires in 1905, Romero Brest enjoyed multiple interests in his youth, and excelled in a variety of sports. His father, Enrique Romero Brest, organized the National Institute of Physical Education. Jorge Brest started writing for his father's sports magazine, Revista de Educación Física. His research for these articles familiarized him with André Dunoyer de Segonzac's illustrations on the subject, and he began an intellectual interest in art. He enrolled at the University of Buenos Aires in 1926, earned a Law degree in 1933, and married Amelia Rossi.
Lewis Francis Brest (May 1842 – December 1915) was an American soldier who got the Medal of Honor for valor during the American Civil War.
Martin Brest (born August 1951) is an American film director, screenwriter, and producer.
Paul Brest (born c. 1940) is an American philosopher of constitutional law, an earlier president of the William and Flora Hewlett Foundation, and a former administrator of Stanford Law School. He is an influential theorist on the role of non-profit organizations in society and widely credited with coining the name originalism to describe a particular approach to interpreting the United States Constitution.
Vida Brest (true name Majda Peterlin) (July 1925 –November 1985) was a Yugoslav Slovene-language poet, author, journalist, and professor, best known for her juvenile fiction, often based on her experiences as a young Partisan during the Second World War. She was born in Sentrupert in Lower Carniola in 1925. At the age of 17 she joined the resistance movement and after the end of the Second World War became a journalist and teacher. She later devoted herself to writing, her main inspiration being her own experiences during the war, but also wrote fairy tales and children's stories. From a very early age, she also wrote poetry, with her first poems published by the Partisan press during the war. A selection of her best poems was published posthumously in the year 1995, selected and edited by Ivan Minatti.
Blazons & Genealogy Notes
1) (Kent). Sa. a cinquefoil betw. an orle of crosses crosslet or.
2) Gu. three bundles of arrows, three in each ar. feathered and banded or. Crest—An arm ppr. vested sa. holding in the hand a bow ar.