Bretherton Family Crest, Coat of Arms and Name History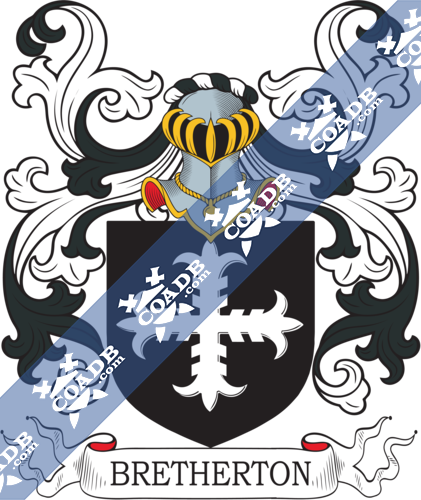 Bretherton Coat of Arms Gallery
Don't know which Coat of Arms is yours?
We can do a genealogical research. Find out the exact history of your family!
Learn More
Bretherton Origin:
England
Origins of Bretherton:
This unusual name is of early English origin and is a geographical surname acquiring from the place called "Bretherton" in the church of Croston, Lancashire. Strangely, the place name has held its original spelling. It wa noted as "Bretherton" in the "Cockersand Chartulary" of 1190. The name means "the settlement relating to the brothers or brother," acquired from either the Old Norse "braethr," brother, or Old English pre 7th Century "brethra," brothers, with Old English "tun," settlement, village. The new surname still most frequently appeared in Lancashire. One, Alice Bretherton married to Edmund Willeinson in February 1567, at Kirkham, in Lancashire, and Roger Bretherton married Anne Haddocke in October 1598, at St. James's, Clerkenwell, London.
Variations:
More common variations are: Breatherton, Brotherton, Bratherton, Bortherton Bretherten, Brethurton, Brotheraton, Brothewrton, Brothertn, Brothrton.
England:
The surname Bretherton first appeared in Lancashire where they held a family seat from very early times. Some say well before the Norman Invasion and the arrival of Duke William at Hastings in 1066 AD.
The very first recording spelling of the family was shown to be that of Henry de Brethirton, dated about 1397, in the "Preston Guild Rolls," Lancashire. It was during the time of King Richard II who was known to be the "Richard of Bordeaux," dated 1377 – 1399. The origin of surnames during this period became a necessity with the introduction of personal taxation. It came to be known as Poll Tax in England.
Ireland:
Many of the people with surname Bretherton had moved to Ireland during the 17th century.
Canada:
Some of the people with the surname Bretherton who came to Canada in the 19th century included John Bretherton who settled in Newfoundland in 1699.
New-Zealand:
Some of the population with the surname Bretherton who arrived in New Zealand in the 19th century included W. Bretherton arrived in Wellington, New Zealand aboard the ship "Wild Duck" in 1865. Arthur Bretherton and Joseph Bretherton, both arrived in Wellington, New Zealand aboard the ship "Maraval" in the same year1880.
Here is the population distribution of the last name Bretherton: England 1,135; Australia 668; South Africa 274; United States 228; New Zealand 208; Canada 36; Scotland 26; Spain 17; Mexico 3; Germany 2.
Notable People:
Philip Bretherton was born in May 1955. He is an English actor best known for his character as Alistair Deacon in the British television series As Time Goes By. He was born in Preston, Lancashire, and studied English and drama at the University of Manchester, where he was determined to become an actor.
Francis Patton Bretherton (born July 1935) is a mathematician and a professor emeritus of the section of Atmospheric and Oceanic Sciences at the University of Wisconsin, Madison.
Bartholomew Bretherton (c.1775–1857) was a coach owner and landholder who resided in Rainhill, near Liverpool. He founded St Bartholomew's Parish, Rainhill and owned Rainhill House, which became Loyola Hall.
David Bretherton (February 1924 – May 2000) was an American film director with more than 40 credits for films published from 1954 to 1996.
Blazons & Genealogy Notes
1) (Hey, co. Lancaster. 1664). Sa. a cross flory raguly sa.
2) (Rainhill, co. Lancaster). (This coat is borne on an escutcheon of pretence by the Marchesa Stapleton Bretherton. See Stapleton.) Per chev. engr. sa. and ar. in chief two lions pass. and in base a cross moline counterchanged.