Brewster Family Crest, Coat of Arms and Name History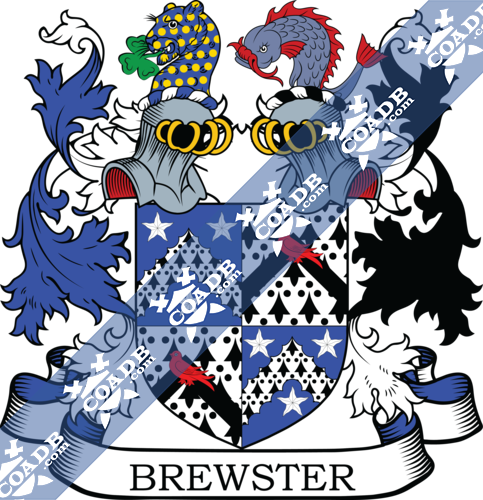 Brewster Coat of Arms Gallery
Don't know which Coat of Arms is yours?
We can do a genealogical research. Find out the exact history of your family!
Learn More
BREWSTER
The name Brewster is of Anglo-Saxon origin and considered occupational, it derived its name from craftsmen who made and distilled beer, ale, or certain other spirits. Breowan was the root word for someone "who distills." Until the 1200s, the term "brewster" was indicative of a female who made ale, beer, or spirits and brewer was the male equivalent. After the 13th century, both men and women who made beer, ale, and other spirits became known as brewers.
Surnames in Britain prior to the Norman conquest were largely unheard of. In the small settlements and villages which existed during earlier times, residents found little need for surnames as everyone in these communities new each other and a given name would usually suffice. However, with the passage of time, population growth and expansions of communities as villages gave way to towns and cities, it became necessary to add a qualifier to a people's names to distinguish them, one from another. Therefore one person may have been identified by their given name plus their occupation while another may have been identified by their given name and one of their parent's names. The introduction of surnames by the Normans after the invasion seemed to be the next logical step in this evolution. There was a boundless supply from which surnames could be formed, in addition to the use of patriarchal/matriarchal names or reference to the individuals occupation, there were things such as defining physical traits, a familiar geographical location or a topographical landmark found near the individuals home or birthplace, the name of the village in which the person lived, and so much more. Soon, surnames would come not just to represent an individual but whole families.
There often exists variations in spelling of many surnames, as with many given names which date back to the early centuries. The variation in spelling of both given and surnames during this time period can be attributed to a lack of continuity regarding guidelines for spelling which was compounded by the diversity of languages in use in European countries at this time. The variations in the spelling of the surname Brewster include but not limited to; Brostar; Broster; Brouster; Brewester and Brewster among others.
The earliest record of any variation of this surname is that of Richard Briweera which appears in the Hampshire tax rolls from 1192. These rolls, were a series of census and tax records kept by the English Treasury by order of King Richard I, with the oldest dating back to the 12th century. They hold the distinction of being the oldest consecutive set of records detailing English governance in the United Kingdom. These records span a period of over 700 years and have proven invaluable to researches over the years. Additional tax rolls show records of Roger Breuestere from Suffolk in 1221 and Emma Le Breustere who lived in Berkshire dated 1279. Church records also show Edward Brester was christened in London in1553.
The first recorded immigrant to America bearing the surname or any variation of the spelling was William and Love Brewster along with their son, Wrestling, who arrived on the Mayflower in 1620 and settled in Plymouth, Massachusetts. Jonathan Brewster landed and settled in Massachusetts in 1621.
There were also many immigrants to the British former colonies of New Zealand and Australia bearing the surname Brewster. William Brewster landed in 1850 and settled in Adelaide, Austria. Will Brewster landed in 1852 and settled in Southern Australia as did Abraham Brewster in 1857. William Brewster landed in 1876 and settled in Auckland, New Zealand and Charles Brewster landed in 1842 in Wellington, New Zealand.
Worldwide, the highest concentration of people with the surname Brewster are found in the United Kingdom, Canada, Australia, United States, and New Zealand . By state, the largest percentile of those with the surname Vermont live in West Virginia.
There are many persons of note who bear the surname Brewster. One such person is Sir David Brewster was born in the royal burgh Roxburghshire in Scotland. Brewster graduated from the University of Edinburgh where after graduation, he became a minister, however, Brewster only performed one service as he chose to devote his energy to true passion, the natural sciences. Due to his interest and devotion to science, he is noted as one of the most respected and revered physicist, mathematicians, astronomers, inventors, and historian of science. Brewster was also a writer, President of the Royal Society of Edinburgh, Fellow of the Royal Society of London, Fellow of the Society of Antiquaries of Scotland, Fellow of the Scottish Society of the Arts and a Member of the Institution of Civil Engineering. In 1838, Brewster was awarded Knight of the Royal Guelphic Order.
Blazons & Genealogy Notes
1) (Northamptonshire). Az. a chev. erm. betw. three estoiles ar. Crest—A leopard's head erased sa. (another, az.) bezantee.
2) (Withfield, co. Essex). The same Arms. Crest—A demi lion, holding in his dexter paw a club over his shoulder.
3) (Greenstead Hall, and Ashford Lodge, co. Essex, granted by Harvey, Clarenceux, to Humphrey Brewster, Esq., of Kashware, co. Suffolk, 1561). Motto—Verite soyez ma garde. Sa. a chev. betw. three stars ar. Crest—A beaver's head erased sa.
4) (Suffolk). Sa. a chev. erm. betw. three estoiles ar. Crest—A bear's head erased az.
5) (city of Dublin, settled in Ireland, temp. Charles II., granted 1814). Motto—Probitas cum fortitudine. Gu. on a chev. erm. three trefoils slipped vert betw. as many estoiles ar. Crest—A wolf's head couped gu. the neck charged with a trefoil slipped or. and pierced through with an arrow ca. barbed and feathered ar.
6) (French-Brewster: exemplified to Robert Abraham French, Esq., Lieutenant 1st Dragoon Guards, on his assuming by royal licence, 1874, the additional surname and arms of Brewster, in compliance with the testamentary injunction of his maternal grandfather, Right Hon. Abraham Brewster, Lord Chancellor of Ireland, 1867 to 1868). Motto—Verity soyez ma garde. Quarterly, 1st and 4th, az. on a chev. engr. erm. betw. three estoiles ar. a trefoil slipped vert, for Brewster; 2nd and 3rd, erm. a chev. sa. a martlet for diff., for French. Crests— 1st: A leopard's head erased az. bezante, in the mouth a trefoil slipped vert, for Brewster; 2nd: A dolphin naiant ppr., for French.