Brownsword Family Crest, Coat of Arms and Name History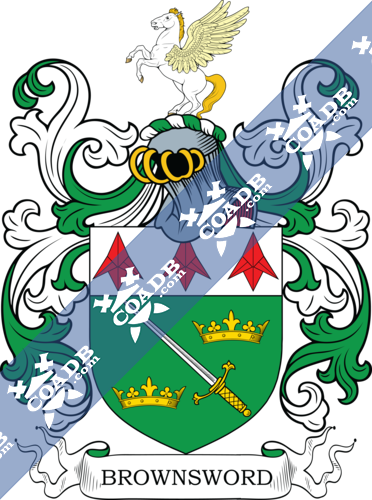 Brownsword Coat of Arms Gallery
Don't know which Coat of Arms is yours?
We can do a genealogical research. Find out the exact history of your family!
Learn More
Surname, meaning, origin and etymology
The surname "Brownsword" is a toponymic surname which originated during the reign of Anglo-Saxon tribes over Britain. The name was associated with families inhabiting the village of "Brownswolds"( often referred to as Brownsword) in the district Congleton of Cheshire county. The Brownswords held family seats in the village of Brownsword since ancient times. The etymology of the surname reveals that the name has been derived from an Olde English pre 7th century personal or by name "Brun or brown" alluding to color of hair or skin shade of an individual and the word "wald/weald" referring to a dense forest or land with high woods. The name was later also used to describe the residual waste land after deforestation. Owing to amalgamation of different elements of Latin, French, Greek and other languages with English throughout the middle ages, it was not uncommon for a single surname to be recorded differently. The names were recorded on the basis of they were pronounced rather than according to a standardized set of rules with regards to their spellings. Some of the spelling variations of the surname "Brownsword" include; Brownsword, Brownsworth, Brownswolds, Brownswerd, Brownseworthe, Brownsorde, Brounesword among numerous others.
Early Bearers of the surname
Some of the notables who shared the surname "Brownsword" during the post 1700 era include Jack Brownsword, a professional English footballer, Andrew Brownsword, an English entrepreneur and proprietor of the company "Forever friends" (A greeting card and gifts company) and a certain Roger Brownsword who was a professor of law at King's College London.
Early American and New World Settlers
Some of the early settlers with the surname "Brownsword" in the United States of America in the 18th century include a William Brownsword who landed on the shores of America in 1700 and a certain John Brownsword who settled in Pennsylvania in 1755.
Blazons & Genealogy Notes
Vert a sword in bend ar. hilt and pomel or, betw. two ducal coronets of the last, on a chief of the second three caltraps gu. Crest—A pegasus ppr.