Bryan Family Crest, Coat of Arms and Name History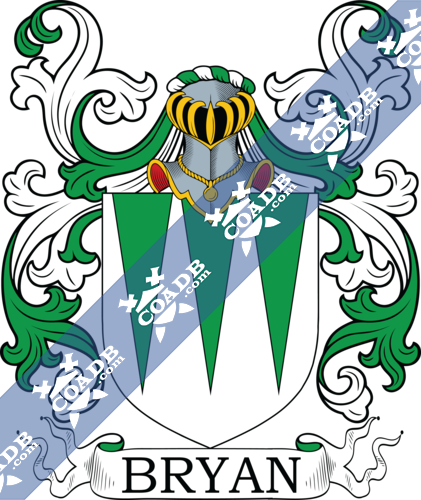 Bryan Coat of Arms Gallery
Don't know which Coat of Arms is yours?
We can do a genealogical research. Find out the exact history of your family!
Learn More
Common spelling variants of this ancient Norman/English name are Bryan, Bryant, Brien, Brian, Bryant, and Briant. This surname is baptismal meaning "the son of Bryan". William Arthur, in his book an Etymological Dictionary of Family and Christian Surnames, claims the surname Bryan is of Gaelic origin and signifies dignity and honor, stating that the word bri means exalted and ant, a termination. In his book Patronymica Britannica, Mark Antony Lower writes "Bryan is a Celtic personal name of great antiquity, implying originally, regains, or chieftain."  Lower also states "Of this family was the chivalrous Sir Guy Bryan Lord Bryan, K.G temp. Edward III., and standard bearer at the celebrated battle of Calais". Another author believes it's a habitational surname (de Brionne) comes from a place in northern France (in Eure and Creuse), and believes it comes from the Celtic person name Brien (O'Brien) and had also been borrowed by the Vikings, who introduced it into northwestern England prior to the Norman Conquest. Yet another author believes it derives from de Brienne from Brienne-le-Château.
In his book, A Dictionary of English and Welsh Surnames, Charles Wareing Bardsley states "Bryan was not an importation from Ireland, though its popularity as an English font-name is gone. It lingered in North Yorkshire, Westmoreland, and Furness till the close of the last century".  Another author, C.M. Yonge, states, "The Bretons, who joined in the Norman Conquest, imported it to England" and "Brien was always a favourite in Brittany, and is very common as a surname with the peasantry there". In his book H.B. Guppy, he states "In addition to Leicestershire, the Bryans now characterise Derbyshire, Shropshire, Gloucestershire, and Oxfordshire"
Early notables bearing this surname include Wydo Bryan (Devon), Alicia Brien (Cambridgeshire), Acelot Bryon (Cambridgeshire), Thomas filius Brian (York), Alan filius Brian (York), and Brian de Brampton (Gloucester) recorded in the Hundred Rolls of 1273 AD. A William Brian was recorded in county Somerset during the reign of King Edward III and Kirby's Quest. A Colin Briant was recorded in London in 1269 AD as recorded in the Chronicles of the Mayors and Sherriffs of London. A Radulfus filius Brien is recorded in the Domesday Book of Essex from 1086 AD. Early marriages include John Briand to Barbara Backhouse at St. George's Hanover Square in 1772 AD.
In his book titled The Landed Gentry, genealogist Bernard Burke discusses two branches of this family: Bryan of Jenkinstown and Bryan of Upton. For the first branch, the first notable mentioned is George Leopold Bryan of Jenkinstown in county Kilkenny, who was High Sheriff in 1852 and married Lady Elizabeth Georgiana Conyngham and had one daughter named Mary Frances Margaret. He traces the lineage back to the immediate ancestor of this branch: John Bryan of Kilkenny, son of John Bryan, who married Anna Stains and had one son named James Bryan who was born in 1673. James was the father of Pierce Bran who married Jane Aylmer of Lyons and had the following children: James, George (of Portland Place), Aylmer, Pierce, Rose, Alice, and Mary. The eldest son, James (1719-1805) was succeeded by his nephew, George Bryan, born in 1770, who married Maria Louisa, Comtesse de Rutaut in 1794 and had two children: Mary and George. George Bryan was born in 1796 and married Margaret Tablor in 1820 and had the following surviving children: the aforementioned George Leopold and Augusta Margaret Gwedaline (who married Edward Joseph, Lord Bellew). The family motto is Fortis et fidelis, meaning "Brave and faithful".
For the second branch, the first notable mentioned is Loftus Anthony Bryan (born 1867) of Upton and Bormount in county Wexford. The family is of English extraction and traces its immediate lineage back to Abraham Bryan, a merchant of Dublin, who lived during the time of Queen Anne, who had two sons: Jacob and Philip of Norwich. The elder son, Reverend Jacob Bryan (1708-1794), was Rector of Kilrush, in the diocese of Meath, and married Mary Dickinson of Streetgate and Cumberland. They
had three childen: Isaac, Daniel, and a daughter whose name was not recorded by Burke. Issac, born in 1746, was a reverend and Rector of Horetown, who married Mary D'Arcy of Coolure and had two daughters, as well as three sons: Jacob, Meade, and Loftus Anthony. Loftus Anthony Bryan was High Sheriff of Dublin from 1837-37 and married Marian Izon and had two children: Isaac William and Loftus Anthony (1837-1865). In turn, Loftus Anthony had a son of the name, which is the aforementioned notable at the top of this paragraph. This family's motto is Ferro mea recupero.
Early settlers in America include Alexander Bryan, of Milford, CT, recorded in 1639, who was a man of some influence in the New Haven Colony, and after the union of Connecticut was Assistant 1668-73. He had a wife named Ann, who died 1661, and he subsequently married the widow of Samuel Fitch, the school-master of Hartford. He died in 1679 and had a son name Richard and other issue. Another early settler was Joseph Bryan who left the port of London to come to Virginia in January of 1634 upon a ship named the Bonaventure. A one Joseph Bryan was aboard the Hopewell that went to Barbadoes in February of 1634. A one Henry Bryan was aboard the Expedition that sailed to Barbadoes in November of 1635. A one Thomas Bryant of Bampton in Devonshire, a husbandmen aged 23 years, was recorded as going to St. Christopher in 1634 under the Allegeance of Mr. William Gourney.
Sir Francis Bryan (1490-1550) was knighted for his service in the field of battle in 1522, involved in Henry VIII's divorce. This English coutier and diplomat was Lord Marshall of Ireland in 1548.
Blazons & Genealogy Notes
1) (Lord Bryan, borne by Sir Guy de Bryan, summoned to Parliament 1350, K.G. temp. Edward III.,   elected in the place of Sir John Chandos, one of the Founder Knights). Or, three piles conjoined in base az. Crest—On a chapeau gu. turned up erm., a hunting horn sa. garnished or.
2) (Bedfordshire). Or, three piles meeting near in the base, vert within a bordure az. bezantee.
3) (Cheshire and Cornwall). Erm. a lion ramp. gu. over all a bend sa. bezantee.
4) (Devonshire and Gloucestershire). Ar. three piles az.
5) (William Bryan, Deputy Ulster King-of-Arms, 1766). Ar. three piles gu. Crest—Out of clouds a naked arm embowed, the hand grasping a dagger, all ppr. Motto—Nec avarus nec profusus.
6) (Scarr, co. Wexford). Ar. three piles gu. Crest—A Saracen's head erased at the neck sa.
7) (Leicestershire and Wrotham, co. Kent). Or, three piles az. a canton erm. Crest—On a garb, lying fesseways, a bird.
8) (Bolingbroke, co. Lincoln). Or, three piles meeting near in the base, az. within a bordure engr. erm. Crest—A greyhound courant, reguard. erm. collared or.
9) Ar. three piles wavy vert, within a bordure az. an annulet or.
10) Ar. three piles vert.
11) Or, three piles az. on a canton paly of six ar. and of the second a bend gu. charged with three eagles displ. of the field.
12) Or, two lions ramp. endorsed gu.
13) Erm. a lion ramp. gu. crowned or, within a bordure sa. bezantee.
14) Az. on a chev. or, three crescents gu. in chief a dolphin ar.
15) Az. on a chev. ar. three crescents gu. in chief a dolphin naiant of the second.
16) Az. on a chev. or, three crescents of the first, in chief a dolphin naiant ar.
17) Quarterly, or and az. on a bend gu. three handcuffs of the first.
18) (Jenkinstown, co. Kilkenny, granted to James Bryen, of Bawnmore, Kilkenny, 1684). Gu. three lions pass. two and one or. Crest—A sword erect ppr. pommel and hilt or, betw two lions gambs couped erect gu. Motto—Fortis et fidelis.
19) Or, three piles az. Crest—On a chapeau gu. turned up erm. a buglehorn or, tipped and garnished sa. sans strings.
20) (granted to Loftus Anthony Bryan, Esq., of Upton and Bormount, co. Wexford). Erm. a lion ramp. gu. crowned or, betw. two cinquefoils in chief and a fleur-de-lis in base az. a canton of the second charged with three bars dancettee ar. Crest—On a mural crown ppr. a lion ramp. gu. collared gemelle or, and charged on the shoulder with a cinquefoil ar. Motto—Ferro mea recupero.