Bryant Family Crest, Coat of Arms and Name History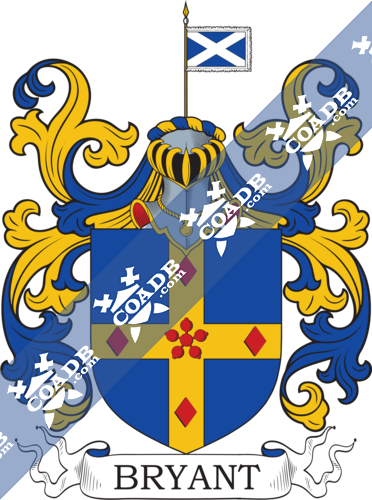 Bryant Coat of Arms Gallery
Don't know which Coat of Arms is yours?
We can do a genealogical research. Find out the exact history of your family!
Learn More
Bryant Surname Name Meaning, Origin History, & Etymology
The Bryant surname was first discovered in southern Wales, in a place called Denbigh. The family was given lands by William the Conqueror for their assistance at the Battle of Hastings in 1066. This battle resulted in a win for the Normans, which is why William is also found to be called William of Normandy. The origin of the name however, is Old Breton-Irish origin and derives from the old Celtic name "Brian". "Bre" meaning hill, or "brigh" meaning strong. These Normans brought this name in during the invasion or England and Ireland in the 12th Century. This name was often mistaken for the native Irish version in Irealnd, which were born by of the most notable Irish septs, who were ancestors of Brian Boru. Boru had risen to the highest kinship of Ireland in 1002. He was part of the famous clan of O'Brien. The name was also used by the Vikings who introduced it in North West England, before the Conquest of England by the Normans. The name Brien was also very common in Brittany, France as well. Whatever the origin, whether Irish, French, Gaelic, or Nordic, it translates to "hillman".
Spelling Variations
Some spelling variants of the surname Bryant include Bryan, Brien, Brient, Bryant, Brian, Breine, Brine, Bryand, Briand, Briant, O' Brien, O'Brian, and Bryane.
Popularity & Geographic Distribution
The last name of Bryant is the 2,112th most common surname in the world, according to Forebears. It is most prevalent in the United States, which has 203,523 bearers of the name. The next most populous with the name is England with 18,418. Other countries include Australia with 9,769, Liberia with 6,656, Canada with 4,924, South Africa with 3,068, New Zealand with 2,457, Wales with 1,355, Scotland with 866, and Ghana with 799 in 2014.
Early Bearers of the Surname
In 1630, a widow named Anne Bryant had three sons, Thomas, Stephen, and John. The Bryant family was friends with a man named John Doane who offered the three men a chance to work in the New World, if she married him. He was a well known lawyer who was seen highly by Governor William Bradford. In the oldest records of the colony, John Doane's name appears several times. He held many positions and had settled many legal affairs of orphans. In 1636, he was appointed a member of a committee to assist the governor in revising laws and orders. In the Plymouth court records, Thomas Bryant was a servant of Samuel Eddy. Thomas had ran away for 5 days and was lost in the woods, eventually to be found by an Indian. For his punishment, he was sentenced to be privately whipped before the Governor and council. John Bryant, the youngest of the brothers, became the leader of the what is now known as the John Bryant line of Scituate, Massachusetts. The colony records of about 45 years all reveal the
life of him in legal court. In 1638, he made his debut as a teenager as he was charged with drinking at John Emerson. He was released, but a man by the name of James Till was whipped for "alluring" John to drink. In 1641, he was again in court for "drinking tobacco upon the highway." In 1643, he settled down and married Mary Lewis and they lived in Scituate. He then went on to have a second wife by the name of Elizabeth. With his struggles as a young man with the court, he eventually became a court juror for fifteen years between 1659-1681. Five of those years being on the grand jury called the "grand enquest" at Plymouth. In 1666, John's name appeared on a the list that was drawn up to show how much each person who lived in Scituate to contribute to the purchase of Native American land going west. In 1659, a feud broke out between John Bryant and a man named William Randall. Randall charged him with trespassing on his land and selling timber that belonged to Randall. John was found innocent, where his brother Stephen was on the jury. He then asked for a different jury and in 1660, he was rewarded with 5 pounds. A year later, John sued Randall, for "defaming him with lies and slander." Randall had to pay him 20 shillings. He again complained to the court about him for not sealing a dead that John bought from Randall. Again in 1667, Randall
complained to the court about John. They continued to go back and forth and in the end Randall ended up having to apologize and rewarded John with 15 pounds. In 1667, John also charged two men with trespassing on his land and selling timber, just like he was sued for. Ironically, he was awarded 10 shillings. In 1683, he was appointed to an agent which allowed him to prosecute and charge anyone carrying away timber from the Scituate's common land. In 1673, he became a surveyor of roads and eventually deputy at Scituate. He also had four sons named, Daniel, Joseph, Thomas, and John Jr. John's brother, Stephen Bryant, had many connections as well because of his stepfather, John
Doane. John was a friend of the colony's leaders, and he was appointed to assistants of the government, according to Governor William Bradford's Plymouth Plantation. These assistants gave the power to him to own land for himself. In 1650, he bought 100 acres of land in what is now called Silver Lake. This land was then passed down to his son, John and then again through many generations of Bryants. Stephen ended up marrying John Shaw's daughter named Abigail, and having eight children. Their names Abigail, John, Mary, Stephen, Sarah, Lydia, Elizabeth, and Mehittable. In 1651,
Stephen bought 8 acres of land from Jonathan Shaw, and he sold four of those acres months later to William Ford. He had many transfers of land such as these over the years, and he sold and purchased from many men including Samuel Wood, Jonathan Shaw, Edward Gray, Jacob Cook, Benjamin Eaton, and Samuel Eddy. William Bradford wrote in his journal of Plymouth Colony about the land that was a vast area of
swamp and overgrown with cedar trees. There were bogs, marshes, and many other amazing pieces of nature. There were bear, deer, rabbit, moose, ducks, turkeys, geese, pigeons, pickerel, red perch, streams, ponds, beaver, skunks, and other walks of nature on this land. Cedar trees were one of the first manufacturing enterprises in the New World. These trees were made into barrels, which were then used to ship tar, pitch, wine, and beer back to England. The land was passed down to William Cullen Bryant and 10 generations later it continued. On June 6th, Stephen was presented in court for carrying one of these barrels of cedar to the tar pits on the Lord's day. He was cleared with admonition. In 1651, he made numerous other transactions including buying a cow from Samuel Culbert for two barrels of tar and two bushels of corn from the Indians. They also appeared in court that year to complain about Susannah Haward, Edward Hall, and John Haward of defamation. Stephen was also appointed to many
public offices according to the Plymouth town records. He was appointed as a constable, road surveyor, and to serve on juries. A few generations later, in 1737, Nathaniel Bryant was born on June 21st, in Plympton, Massachusetts. Nathaniel was in Captain Josiah Thacher's Company and Colonel John Thomas
Regiments, which landed at Halifax, Nova Scotia. On a venture in the French and Indian War they were aiding the British against the French on May 11th, 1759. In 1748, the Governor of Massachusetts asked for a settlement at Halifax to diminish the threat of the French in Massachusetts. They continued to fight the French from Quebec, and they ended up falling on September 18th, 1759. The list recorded in Thacher Company's records named Nathaniel at Pisquet on June 24th, 1760. He was one of 103 men on the list, which also included Stephen Bryant. Governor Lawrence of Nova Scotia reported that in 1760 it said that every single soldier that has come to the province has either quitted it or became a dram seller. After it fell, Nathaniel returned to Plympton, Massachusetts.
To receive a complete surname meaning report by PDF you can order our SURNAME MEANING PACKAGE for $129.   This report is great to share with family and friends.  It includes everything you see above plus any other information we can find on the specified surname.  It does take approximately 10 to 15 days for us to complete this custom report.
To receive a direct lineage & coat of arms search for your specific line(s) you can order one of our GENEALOGY PACKAGES ranging in price from $249 to $999.   All research is completed by a professional genealogist with over 30 years' experience.  All reports and coat of arms files are sent by email in PDF and JPG format.
Blazons & Genealogy Notes
Az. on a cross or, a cinquefoil betw. four lozenges gu. Crest—A flag az. charged with a saltire ar.