Burman Family Crest, Coat of Arms and Name History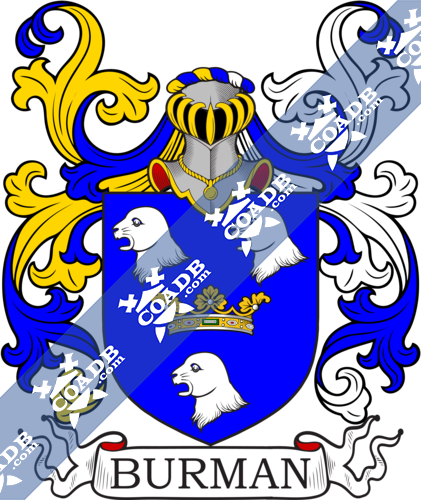 Burman Coat of Arms Gallery
Don't know which Coat of Arms is yours?
We can do a genealogical research. Find out the exact history of your family!
Learn More
Burman Origin:
England:
Origin of Burman:
This unique and interesting surname is one of a different style of the surname Burkman, which is of Anglo-Saxon origin, and acquired from the Middle English (1200-1500) words "burghman, borughman," and from the Olde English pre 7th Century "burhmann," which means "residents of a defended town." The first component is "burh" itself acquired from the Old High German "burg," which was the common Germanic word for protection. In the Middle Ages, any old habitation had to be protected, but in England, the Middle English term "burc" especially came to mention the area of a first hill castle. However, Burkman was frequently provided to recognize one owner of the land or buildings by "burgage" (from the Latin "burgagium"; this related to the payment of a fixed money tariff as reversed to money in kind); in Scotland it related to the payment of service, protection of the town. The new surname can appear as Burkman, Burman, Borro(w)man, Barrowman, and Barryman. Listed in the London Parish Records are the weddings of Robert Burman and Elizabeth Griffen, in June 1570, at St. Dunstan's, Stepney, and of William Burman and Agnes Halsnode in June 1571, at St. Peter's, Westcheap.
Variations:
More common variations of this surname are: Bourman, Buryman, Burrman, Buriman, Buurman, Burmann, Buhrman, Buerman, Buraman, Bureman.
England:
The surname Burman first appeared in Southern England, where an Edricus Buriman was recorded in Hampshire in 1148. Other first registers contain as Alexander Beriman, in Berkshire in 1176 and William Burman, on record in Gloucester in 1221 in the Assize rolls. A Burman family has long well settled in neighboring Warwickshire.
The very first recording spelling of the family was shown to be that of William Burman (Burghman), which was dated 1221, in the "Assize Rolls of Gloucestershire." It was during the time of King Henry III, who was known to be the "The Frenchman," 1216 – 1272.
United States of America:
Individuals with the surname Burman settled in the United States in three different centuries respectively in the 17th, 18th, and 19th. Some of the people with the name Burman who settled in the United States in the 17th century included John Burman, who arrived in Virginia in 1662.
Some of the individuals with the name Burman who settled in the United States in the 18th century included Eleanor Burman, who settled in Massachusetts in 1728. Eleanor Burman, who arrived in Boston, Massachusetts in 1728. Johannes Burman, who came to Philadelphia in 1767. Johannes Burman, who landed in Pennsylvania in 1767. Mary Burman, who arrived in Philadelphia, Pennsylvania in 1773.
Some of the people with the name Burman who settled in the United States in the 19th century included James Burman, who landed in San Francisco, California in 1851.
Here is the population distribution of the last name Burman: United States 3,865; England 2,501; India 12,482; Australia 737; Finland 423; Canada 599; Israel 471; Argentina 418; Sweden 3,524; South Africa 986.
Notable People:
Bari Dreiband-Burman was an American make-up artist, selected for an Academy Award for Best Makeup and Hairstyling.
Barney Burman was an American expert in make-up.
Barry Burman (1943–2001), was an English figurative expert.
Ben Lucien Burman (1896–1984), was an American writer and scholar.
Bob Burman (1884–1916), was an American racecar driver.
Carina Burman (born 1960), is a Swedish novel writer and literature researcher.
Daniel Burman (born 1973), is an Argentinian film producer.
Erica Burman (born 1960), is a British expert in psychology.
Jayasri Burman (born 1960), is an expert in Indian history.
Johannes Burman (1707–1780), was a Dutch biologist and doctor.
Karl Burman (1882–1965), was an Estonian builder and animator.
Maya Burman (born 1971), is an Indian artist and daughter of Sakti
Nicolaas Laurens Burman (1734–1793), was a Dutch biologist and son of Johannes
Pieter Burman the Elder (1668–1741), was a Dutch researcher.
Rahul Dev Burman (1939–1994), was a Bollywood musician and son of Sachin.
Sachin Dev Burman (1906–1975), was a Bollywood songwriter and father of Rahul.
Sakti Burman (born 1935), is an eminent Indian artist who lived in France
Tony Burman (born 1948), is a Canadian scholar and Editor in head office of CBC News
William Francis Burman (1897–1974), was a World War I soldier who was part of the Victorian Cross.
Blazons & Genealogy Notes
Notes: None. Blazon: Paly of six ar. and sa. a chief wavy az. Crest— A demi peacock az.
Notes: (Stratford-on-Avon, co. Warwick). Blazon: Az. a ducal coronet or, betw. three seals' heads erased ar. two and one.