Carlsen Family Crest, Coat of Arms and Name History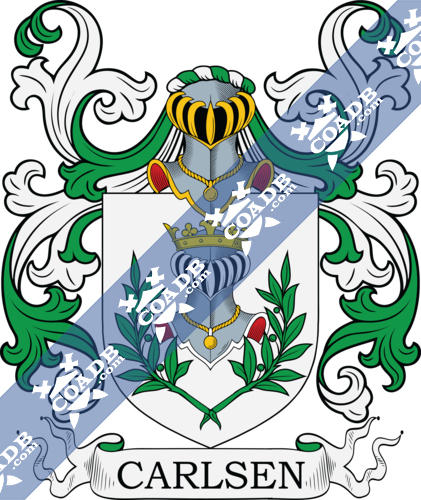 Carlsen Coat of Arms Gallery
Don't know which Coat of Arms is yours?
We can do a genealogical research. Find out the exact history of your family!
Learn More
This section has not yet been completed. If you are interested in having your genealogy done, we offer an affordable research servicethat traces your lineage so you can learn more about your ancestors, where they came from, and who you are.
Blazons & Genealogy Notes
1) Danemark – (M. ét.) – D'argent à un casque de tournoi au naturel couronné d'or taré de front embrassé par deux branches de laurier de sinople. English: Argent a tournament helmet proper crowned or facing the front embraced by two laurel branches vert.
2) Danemark – (M. ét.) – De gueules à un deux bras parés d'azur mouv des flancs de l'écu les mains de carnation tenant une épée d'azur garnie d'or la pointe en bas Cimier un bras paré d'azur tenant une épée d'argent en pal. English: Gules two arms clothed azure coming from the flanks of the shield, the hands carnation holding a sword azure hilt and pommell or the point downwards Crest: the arms clothed azure holding a sword argent in pale.
3) (Edle von) – Hesse – (Rec. de nob., 25 juin 1827) – D'azur à deux lions affrontés Casque couronné Cimier trois plumes d'autruche une d'or entre deux d'azur. English: Azure two lions affronty Crowned with a helmet Crest: three ostrich feathers one or between two azure.
4) Danemark – (An., 4 fév. 1817) – D'argent à trois roses de gueules Casque couronné Cimier une bannière de gueules accostée de douze pennons alternativement de gueules et d'argent Supports deux lions coiffés de casques sommés de sept plumes de faisan. English: Argent three roses gules Crowned with a helmet Crest: a banner gules surrounded by twelve pennants alternately gules and argent Supporters: two lions wearing helmets topped with seven pheasant feathers.
5) Suède – (Comtes, 1674. M. ét. en 1708) – Écartelé au 1 d'azur au lion naissant d'or couronné du même tenant une épée d'argent garnie d'or aux 2 et 3 d'or à une couronne d'or en chef et trois boules mal-ordonnées d'azur en pointe au 4 d'azur au lion naissant de gueules couronné d'or supportant de sa patte dextre une boule du même Sur le tout d'argent à un homme d'armes armé de toutes pièces au naturel coiffé d'un turban d'argent tenant de sa main dextre une pique et de sa senestre un bouclier ovale d'argent ch de cinq losanges de sable appointée en croix Trois casques couronnés Cimiers 1° un bras armé au naturel mouv d'un demi-vol d'argent et déchargeant un pistolet au naturel en bande 2° l'homme d'armes issant 3° une épée d'argent garnie d'or entre deux bannières accostées d'argent le tout brochant sur six bannières de gueules bordées d'argent trois à dextre et trois à senestre Lambrequin à dextre d'or et d'azur à senestre d'argent et de gueules. English: Quarterly 1st azure a lion naissant or crowned of the same holding a sword argent hilt and pommell or 2nd & 3rd or a crown or in chief and three roundels disordered [1 and 2] azure in base 4th azure a lion naissant gules crowned or supporting in his dexter hand a ball [shaded roundel] of the same overall an escutcheon argent an fully armoured manppr wearing a turban argent holding in his dexter hand a pike [weapon] and his sinister hand aand oval shield argent charged with five lozenges sable in cross Crowned with three helmets Crest: 1st an armoured arm proper coming from a single wing argent and discharging a pistol proper in bend 2nd the armoured man issuant 3rd a sword argent hilt and pommell or between two banners surrounding him argent all covering over six banners gules bordered argent three to the dexter and three to the sinister Mantling: to the dexter or and azure to the sinister argent and gules.
6) Suède – (An., 1719 et 1720) – Trianglé d'azur et d'or au moyen de deux traits horizontaux de trois traits diagonaux de dextre à senestre et de trois autres traits diagonaux de senestre à dextre Casque couronné Cimier un vol aux armes de l'écu. English: A field of triangles azure and or of two lines horizontally and three lines diagonally from dexter to sinister and three other lines diagonally from sinister to dexter Crowned with a helmet Crest: a pair of wings with the arms of the shield.