Carlson Family Crest, Coat of Arms and Name History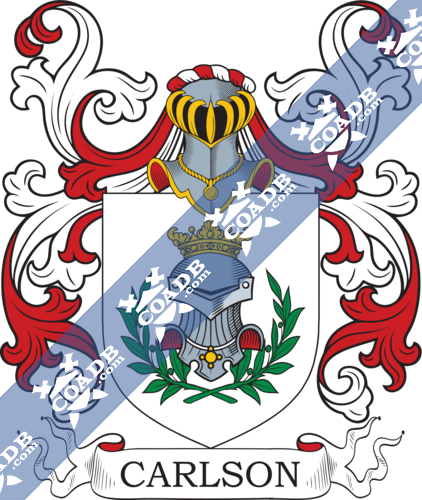 Carlson Coat of Arms Gallery
Don't know which Coat of Arms is yours?
We can do a genealogical research. Find out the exact history of your family!
Learn More
Carlson Surname Name Meaning, History & Etymology
German, Scandinavian meaning relationship name from the personal name of Carl or Karl + sohn 'son'. It is derived from the Germanic personal name of Carl which means man. Otherwise the son of Carl (man). Possibly originated with the immigration of German miners into the countries of Norway, Sweden and Denmark in the 16th century.
Spelling Variations
Charleston, Charleson, Charlson, Cherlson, Churlson, Carlsen, Carlsson, Karlson, Charlestone
Popularity & Geographic Distribution
Early Bearers of the Surname
Henry ke Karle 1273 County, Yorkshire; Robert Carlesonne 1273 Cambridge; William Carlson 1379 Yorkshire; Elizabeth Carlson 1556 Penrith, Cumb; Paull Carlson 1622 Snaith, WR, Yorkshire; Franiciseus Carlson 1639 Little Snoring, Norfolk; Hans Carlson 1763 Kingston upon Hull, ER Yorkshire; Timothy Carlson 1772 Whitwell, Norfolk; Joan Carlson 1804 Newcastle upon Tyne, Northumberland; Charles Carlsson 1823 Spitalfields, Middlesex; Augustus Carlsson 1881 Westminster, Middlesex (born in Sweden); Teador Carlsson 1881 Bloomsbury, Middlesex (born in Stockholm, Sweden; Henning Theodor Karlsen 1891 Kingston upon Hull, ER Yorkshire;
Carlson Surname General History
Carlson has Germanic origins and originates from the personal name of Karl or Carl meaning 'man', later during the medivial period it was latinized to Caolus and Charles. It was introduced into England by the Norman-French after the invasion of 1066, but did not become popular until the Stuart period around 1603. It was introduced into Scotland by the Stuarts during the 15th century. Another possible origin of the name is Anglo-Saxon which comes from the word 'ceorl' meaning a farmer or bondsman.
Notables
A. J. Carlson (1875 – 1956), Swedish American physiologist
Amy Carlson (b. 1968), American actress
Arne Carlson (b. 1934), Governor of the State of Minnesota
Brad Carlson (b. 1950), American drummer (formerly of Cheap Trick) better known as Bun E. Carlos
Catherine Carlson (?-?), Canadian judge in Manitoba
Charlie Carlson (b. 1943), Author and film producer in Florida
Chester Carlson (1906 – 1968), American physicist, inventor, and patent attorney
Christian Thomsen Carl, also referred to as Carlson (1676-1713), Danish navy officer
Clifford Carlson (1894 – 1964), American, University of Pittsburgh basketball coach, physician for Carnegie Steel Company
David Carlson (b. 1952), American composer
Doug Carlson (1939-2013), American politician
Dylan Carlson (b. 1968), American, band member of band Earth
Edward Carlson (1911 – 1990), American, Seattle civic leader
Emily Carlson (?-?), American, figure skater, broadcast journalist
Evans Carlson (1896 – 1947), USMC leader in World War II
Frank Carlson (1893 – 1987), American politician
Fritz Carlson (1888 – 1952), Swedish mathematician
Grace Carlson (1906 – 1992), American Marxist politician
Gretchen Carlson (b. 1966), American television personality and former Miss America
Gustaf Carlson (1894 – 1942), Swedish footballer
JB Carlson (b.1974), American founder, Chief Executive, CTB, of entitiies engaged in utiliizing B-corps, disruptive technology, two-sided markets. Mr. Carlson's last name is Patronymic because his father's name is Carl. Mr Carlson also serves the United Nations.
Jeffrey Carlson (b. 1975), American actor
Jim Carlson (disambiguation)
Kelly Carlson (b. 1976), American actress
Kevin Carlson (fl. 1980s-present), US puppeteer and film special-effects expert
Kyle and Lane Carlson (b. 1978), American models
Len Carlson (1937-2006), Canadian voice actor
Linda Carlson (b. 1945), American actress
Margaret Carlson (?-?), American journalist
Margery Claire Carlson (1892-1985), American botanist
Paul Carlson (1928 – 1964), American medical missionary
Paul Howard Carlson (born 1940), American historian
Paulette Carlson (b. 1952), American singer
Richard Carlson (actor) (1912 – 1977), American
Richard Carlson (author) (1961 – 2006), American
Robert James Carlson (b. 1944), American, Roman Catholic bishop
Robert S. Carlson, American college sports coach
Roy Carl Carlson, American politician
Sannie Carlson (b. 1970), Danish Eurodance singer better known as Whigfield
Tom Carlson (b. 1941), Nebraska politician
Tucker Carlson (b. 1969), American news pundit
Veronica Carlson (b. 1944), English model and actress
William H. Carlson (1864 – 1937), American politician
William S. Carlson, explorer of Greenland and former President of four universities
Shawn Carlson American physicist, science writer, and a STEM educator
Carlson Gracie (1935 – 2006), Brazilian martial artist
Carlson Young (b. 1990), American actress
Christy Carlson Romano (b. 1984), American actress, dancer, author and singer
Blazons & Genealogy Notes
1) Écartelé au 1 d'azur au lion naissant d'or couronné du même tenant une épée d'argent garnie d'or aux 2 et 3 d'or à une couronne d'or en chef et trois boules mal-ordonnées d'azur en pointe au 4 d'azur au lion naissant de gueules couronné d'or supportant de sa patte dextre une boule du même Sur le tout d'argent à un homme d'armes armé de toutes pièces au naturel coiffé d'un turban d'argent tenant de sa main dextre une pique et de sa senestre un bouclier ovale d'argent ch de cinq losanges de sable appointée en croix Trois casques couronnés Cimiers 1° un bras armé au naturel mouv d'un demi-vol d'argent et déchargeant un pistolet au naturel en bande 2° l'homme d'armes issant 3° une épée d'argent garnie d'or entre deux bannières accostées d'argent le tout brochant sur six bannières de gueules bordées d'argent trois à dextre et trois à senestre Lambrequin à dextre d'or et d'azur à senestre d'argent et de gueules. English: English: Quarterly 1st azure of lion naissant or crowned of the same holding a sword argent hilt and pommell or 2nd and 3rd or with a crown or in chief and three balls disordered [1 2] azure in base 4th azure of lion naissant gules crowned or supporting in its paw dexter a ball of the same overall argent with a man of arms armed fully proper wearing on the head a turban argent holding in his dexter hand a pike [weapon] and in his sinister a small oval shield argent charged with five lozenges sable touching at the point in cross Crowned with three helmets Crests: 1st an arm armoured proper coming from a single wing argent and discharging a pistol proper bendwise 2nd the man of arms issuant 3rd a sword argent hilt and pommell or between two square flags side by side argent all covering over six square flags gules fimbriated argent three to the dexter and three to the sinister Mantling: to the dexter or and azure to the sinister argent and gules.
2) Suède – (Comtes, 1674. M. ét. en 1708) – Trianglé d'azur et d'or au moyen de deux traits horizontaux de trois traits diagonaux de dextre à senestre et de trois autres traits diagonaux de senestre à dextre Casque couronné Cimier un vol aux armes de l'écu. English: English: Triangular azure and or formed of two lines horizontal and three lines diagonal from dexter to the sinister and of three others lines diagonal from sinister to the dexter Crowned with a helmet Crest: a pair of wings with the arms of of the shield.
3) Suède – (An., 1719 et 1720) – D'or à une aigle de profil essorante au naturel sur une terrasse de sinople. English: English: Or with an eagle in profile soaring proper on a mount vert.
4) Danemark – (M. ét.) – De gueules à un deux bras parés d'azur mouv des flancs de l'écu les mains de carnation tenant une épée d'azur garnie d'or la pointe en bas Cimier un bras paré d'azur tenant une épée d'argent en pal. English: English: Gules with two arms clothed [dressed] azure coming of flanks of the shield the hands carnation holding a sword azure hilt and pommell or the base downwards Crest: an arm clothed [dressed] azure holding a sword argent palewise.
5) Danemark – (M. ét.) – D'azur à deux lions affrontés Casque couronné Cimier trois plumes d'autruche une d'or entre deux d'azur. English: English: Azure two lions affrontant [face to face] Crowned with a helmet Crest: three ostrich feathers an or between two azure.
6) (Edle von) – Hesse – (Rec. de nob., 25 juin 1827) – D'argent à trois roses de gueules Casque couronné Cimier une bannière de gueules accostée de douze pennons alternativement de gueules et d'argent Supports deux lions coiffés de casques sommés de sept plumes de faisan. English: English: Argent three roses gules Crowned with a helmet Crest: a square flag gules having to the sides twelve small triangular flags alternately gules and argent Supporters two lions wearing helmets surmounted by of seven feathers of a pheasant.
7) Danemark – (An., 4 fév. 1817) – Parti au 1 d'or à un faisceau de bâtons de couleur brunâtre lié en sautoir de gueules et ayant au milieu une flèche sans plumes au 2 d'azur à un buste d'homme posé de profil habillé d'or au rabat d'argent coiffé d'un bonnet pointu d'or retroussé de gueules Casque couronné Cimier le meuble du 1 tenu par deux bras armés au naturel Lambrequin d'or et d'azur. English: English: Per pale 1st or with a bundle of sticks of the colour brunatre tied [banded] saltirewise gules and having in the middle an arrow without feathers 2nd azure with a bust of a man placed in profile dressed or with flaps argent wearing on the head a hat pointed or turned up gules Crowned with a helmet Crest: the charges of the 1st held by two arms armed proper Mantling: or and azure.