Coletti Family Crest, Coat of Arms and Name History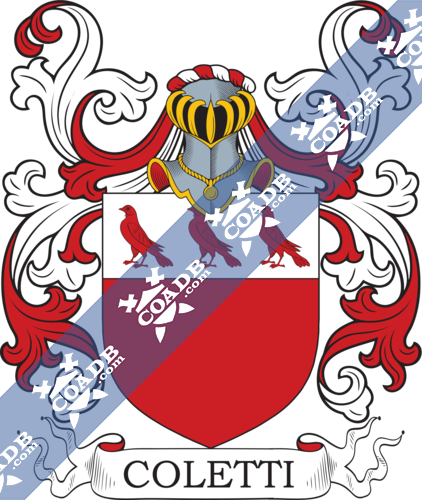 Coletti Coat of Arms Gallery
Don't know which Coat of Arms is yours?
We can do a genealogical research. Find out the exact history of your family!
Learn More
This section has not yet been completed. If you are interested in having your genealogy done, we offer an affordable research servicethat traces your lineage so you can learn more about your ancestors, where they came from, and who you are.
Blazons & Genealogy Notes
1) Udine – Di rosso e al capo d'argento caricato di tre uccelli del campo.
2) Toscane – (Conc. d'arm., 12 mai 1550) – Écartelé aux 1 et 4 les armes précédentes de aux 2 et 3 coupé-émanché de six pièces d'argent sur sable Deux casques couronnés Cimiers 1° le cimier de famille le dragon contourné Lambrequin d'or et d'azur 2° la rose du 1 entre un vol à l'antique aux armes du 2 Lambrequin d'argent et de sable
3) Toscane – (Barons toscans, 12 août 1742; chevaliers autrichiens, 5 mai 1754; barons autrichiens, 27 fév. 1847) – D'azur au chevron d'argent acc de trois hures de sanglier du même et ch de trois arbres de sinople
4) Roma – Lazio – Fascia abbassata di oro su troncato di verde e di rosso – gazza al naturale con cuore di rosso nel becco sulla fascia su verde – 2 stelle (5raggi) di oro poste in fascia in alto su verde – cometa di oro posta in fascia coda a destra su verde
5) Udine – D'azur à un tertre de trois coupeaux d'or sommé d'une rose naturelle tigée et feuillée de sinople Cimier un dragon d'or les ailes levées lampassé de gueules tenant une lance d'or armée d'argent Devise FLORET UBIQUE
6) Trévise – Parti au 1 d'azur au lion contourné d'argent couronné du même au 2 coupé a de gueules à trois roses mal-ordonnées d'argent b d'or à trois barres de gueules Cimier le lion issant tourné à dextre
7) Cremona -Spaccato; nel 1° d'oro e testa di cavallo recisa di rosso; nel 2° di rosso e al sole d'oro. –
8) Cremona – Alias: Semlpartito; nel 1° d'oro e all'aqulla di nero; neI 2° di verde e al castello d'argento; nel 3° d'argento e a quattro bande di rosso.