Coltman Family Crest, Coat of Arms and Name History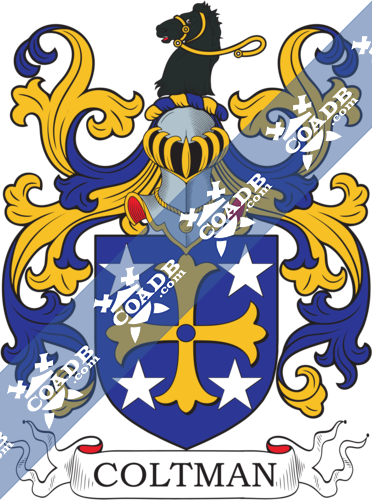 Coltman Coat of Arms Gallery
Don't know which Coat of Arms is yours?
We can do a genealogical research. Find out the exact history of your family!
Learn More
Coltman Origin:
England
Origins of Coltman:
This fascinating and unusual medieval English name is a dialectal alternative of a metonymic professional name, Colt, given to a person who looked after asses or horses. The origin is from the Old English pre 7th Century "Colt," which means a young horse, next also a young ass. In Northern England "Colt" was the general word for working horses or asses. However, it is also possible that this could be a nickname surname for a lively, spirited, person. In the new era, the spelling alternatives contain Colter, Coltman, and the next Coldman, a late southern dialectal spelling. Examples of name ancestors contain as Anselm Colt in 1020 a.d, Henry Le Colt in the Stafford Assize Rolls of 1227, Robert Le Coltier of Oxford in 1285, Peter Colthird of York in 1301 and Anote Coltman in the Premium Rolls of Cumberland for 1332. The records as Coldman is possibly the 19th century, an example being Michael Coldman, noted at the parish of St Mary Magdalene, Bermondsey, in July 1833, in the period of King William 1V (1830 – 1837).
Variations:
More common variations are: Coultman, Coldman, Goltman, Caltman, Clotman, Koltman, Chitman, Clatman, Clutman, Coltmen.
England:
The surname Coltman first appeared in Lincolnshire where they held a family seat from very ancient times. Some say well before the Norman Conquest and the arrival of Duke William at Hastings in 1066 AD.
The very first recording spelling of the family was shown to be that of Godric Colt, dated about 1017, in the "Old English Bynames." It was during the time of King Canute, dated 1016 – 1035. The origin of surnames during this period became a necessity with the introduction of personal taxation. It came to be known as Poll Tax in England.
Ireland:
Many of the people with surname Coltman had moved to Ireland during the 17th century.
United States of America:
Some of the people with the name Coltman who arrived in the United States in the 17th century included Henry Coltman settled in Virginia in 1610. Henery Coltman, who came to Virginia in 1610. Ann Coltman, who landed in Virginia in 1620. Henry Coltman, who landed in Virginia in 1622. Mrs. Coltman, who arrived in Virginia in 1623.
Canada:
People with the surname Coltman settled in Canada in 18th. Some of the people with the surname Coltman who came to Canada in the 18th century included Sgt. John Coltman U.E. who settled in Home District, [Niagara], Lincoln Division, Ontario near the year 1783.
Australia:
Some of the individuals with the surname Coltman who landed in Australia in the 19th century included James Coltman arrived in Holdfast Bay, Australia aboard the ship "Africaine" in 1836. Marion Coltman also came in Holdfast Bay, Australia aboard the ship "Africaine" in the same year 1836. Charles Coltman arrived in Adelaide, Australia aboard the ship "Susannah" in 1849.
Here is the population distribution of the last name Coltman: South Africa 1,278; England 1,194; United States 399; Australia 234; Canada 192; Scotland 112;New Zealand 109;Spain 17; Ukraine 4; Switzerland 2.
Notable People:
Bob Coltman (born 1937), was an American musician.
Constance Coltman (1889–1969), was an English Congregational minister.
Sir Leycester Coltman (1938–2003), was a British representative.
Liam Coltman (born 1990), is a New Zealand rugby union player.
Robert Coltman (1862–1931), was an American physician.
William Harold Coltman (1891–1974), was an English winner of the Victoria Cross.
Blazons & Genealogy Notes
(Hagnaby Priory, co. Lincoln). (Naburn Hall, co. York). (Leicestershire, Yorkshire, and London). Az. a cross patonce pierced or, betw. four mullets ar. Crest—A nag's head, erased, sa., maned and bridled ar. tasselled, or.