Cramond Family Crest, Coat of Arms and Name History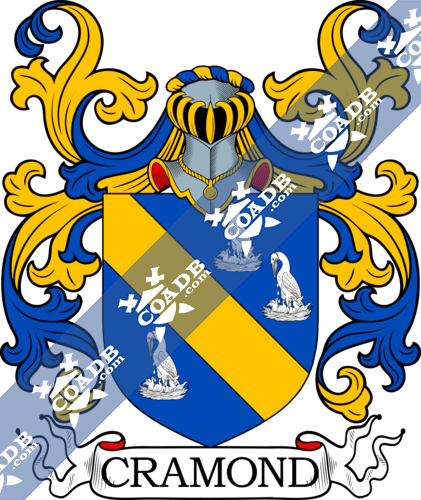 Cramond Coat of Arms Gallery
Don't know which Coat of Arms is yours?
We can do a genealogical research. Find out the exact history of your family!
Learn More
Cramond Origin:
Scotland
Origins of Cramond:
This is a Sottish locational surname from the land known as "The lands of Cramond" in Midlothian. The name is old, the history dating back to at least 1289, when William de Caramund as spelled, held the very older post of "clericus" to Sir Alexander Bailiol, the chamberlain of Scotland. The post of "clericus" the later clerk, was of great importance in old times. It imported both a person who could read and write, limited success in those far-off days, but also one who had had a university or abbey education. Being a "clericus" may have almost been a family business for the Cramonds , as John de Cramound, who was almost absolutely closely related, held a similar post north of the Firth of Forth in the year 1292. Other early records include Laurence de Craumound of Forfarshire who gave homage to the government of John Baliol in 1296, while later Thomas Crawmount, was noted as being a merchant, was given safe passage to England in 1476. The Royal symbol given to William de Caramund in 1278 has the blazon of a blue shield carried with a gold bend, between three silver pelicans feeding their young. Heraldically the pelican was renowned for its wise ways.
Variations:
More common variations are: Crammond, Craumond, Craymond, Cramont, Cramond, Gramond, Cormond, Crimond, Kramond, Crymond.
France:
The surname Cramond first appeared in Gascony (French: Gascogne), an area of southwest France bordering Spain, that was part of the "County of Guyenne and Gascony" before the French Reformation, where the family held a family seat from ancient times.
Ireland:
Many of the people with surname Cramond had moved to Ireland during the 17th century.
United States of America:
Individuals with the surname Cramond landed in the United States in the 18th century. Some of the people with the name Cramond who arrived in the United States in the 18th century included James Cramond settled in Philadelphia in the year 1795.
Here is the population distribution of the last name Cramond: Australia 266; England 210; New Zealand 204; United States 160; Scotland 125; Canada 18; South Africa 3; Kenya 1; Ireland 1; Germany 1.
Notable People:
Zoe Cramond (born 1984) is a New Zealand actress. After graduating from Unitec Institute of Technology, she appeared in many theatre productions and television commercials. She made appearances in Outrageous Fortune and Shortland Street, before deciding to give up her acting job to study graphic design. She returned to acting after being cast in the television film Crush at Rock Island and Go Girls. In 2011, she entered the cast of comedy-drama Packed to the Rafters as Emma Mackey, marking her first major role.
Albert Cramond (December 1881 –June 1954) was a New Zealand cricket player. He played one first-class match for Otago in 1904 to 1905.
Blazons & Genealogy Notes
1) (Auldbar, Scotland; William de Cramond is designed Clericus de Warderoba Domini Regia, in a charter of John de Strathern, 1278). Az. a bend or, betw. three pelicans feeding their young ar.
2) (Capt. William Cramond, 1704). Motto—Vulnera temno. Az. on a bend or, three pelicans ppr. a bordure embattled of the second. Crest—A pelican vulned ppr.
3) Ar. a bend (another, betw. three hearts) gu.