Cray Family Crest, Coat of Arms and Name History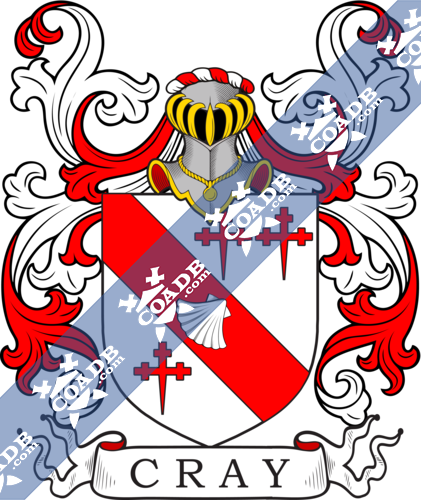 Cray Coat of Arms Gallery
Don't know which Coat of Arms is yours?
We can do a genealogical research. Find out the exact history of your family!
Learn More
Cray Origin:
Ireland
Origins of Cray:
It is an interesting and uncommon surname, of Irish source with different spelling forms such as Creevy, Creevey, and Creavagh. It is an Anglicized form of the Gaelic "O'Craoibhe" which means "offspring of Craobhach," a nickname which means "curly (-headed)" or "prolific" (from "craobh" which means "section, bough"). The surname dates sometime back to the mid-17th Century. Parish recordings contain examples such as John, son of Patrick and Elizabeth Crevey, who was named in December 1759, at Lying-in Hospital, Endell Street, London, James Creevey married Ann Edwards in August 1811, at St. James', Westminster, and John James, son of George and Mary Creavey, named in May 1813, at St. Saviour, Southwark. John Creevey married Elizabeth Deleney in May 1822, at St. Luke's, Old Street, Finsbury. A Royal symbol given to a Creevey family which contained a silver field with black horizontal and vertical lines all over with a red crescent in every part. At the Crest being a gryphon sejant (sitting) parted vertically silver and black with gold fur.
Variations:
More common variations are: Craye, Caray, Coray, Creay, Curay, Chray, Cgray, Crray, Cwray, Craey.
England:
The origins of the surname Cray was found in Brugaundy, an administrative and historical area of east-central France, where people held a family seat from early times.
The very first recorded spelling of the family was shown to be that of Cravy, dated about 1656, in Petty's "Census." It was during the time of Commonwealth, dated 1649-1660. The origin of surnames during this period became a necessity with the introduction of personal taxation. It came to be known as Poll Tax in England.
Ireland:
Many of the people with surname Cray had moved to Ireland during the 17th century.
United States of America:
Individuals with the surname Cray settled in the United States in three different centuries respectively in the 17th, 18th, and 19th. Some of the individuals with the name Cray who landed in the United States in the 17th century included Tonis Cray at the age of 42, landed in New York in 1643. Myles Cray, who arrived in Virginia in 1661. Teunis Cray, who landed in New York in 1664. Henry Cray, who landed in Virginia in 1664. John Cray, who arrived in Virginia in 1666.
People with the surname Cray who settled in the United States in the 18th century included Paul Cray settled in Virginia in 1732. Jacob Simon Cray settled in 1772.
The following century saw many more Cray surnames arrive. Some of the population with the name Cray who arrived in the United States in the 19th century included John D Cray at the age of 28 landed in New York in 1812. John S. Cray settled in New York City in 1822.
Australia:
People with the surname Cray who settled in Australia in the 19th century included Peter Cray arrived in Holdfast Bay, Australia aboard the ship "Brightrnan" in 1840.
Here is the population distribution of the last name Cray: United States 2,808; England 694; Australia 295; Germany 202; Ireland 120; Canada 114; France 110; Northern Ireland 107; Brazil 79; Wales 79
Notable People:
Seymour Roger Cray was born in September 1925 and died in October 1996. He was an American electrical engineer and supercomputer designer who designed a series of computers that were the fastest in the world for many centuries, and created Cray Research which formed many of these machines, he was called "the father of supercomputing." He was believed to have created the supercomputer industry.
Robert William Cray was born in August in the year 1953. He is an American blues guitar manufacturer and musician. A five-time Grammy Award champion.
Eric Shauwn Brazas Cray was born in November in the year 1988. He is a Filipino American track and field sportsman, who took part in rushing and hurdling events. He represented his country for the 2013 World Championships, participating in hurdles. He got gold medals at the Southeast Asian Games in the year 2013 and 2015.
Blazons & Genealogy Notes
1) Notes: (Kent). Blazon: Gu. a cross engr. or, over all a bend az. Crest—A chevalier on horseback in armour holding a sword in pale, all ppr.
2) Notes: None. Blazon: Ar. on a bend betw. three crosses crosslet fitchee gu. an escallop of the field.