Crispin Family Crest, Coat of Arms and Name History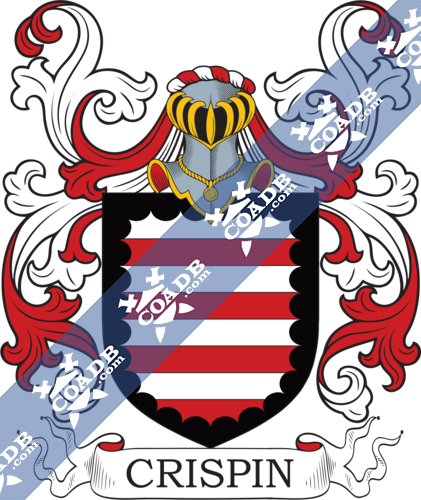 Crispin Coat of Arms Gallery
Don't know which Coat of Arms is yours?
We can do a genealogical research. Find out the exact history of your family!
Learn More
This surname derives from St. Crispin, the patron saint of cobblers, tanners, and curriers who lived in the third century AD in Rome. It is a Norman-French name originally. A Milo Crispin, a tenant in chief, was recorded in the Domesday Book from 1086 AD. It derives from an Old French or Middle English personal name Cripis, the Latin equivalent being Crispinus, meaning "curly haired".
A famous early American notable was Captain William Crispin (1627-1681) who served under the English army under Oliver Cromwell, and was later appointed a Commissioner of the colony of Pennsylvania by William Penn. He has four children: Silas Crispin (1655-1711) who lived in London and Philadelphia County who married Easter Holme, Ralph Crispin, who married Anne Millner and lived in Ireland, Rebecca Crispin who married Edward Blackfan and lived in Sussex, and Rachel Crispin to Thomas Armstrong.
Blazons & Genealogy Notes
1) (Wallingford, co. Berks, temp. Henry I.). Barry of eight ar. and gu., a bordure engr. sa.
2) (Woolston, co. Devon: the heiress m. Bradstone). Gu. ten lozenges ar. four, three, two, and one.
3) (Normandy; quartered by Helsby of Gatacre, co. Derby). Barry of eight ar. and gu.
4) (Halton, co. Hunts). Sa. two arms in fesse, habited ar. joining the hands ppr. one issuing from the dexter side, the other from the sinister, betw. three crescents of the second.
5) (Salisbury). Barry of ten. ar and gu. a bordure engr. sa.
6) Barry bendy ar. and gu. counterchanged.
7) Barry and lozengy counterchanged ar. and sa. Crest—A hydra vert, with seven heads.
8) Ar. a cross flory gu.