Crum Family Crest, Coat of Arms and Name History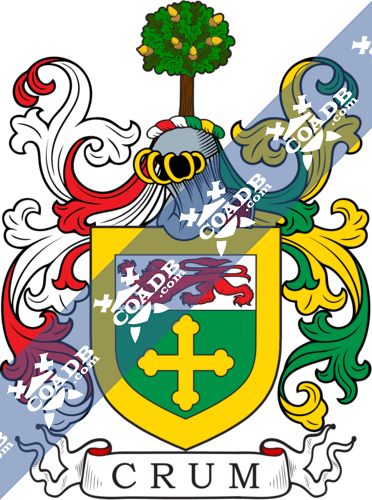 Crum Coat of Arms Gallery
Don't know which Coat of Arms is yours?
We can do a genealogical research. Find out the exact history of your family!
Learn More
CRUM
Crum is both an English and Scottish surname. It has two different and distinct meanings. The medieval English name means crooked or bent. The Scots Gaelic Ghille Chruim, means crippled or servant and or crippled servant. The English surname is thought to have applied to someone who makes fasteners and hooks. During most of the medieval period, people in order to keep their possessions safe from vermin or from contamination used hooks to suspend their important items off the floor. Eventually this occupational name led the forebears of the name into becoming craftsmen of iron products like nails. Nails or iron spikes at one time in the 1300's were used in trade, in lieu of actual money. (True nails and spikes were very expensive to make.) The most common Scottish version found was MacChruim. "Mac" meaning simply Son of.
Because it was an occupational name, Crum was popular throughout England, Wales and Southern Scotland. Because of its ancient nature, the surname or what would later become a surname which spread widely. Surnames in Britain prior to the Norman conquest were largely unheard of.
In the small settlements and villages which existed during earlier times, residents found little need for surnames as everyone in these communities new each other and a given name would usually suffice. However, with the passage of time, population growth and expansions of communities as villages gave way to towns and cities, it became necessary to add a qualifier to a people's names to distinguish them, one from another. Therefore one person may have been identified by their given name plus their occupation while another may have been identified by their given name and one of their parent's names. The introduction of surnames by the Norman aristocracy after the invasion seemed to be the next logical step in this evolution. There was a boundless supply from which surnames could be formed, in addition to the use of patriarchal/matriarchal names or reference to the individuals occupation, there were things such as defining physical traits, a familiar geographical location or a topographical landmark found near the individuals home or birthplace, the name of the village in which the person lived, and so much more. Soon, surnames would come not just to represent an individual but whole families.
There often exists variations in spelling of many surnames, as with many given names which date back to the early centuries. The variation in spelling of both given and surnames during this time period can be attributed to a lack of continuity regarding guidelines for spelling which was compounded by the diversity of languages in use in European countries at this time. The variations in the spelling of the surname historically have been recorded as Crum, Crumb, Crom, Croom and Cromett, which is thought to be a diminutive equaling "Small Crom" or small hook.
The earliest record of any variation of this surname is that of Croom which appears in the Worcestershire tax rolls from 1275 AD. These rolls, were a series of census and tax records
kept by the English Treasury by order of King Edward I, with the oldest dating back to the 12th century. They hold the distinction of being the oldest consecutive set of records detailing English governance in the United Kingdom. These records span a period of over seven centuries and have proven invaluable to researches over the years.
The Crum surname appears in Northern Ireland, after the Cromwellian invasion of 1649. English, and Scottish merchant and skilled trade families were encouraged to immigrate to Ireland to help establish English culture in Ireland. Specifically Ulster, Donegal, and Antrim are the most popular historical homes of the Crum family, who in the early portion of the 18th century began immigrating into the Americas.
The Crum family was also instrumental in the founding of a town called originally Thornlybanks, now spelled Thornliebank. There is no listing for the town prior to the 19th Century. Earliest records show it came into being in 1799/1800. The Crum family were printers and print makers who eventually turned their occupation into printing patterns onto fabric. The original craft in the area had been hand spinning wool into yarn. The elder Crum, one Walter Crum had been a member of the Fellows of the Royal Society and a chemist. He brought fabric printing, (primarily calico) to the region. His son, Alexander Crum became a member of Parliament in 1880.
Blazons & Genealogy Notes
Notes: (Thornlybank, co. Renfrew, 1868). Blazon: Vert, a cross botonnee or, on a chief argent a lion passant gules a bordure of the second. Crest—An oak tree proper Motto—Fear God.