Dandy Family Crest, Coat of Arms and Name History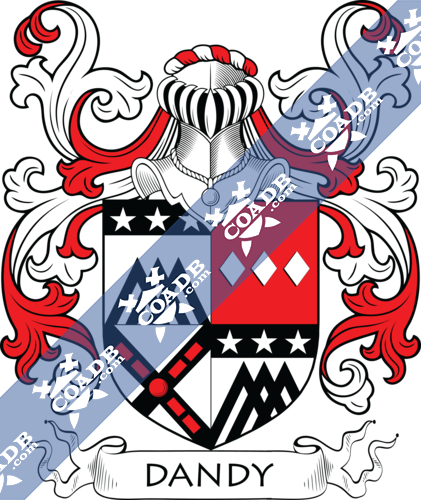 Dandy Coat of Arms Gallery
Don't know which Coat of Arms is yours?
We can do a genealogical research. Find out the exact history of your family!
Learn More
This surname is a baptismal meaning "the son of Andrew" from the Scotch and English nickname or pet form of Dandy or Tandy. The French equivalent is Dandoy. The surname Andrew comes from the Greek Andreas, meaning manly or male. Spelling variants include Dand and Dandie.
The name Dandi was recorded in county Lincolnshire in 1273 AD in the Hundred Rolls, as was one Richard Dande in county Hunts. A Willelmus Dandy was recorded in 1379 AD in the Poll Tax of Yorkshire. Thomas Dandisone was documented in county Lancashire in 1332 AD in the Lay Subsidy. A one Adam Dandy was documented in the Register of Freeman in county Yorkshire in 1312 AD. Various other people with the nickname Dand(e) are recorded throughout documents of the Middle Ages. A John Dandy was baptized at St. Dionis Backchurch in 1742. Early marriages involving this surname include Esbell Dance to John Bukler in 1554 at St. Oswald's Church in Durham.
One early American bearing this surname was William Dandy, who lived in Charlestown, and was likely called Davy in Frothingham, and was recorded as someone who tithed to the town in 1680.
The name has a relatively long entry in the book Ludus Patronymicus by Richard Stephen Charnock published in 1868: "The same as Dendy, found Dendye, Dendy, Dandie, Dandy; thought to be originally D'Awnay or Dawndy, which Lower thinks is the same as D'Aunai; and he says there are a tleast seven places called Aunai in Normandy, one of which, Aunai Abbaye, arrond. Vire, was an ancient barony, and from thence probably came the family. The name may also be from Dand, Dandy, familiarly used in Scotland for Andrew."
Blazons & Genealogy Notes
1) (Sapiston, co. Suffolk). Quarterly, az. and or, in the first quarter a mullet ar. Crest—A garb or, on the sinister side a dove close ar.
2) (Cretingham, co. Suffolk). Az. on a saltire or, betw. four bucks trippant ar. a leopard's head gu. Crest—Same as the last.
3) (Trewen, co. Cornwall; descended, says Lysons, from a younger branch of the ancient baronial family of Dawney, of Shevrock). Ar. on a bend cotised sa. three quatrefoils of the first.
4) (or Danny). William Dandy, alias Danny, Esq., of Lanerth, co. Cornwall, Visit. 1620, grandson of Thomas Dawndy, or Danny, of same place, descended from Danneys, of Sheviok, same co.). Ar. on a bend cotised sa. three cinquefoils or.