Dane Family Crest, Coat of Arms and Name History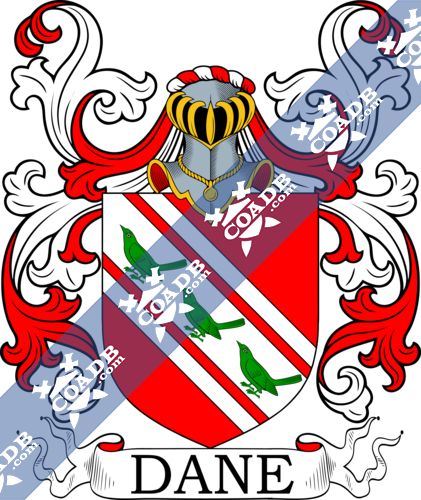 Dane Coat of Arms Gallery
Don't know which Coat of Arms is yours?
We can do a genealogical research. Find out the exact history of your family!
Learn More
Dane Origin:
England
Origin of Dane:
This surname is of Anglo-Saxon origin and is a geographical name for a resident of the Dale, acquiring from the Olde English pre 7th Century word "denu" which means "dale." Geographical surnames were created in very early times, and were given as easily identifiable names in the small areas of the Middle Ages. The surname sometimes goes back to the early 14th Century. More recordings of the name consist of one Simon Dann (1332), "The premium Rolls of Sussex." Differentiation in the phrase of the spelling of name consists of Dan, Dane, Danne, etc. Margery Dane married Jam's Empsun in November 1539, at St. Stephen, Coleman Street, London. Dorothey Danne married Steven Willsy at St. Matthew's, Friday Street, in August 1562, and Thomas Dann married Jone Gryphyn at St. Margaret's, Westminster, in April 1591. While John Dan was listed in the Death records of the church of St. Michael's, Barbados, in July 1678. Rose Dann at the age of twenty years, who was a famine traveler, moved from Liverpool aboard the "Mersey" bound for New York in May 1846.
Variations:
More common variations of this surname are: Deane, Daine, Doane, Daney, Duane, Danne, Dayne, Dahne, Dwane, Diane.
England:
The surname Dane first was found in Sussex where they held a family seat from very early times.
The very first recorded spelling of the family was shown to be that of Geoffrey atte Danne which was dated 1327, in the "Premium Rolls of Sussex." It was during the time of King Edward III, who was known to be the "The Father of the Navy," 1327 – 1377. The origin of surnames during this period became a necessity with the introduction of personal taxation. It came to be known as Poll Tax in England.
United States of America:
Some of the people with the name Dane who settled in the United States in the 17th century included Thomas and William Dane; both shifted to the same area in 1635. Yoragh Dane landed in Virginia in 1635. John Dane who shifted from Essex, England, to Roxbury, Massachusetts, in 1636. Eustace Dane settled in Virginia in 1652.
Canada:
Some of the people with the name Dane who settled in Canada in the 18th century included Mr. Daniel Dane U.E. who settled in Charlotee Division, New Brunswick near the year 1784; he was part of the Cape Ann Association. Mr. Luther Dane U.E., "Dana" who settled in Charlotee Division, New Brunswick near the year 1784, he was also a part of the Cape Ann Association.
Australia:
Some of the people with the name Dane who settled in Australia in the 19th century included John Dane at the age of 23, arrived in South Australia in 1855 aboard the ship "Admiral Boxer."
New Zealand:
Some of the people with the name Dane who settled in New Zealand in the 19th century included H. Dane arrived in Auckland, New Zealand aboard the ship "Nimroud" in 1860.
Here is the population distribution of the last name Dane: India 6,707; United States 3,816; Philippines 1,353; Turkey 1,153; England 1,081; Cameroon 793; Germany 572; Netherlands 545; Morocco 537; France 514.
Notable People:
Alexandra Dane (born 1946), is a South African actress, who performed in many movies such as Carry on Doctor, Carry on Loving, and other Carry on films, The Ups and Downs of a Handyman, Le Pétomane, and Terry Gilliam's Jabberwocky.
Barbara Dane (born 1927), is an American musician who wrote "Bessie Smith in stereo," and wrote as a jazz critic in late 1950s.
Claire Danes (born 1979), is an American film, television, and theater performer.
Dana Dane is an American hip-hop artist.
Eric Dane (born 1972), is an American actor. After appearing in television roles since the year 2000, he was famous for playing Dr. Mark "McSteamy" Sloan on the medical drama television series Grey's Anatomy, and as well as movies, co-starring in Marley & Me (2008), Valentine's Day (2010), and Burlesque (2010).
Francis Dane (1615-1697), was an administrator in colonial Massachusetts among the Salem Witch Trials.
Jordan Dane (born 1953), was an American novel writer.
Joseph Dane (1778-1858), was an American leader from Maine
Karl Dane (1886-1934), was a Danish-American silent film actor.
Lloyd Dane (1925-2015), was an American race car driver.
Maxwell Dane (1906-2004), was an American advertising chief.
Nathan Dane (1752–1835), was an American attorney.
Patricia Dane (1919-1995), was an American film performer.
Blazons & Genealogy Notes
1) (Wells, co. Somerset). Sa. a serpent entwined and erect ar. Crest—Out of a ducal coronet or, a demi lizard vert.
2) (Stortford, co. Hereford. William Dane, Alderman of London, son of John Dane, of the former place. Visit. London, 1568). Or, a chev. engr. az. betw. three hinds pass. gu. Crest—A wolf statant ar.
3) Gu. on a bend cotised ar. three birds vert.
4) (Dane Court, co. Kent). Gu. four fleurs-de-lis or.