Degon Family Crest, Coat of Arms and Name History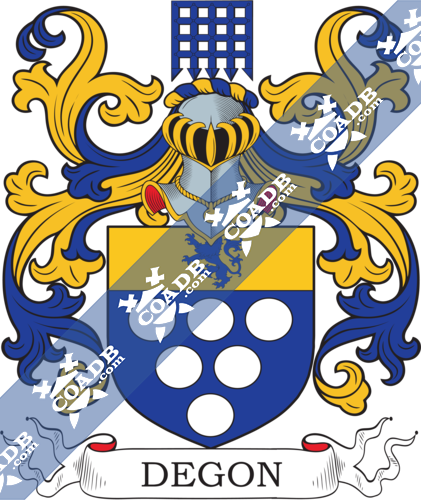 Degon Coat of Arms Gallery
Don't know which Coat of Arms is yours?
We can do a genealogical research. Find out the exact history of your family!
Learn More
Variations:
More common variations are: Deagon, Degoun, Degone, Degaon, Deegon, de Gon, Doegon, Deygon, Degoon, Deogon.
Bavaria:
The surname Degon first appeared in Bavaria, where the name Degen anciently related to the tribal conflicts of the area.  They declared allegiances to many nobles and princes of early history, lending their power in struggles for power and status within the region.  They branched into many houses, and their donations sought by many leaders in their search for power.
United States of America:
Some of the first settlers of this family name or some of its variants were like Bastian Degens, who arrived in Virginia in the year 1653.  Anna Maria Hacker Degen, who came to Pennsylvania in the year 1737.  Anna Barbara Degen, who arrived in Pennsylvania in the year 1749.
Blazons & Genealogy Notes
1) (cos. Norfolk and Gloucester). Az. six plates, three, two, and one, on a chief or, a lion ramp. of the field (another, a demi lion issuant ppr.). Crest—A portcullis az.
2) Same Arms. Crest—On a ducal coronet a dolphin hauriant ppr.