Duston Family Crest, Coat of Arms and Name History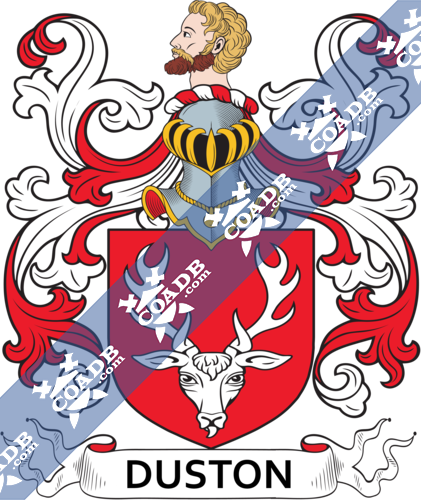 Duston Coat of Arms Gallery
Don't know which Coat of Arms is yours?
We can do a genealogical research. Find out the exact history of your family!
Learn More
The Anglo-Saxon name Duston acquires from the family having resided near a stony hill.  Duston acquired from two Old English elements: dun and stan.  Dan was a word for hill, and stan meant "stony."  The translation of the name is therefore stony hill."  It is also possible that the name is patronymic that is, acquired from the name of a parent.  Dunstan was a popular given name in England in the Middle Ages.   Duston has been spelled many different ways, including Before English spelling became regulated over the last few hundred years, spelling variations in names were a common occurrence.  As the English language changed in the Middle Ages, absorbing pieces of Latin and French, as well as other languages, the spelling of people's names also changed considerably, even over a single lifetime.  Dunstan, Dunston, Dunstone, Dunstane, Donston, Dunstavill and much more. More common variations are: Dauston, Deuston, D'Uston, Douston, Dueston, Daustton, Dustan, Diston, Dustin, Tuston.
The surname Duston first found in Cornwall where they held a family seat from very early times.  The earliest reference of the name was of Dunstan (c.909 – 988,) who was an Abbot of Glastonbury, a Priest of Worcester, a Bishop of London, and an Archbishop of Canterbury.  He later canonized as a saint.
Individuals with the surname Duston landed in the United States in two different centuries respectively in 17th, and 19th.  Some of the people with the name Duston who arrived in the United States in the 17th century included Thomas Duston, who landed in Maryland in 1673. Some of the people with the surname Duston who arrived in the United States in the 19th century included  E Duston, who arrived in San Francisco, California in 1850.
Blazons & Genealogy Notes
1) (co. Northampton, and Raunton, co. Stafford; Rosa, eldest dau. and co-heir of Sir William de Dunston, m. John D'Oyley, of Stoke D'Oyley, co. Northampton, since when the D'Oyleys have borne the Dunston arms). Gu. a buck's head cabossed ar. Crest—A man's head in profile ppr.
2) (Hopton, co. Suffolk). Gu. a buck's head cabossed or.
3) Gu. a bull's head cabossed ar. armed or.