Etienne Family Crest, Coat of Arms and Name History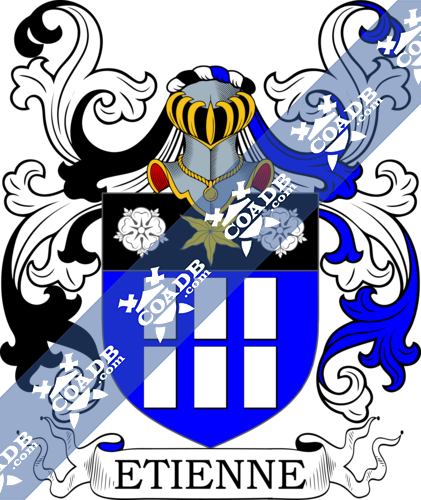 Etienne Coat of Arms Gallery
Don't know which Coat of Arms is yours?
We can do a genealogical research. Find out the exact history of your family!
Learn More
Etienne Origin:
Greek
Origins of Etienne:
It is one of the most famous and unique surnames of the Christian world. The origin of this famous name evolved originally from Ancient Greek. However, most of these names of various places had developed originally from the word "stephanos", meaning crown or wreath. The name was found in England before the success of Normans in the year 1066, but only as a priest's name in its Latin form of "Stefanus", and as such registered in the outstanding Domesday Book of 1086.The name became famous all over the Christendom in the Middle Ages, slightly due to the popularity of St. Stephen, the first Christian martyr, who was drugged to death at Jerusalem, after the three years of Christ death. The personal name also produced by King Stephen of England, known as the "Count of Blois," where he was born. He ruled from the year 1135 to 1154.
According to early recordings, this Surname found in over one hundred and sixty spellings included such as Stephen (English), Etienne (French), Esteve and Estevez (Spanish and Catalonian), Stefano (Italian), Steffen (German), Tschepe (Czech) in every European country.
Variations:
More common variations of Etienne are: Ettienne, Etienney, Aetienne, Etiewnne, Etiienne, Etiennee, Etiene, Etinne, Etenne, Etienn
History:
England:
The origins of the surname Etienne were in a northern region of Lorraine, where people there held a family seat from early times, and where they had many lands and estates. There are many types and recordings of the surname in every country; it is only possible to provide the first known examples taken from surviving charters and records. The very first recorded spelling of the surname was found to be that of Robert Stephen, who was an observer at the assize court of the county of Cheshire, England, in the year 1260. Oswald Steffanssun of the Tirol in 1454, and Heinrich Stephi of Chur, in Germany, in 1437. The origin of surnames during this period became a necessity with the introduction of personal taxation. It came to be known as Poll Tax in England. Surnames all over the country began to develop, with unique and shocking spelling varieties of the original one.
United States:
Individuals who settled in the 18th Century included Jean Jaques Etienne, who settled in Pennsylvania in the year 1765. In the 19th Century, many people of Etienne arrived in the United States Like Celestin Etienne and Joseph Etienne, who landed in St Clair County, Illinois respectively in the years 1873 and 1875.
Canada:
Etiennes who arrived in Canada in the 18th Century. People of Etienne who settled in Canada included David Etienne and Jean Pierre Etienne, who came to Canada in the year 1754.
Here is the population distribution of the last name Etienne: United States 6,961; Haiti 43,172; France 20,438; Cameroon 4,262; Rwanda 3,368; Belgium 2,376; Niger 2,008; Ivory Coas 1,899; Mexico 1,178; Dominican Republic 1,009
Notable People:
Etienne Bezout (1730–1783), was French mathematician. He played a significant role in the field of mathematics.
Etienne Laspeyres (1834–1913), was French teacher of economics and data.
Etienne Lenoir (1822–1900), was a Belgian inventor who invented the initial internal combustion engine to produce in numbers.
Etienne Lenoir (instrument maker) (1744–1832), was a medical instruments manufacturer and inventor of the repeating group surveying instrument. He was born in France.
Etienne Mulsant (1797–1880), was a French entomologist and ornithologist.
Etienne Pascal was a French lawyer, researcher, and mathematician. He was called the father of Blaise Pascal. He started his services in the year 1588, and he retired from his post in the year 1651.
Etienne Pierre Ventenat (1757–1808), was a famous French botanist and biologist.
Blazons & Genealogy Notes
1) Lorraine – (An., 3 déc. 1734) D'azur à six billettes d'argent 3 et 3 au chef de sable ch d'une étoile d'or entre deux roses d'argent. English: Azure six billets argent three and three a chief sable charged with an etoile or between two roses argent.
2) Provence De gueules à la bande acc en chef d'un glandier feuillé et tigé et en pointe d'un besant le tout d'or. English: Gules a bend surrounded by in chief an acorn leaved and stemmed and in base a bezant all or.
3) Aix – Sgrs. de SaintJean de la Salle. Montfuron, de Prunières en Dauphiné De gueules à la bande d'or acc en chef d'un gland tigé et feuillé et en pointe d'un besant le tout du même au chef d'azur chargé de trois étoiles d'or English: Gules a bend or surrounded by in chief an acron stemmed and leaved and in base a bezant all of the same a chief azure charged with three etoiles or .
4) Aix – Sgrs. de SaintJean de la Salle. Montfuron, de Prunières en Dauphiné (Alias on trouve dans la branche aînée les armes suivantes (XVIIe siècle) Parti au I d' au 2 coupé a) de gueules à un pont de deux arches d'or (Pontevès) b) d'or au loup d'azur armé lampassé et vilené de gueules (Agoult) Sur le tout de gueules à la croix de Toulouse d'or (Forcalquier)). English: (Also one finds in the older branch of the family the following arms (XVIIth Century) Per pale 1st per fess a: gules a bridge of two arches or (for Pontevès) b: or a wolf azure armed, langued and maned gules (for Agoult) over the whole shield an escutcheon gules the cross of Tolouse (or Occitan Cross, see online) or (for Forcalquier))
5) Lorraine – (An., 15 fév. 1620) De gueules au chevron d'azur ch de deux huchets de sable et acc de trois cors de chasse d'azur virolés d'argent. English: Gules a chevron azure charged with two bugles sable and surrounded by three hunting horns azure strings ringed argent.
6) de Villemus – Provence D'azur à la fasce d'or acc de trois besants d'argent. English: Azure a fess or surrounded by three bezants argent.